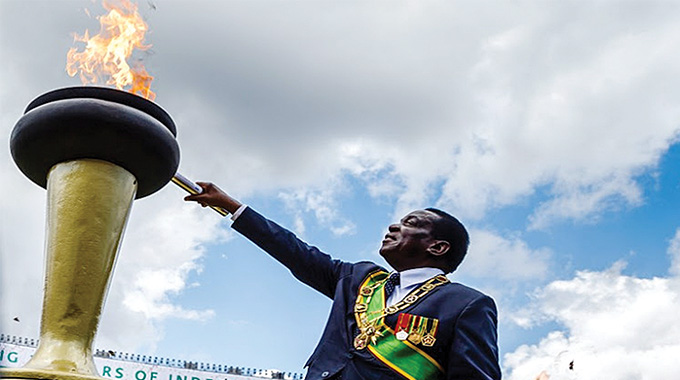 The Sunday News
AS we celebrate this 39th Independence Day anniversary, I call on us a nation to recommit ourselves to build a legacy of peace, love, unity, harmony and development. Let us continue to diligently and honestly work hard in our various spheres, not just for our families, but for the good and prosperity of our great country.
"Together we are building a new economy. We are building a new future, we are building a new Zimbabwe. Zimbabwe shall surely rise again. We are moving on, our future is bright. Forward ever, backward never! Our prosperity is certain! 
"Let us consolidate our hard-won independence through disciplined focus on the development of the economy and improvements in the quality of life of all our people," this is part of the statement, on Independence Day by His Excellency, the President of the Republic of Zimbabwe, Cde Emmerson Dambudzo Mnangagwa.
Indeed for Zimbabwe to prosper and attain Vision 2030, there is need for collective efforts of all citizens at home and abroad. The Government has to be congratulated for continued engagement with a broad spectrum of the society to help sharpen Government's perspective on issues across the socio-economic and political spectrum. The President believes this inclusive approach will enable the country to accelerate the pace of the modernisation and industrialisation of our country.
The implementation of the Transitional Stabilisation Programme has since gathered momentum. Government launched the transitional stabilisation programme in a bid to set the economy on a recovery path after years of stagnation. The programme, which was launched in October 2018 runs until December 2020.
The Transitional Stabilisation Programme acknowledges policy reform initiatives of the new dispensation to stimulate domestic production, exports, rebuilding and transforming the economy to an upper-middle income status by 2030. According to the policy document, the Transitional Stabilisation Programme will focus on the following factors: stabilising the macro-economy, and the financial sector; introducing necessary policy and institutional reforms to translate to a private sector-led economy; addressing infrastructure gaps, and launching quick-wins to stimulate growth. The short-term programme will be superseded by two five-year Development Strategies, with the first one running from 2021-2025, and the second covering 2026-2030.
Economic reforms have been key in the business of the Second Republic, and as the country celebrates its Independence, everyone should focus on playing their part to ensure the country turns the corner after years of challenges in the economic sector.
As the President has said; "For Zimbabwe to prosper and attain Vision 2030, we need the collective efforts of all citizens at home and abroad. While our friends and investors may assist us, the ultimate obligation to turn around our fortunes lies with us, using our own God-given natural endowments and abilities."