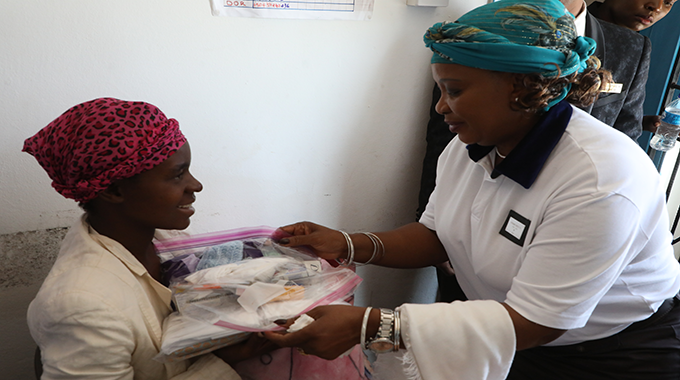 The Sunday News
FIRST Lady Auxilia Mnangagwa has to be commended for her humanitarian work which has seen her touch and change people's lives for the better.
The First Lady has shown serious passion for health, and has been leading on women's health issues from the front. She has also been moving around the country enlightening women on inheritance issues, interacted with the disabled to listen to their plight and has also donated an assortment of goods to the underprivileged including people affected by Cyclone Idai in Manicaland province. She has covered the length and breadth of the country doing humanitarian work. She has also joined the nation in national clean-up campaigns where like President Mnangagwa, she has been holding the broom and doing the actual sweeping of the streets. 
It is such hard work and love for the country that should be emulated by all. Recently, she was presented with the 2018 Matter Humanitarian Award. The award is given by the United States-based Matter Group to a person who exemplifies leadership in serving humanity and an inspiration to others. The award was in recognition of the First Lady's work through her charity organisation, Angel of Hope.
She has also vowed to continue working hard to ensure that there is affordable and quality health care for everyone in the country. She said this while accepting the new role as a Health and Child Care Ambassador accorded to her by the Health and Child Care Ministry. The First Lady was previously an Ambassador for Maternal and Child Health.
She was accorded her new role at an event where she also launched the "Nursing Now Zimbabwe Project" aimed at recognising nursing and midwifery's role towards achieving universal access to health.
"It is not an easy task but fortunately it is within my nature that when I focus on a task, I make sure that it is done. A very special thanks to the Ministry of Health and Child Care for recognising the works that I am doing in the communities which I believe persuaded them to appoint me Ambassador for Health and Child Care.
"Initially I was appointed Ambassador for Maternal and Child Health but having realised that my works are not limited to maternal issues only, the ministry decided to appoint me to this new role. I make this solemn pledge today that I will work even harder to ensure there is affordable, accessible, and quality health care services for all," she said.
The First Lady has already made a mark with her humanitarian work and her down to earth personality, and her involvement in health matters has surely led to a positive change in the way health workers go about their business. She has inspired them to be positive in their approach and many sections of the community have been calling on her to extend her kind work to their side, an indication that she is doing a sterling job that is being appreciated by the masses.
Health and Child Care Minister Dr Obadiah Moyo said they accorded the First Lady the new role to honour the work she is doing.
"Amai has been championing and leading programmes that are to do with health across the country including the underprivileged. We have seen the First Lady and her mobile clinic in all corners of Zimbabwe. Through her Angel of Hope Foundation, she has supported the ministry."
World Health Organisation (WHO) country representative Dr Alex Gasasira also congratulated the First Lady.