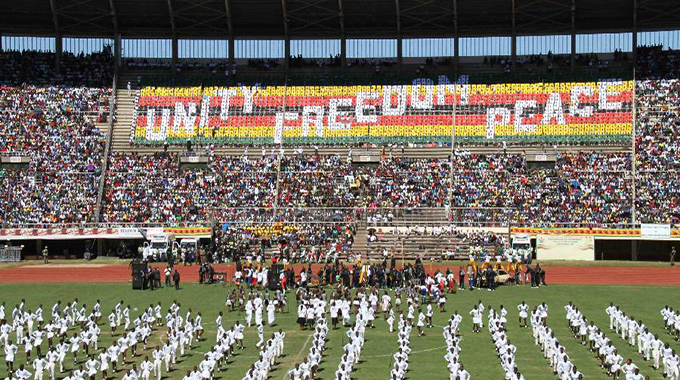 The Sunday News
FOR close to two decades now, this country went through many developments. 
While we cannot change the past, there is a lot we can do in the present and future to give our nation a different, positive direction. As we do so, we should never remain hostages to our past. 
I thus humbly appeal to all of us that we let bygones be bygones, readily embracing each other in defining a new destiny. The task at hand is that of rebuilding our great country. 
It principally lies with none but ourselves. I implore you all to declare that NEVER AGAIN should the circumstances that have put Zimbabwe in an unfavourable position be allowed to recur or overshadow its prospects. We must work together, you, me, all of us who make up this nation."
These were the words by His Excellency, President Mnangagwa when he ascended to power in November 2017, and since then, he has preached the gospel of peace, unity and development. He has reiterated that Zimbabwe is for all Zimbabweans regardless of the colour of their skin or ethnicity, and has challenged everyone to work towards the betterment of the country.
As we celebrate the country's independence this week, we do so as a nation happy and proud that we have grown in nationhood. We do so proud of the achievements made thus far by the Second Republic. We do so hopeful that the future is bright, judging by the social and economic policies put in place by the Government-led by President Mnangagwa.
The people of Zimbabwe demonstrated that they are capable of coming together bound by common purpose when they pooled resources to assist victims of Cyclone Idai in the Manicaland and Masvingo provinces. It did not matter to many that the disaster occurred far away from their families and homes, but the fact that it affected fellow Zimbabweans prompted people from all corners of the country to act in a positive manner.
Last week, the Government also announced that it has started implementing measures to ensure healing among victims of civil disturbances that rocked the Matabeleland region and some parts of Midlands during the early years of Independence, in an operation referred to as Gukurahundi.
Among key interventions, that are in line with President Mnangagwa's pledge during a meeting with civil society under the banner of Matabeleland Collective a fortnight ago, Government will issue birth and death certificates to those affected. Government will also facilitate the exhumation and reburial of victims of Gukurahundi while medical assistance will be availed for those injured during the time while other restorative justice measures will be rolled out, making good of President Mnangagwa's promise that his administration would not shy from confronting the ugly past.
Secretary for Justice, Legal and Parliamentary Affairs Mrs Virginia Mabiza met the Matabeleland Collective in Bulawayo last week and announced the implementation of a matrix of issues discussed during the earlier meeting.
As we celebrate the Independence Day, we do so proud of being Zimbabweans, proud of those who took up arms to liberate this great nation and proud that the country is moving in the right trajectory.