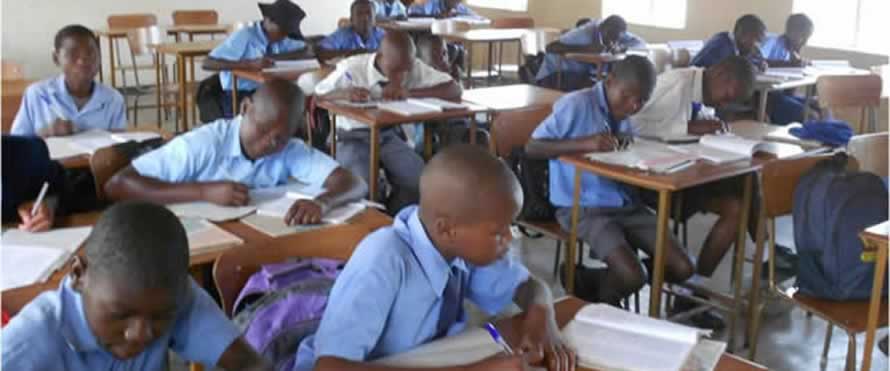 The Sunday News
Over 6 000 drop out due to drought
Learning hours cut because of hunger
Vusumuzi Dube
OVER 6 000 pupils have been forced to drop out of school in the Matabeleland region as a result of hunger, a situation that might worsen following recent reports that the region might be faced with another dry season.
This comes amid revelations that education authorities in the region have had to cut learning hours as a significant number of pupils come to class hungry, hence low concentration levels.
This comes on the backdrop of the release of the Zimbabwe Vulnerability Assessment Committee (ZimVAC) report which stated that Matabeleland North and South, and Midlands provinces were the most food insecure provinces in the country.
According to statistics provided by education offices in Matabeleland North and South, it has emerged that drought has led to a sharp increase in school drop outs and absenteeism at both primary and secondary level.
Matabeleland North provincial education director Mrs Boithatelo Mnguni said hunger was becoming a huge scourge among  learners, revealing that they had since approached the provincial food and nutrition committee with the hope that they would intervene and introduce supplementary feeding for pupils.
She said after noting that most of the children were not concentrating at school due to hunger, they had come up with a policy where teachers had to check their lunch boxes during break time.
"I can confirm that things are not good in the province due to hunger, while drop outs can be due to various reasons. We have had a sharp increase of absenteeism during the first and second term attributed to the hunger scourge. Our figures to date state that from the first to the second term we have had 2 758 drop outs at primary school level; that is from Grade Three to Seven. For the Early Childhood Development (ECD) special needs classes we have had 18 drop outs, while for the general ECD classes we have had over 1 000 drop outs," said Mrs Mnguni.
She revealed that the worst hit district in the province was Nkayi where they had to request for assistance as far back as the first term.
"Other districts that have been grossly affected are Bubi and Umguza. I tell you that the situation is so pathetic such that when we had to instruct our teachers to check the learners' lunch boxes; what was discovered was so sad. At Fatima Primary School, for example, some pupils came with only isitshwala without any relish. In some cases they just had plain rice.
"As a province we had to further reduce learning hours due to either hunger and long distances because we saw that we wouldn't be serving our purpose teaching pupils who were clearly not concentrating because they were hungry or tired. In some cases learners would feign illness and not admit that they were hungry," said Mrs Mnguni.
In Matabeleland South, a total of 2 825 pupils from both primary and secondary schools have dropped out of school this term due to the effects of drought. Giving feed back to the Provincial Drought Relief Committee at the Provincial Administrator` s boardroom on Thursday, education officer (planning) Mr Rhodes Ndlovu said the hardest hit districts were Matobo and Beitbridge.
"A total of 1 253 pupils from primary schools in the province dropped out of school this term while 1 572 also dropped out from  secondary schools. Matobo recorded 654 drop outs, Beitbridge 634, Mangwe 582, Insiza 509, Gwanda 297, Umzingwane 92 and Bulilima 57," said the Mr Ndlovu.
He said the drop outs were as a result of the effects of drought that have forced  pupils to get into child marriages and child labour, among other things.
"You will realise that in all cases, the problem is caused by the effects of drought and once  children drop out of school, they either cross the border into neighbouring countries like South Africa and Botswana or resort to gold mining," he said.
Mr Ndlovu said most of the affected families were child headed families and low income earners.
"It was established that most of the affected girls were mainly from  child headed families who depend on hand outs from well-wishers and low income earners," added Mr Ndlovu.
He said there was a need for the province to establish nutrition gardens, and the vocationalisation of the curriculum, adding that children should get supplementary feeding from schools while school leavers get trained in life-skills.
Beitbridge, Bulilima, Matobo and Mangwe all face the challenge of border jumping by youths into South Africa and Botswana while Umzingwane, Insiza and Gwanda are hot spots for gold panning.
According to the ZimVAC report 16 percent of rural households in the country are estimated to have insufficient means to meet their minimum food needs in the 2015/2016 consumption year.
The report further states that 28,5 percent of the households in the Matabeleland North province are food insecure. The province is followed by Midlands at 18,5 percent, while Matabeleland South province is third with 17,4 percent of its households being food insecure.
Environment, Water and Climate Minister Cde Oppah Muchinguri-Kashiri recently declared that the country had to brace itself for a drought in the approaching season. Minister Muchinguri-Kashiri said the 2015/16 rainfall outlook had several implications on agriculture, food security, health, energy and disaster risk reduction.