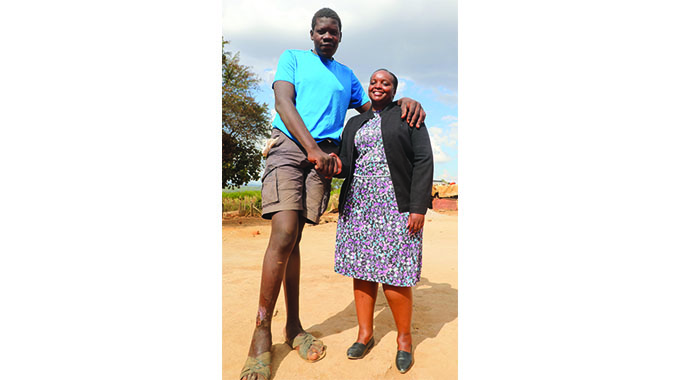 The Sunday News
Robin Muchetu, Senior Reporter
GIANTS are often cast in films as cartoon characters and other fantasy films on television, but one Calvin Moyo, is a giant in real life and is nothing short of a spectacle owing to his gigantic size.
Resident in Esiphezini in Umzingwane district, Matabeleland South province, the 21-year-old Calvin was not born this way, but developed later in life to be more than just a growing teenager and turned into a giant that stands at over 2,1 metres tall weighing over 130 kilogrammes in weight.
He has since become a spectacle in the community and spends most of his day perched at the nearby shopping centre where visitors take turns to take photographs with him owing to his size. Some, though, are scared of him as he is larger than normal.
However, despite his popularity, Calvin has faced a lot of challenges owing to his abnormal size. Sunday News caught up with Calvin's mother Ms Sifiso Ndlovu (43), in Makokoba, Bulawayo. She was a blend of emotions as she explained how she was struggling to fend for her child who is living with relatives.
"I gave birth to Calvin in 2002 and he weighed 3,4kg and grew up to be a normal boy who completed his primary education with no challenges and went on to secondary school with no problem. The challenge started after he wrote his Ordinary Level education. He was living in Nkayi with my brother and I went to pick him up so that he could come to the city to try and work.
When I got there, I was shocked to see that he had ballooned so much but never paid much attention to it.
"He then came to stay with me where I bought some wares for him to sell. I was on his case asking why he was being lazy and refusing to sell his wares. That is when I realised that my child was not well, he would take naps in the afternoon and wake up having wet his clothes, and he would also refuse to take baths. He went for Christmas holidays back in the village and my brother also confirmed he was not well," she said. Ms Ndlovu then sought medical attention at United Bulawayo Hospitals and other medical practitioners but she was informed that Calvin was a rare individual with a rare condition.
"I was told that despite his huge size, some of his internal organs were very small and could not sustain his body. I was advised to just take care of him as he is and feed him well as he eats a lot, he was weighing 130kg then. I also realised that at times he is affected mentally but it is not severe. So, I took him to Esiphezini to get traditional help for his mental health issues and not his body size, as that is not changing at all," she said.
She was informed by one doctor in the city that his pituitary gland located in the head ordinarily should be the size of a bean, and was probably overgrown causing the huge body size which cannot be controlled.
"They however, could not explain why he bed wets at age 21, again he sometimes cannot control his bowels and soils himself.
He then tells me that he is sick and would not soil himself voluntarily," she sobbed.
Ms Ndlovu said Calvin's father does not support her even when he was told of the illness and he has never stepped in to assist.
She later remarried and has five more children after Calvin. Calvin has a huge foot and is suspected to be wearing around size 23 or more.
Like any mother, Ms Ndlovu said she wishes she could live with her son, but because of his size and her medical state, it makes everything difficult.
"I would like to live with him but because of his size it is difficult. We rent two rooms with his five female siblings who sleep in the dining room. When he used to visit, we would divide the room with a sofa and he would squeeze on the other end. Since he bed wets, the other children may be affected," she said. Ms Ndlovu sells chicken cuts to earn a living and says she needs a lot of washing powder to keep his blankets and clothes clean where he lives. He also has challenges with clothes and his mother looks for them in second-hand clothing bales where she sometimes gets his proper sizes.