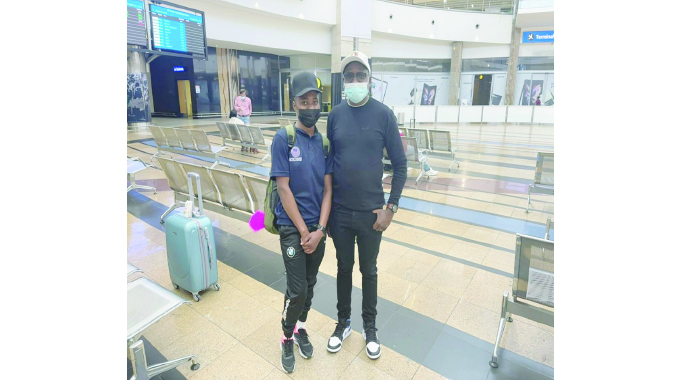 The Sunday News
Mehluli Sibanda, Senior Sports Reporter
FORMER athlete, Costa Takawira is a man determined to transform the lives of young Zimbabweans, especially girls through paying school fees for them while at the same time providing scholarship opportunities to overseas institutions.
Takawira, a mechanical engineer who has ventured into business is a beneficiary of a scholarship, which saw him enrol at a then prestigious Allan Wilson High School in Harare, wants youngsters who are gifted academically and in sports to get opportunities to a better life.
In 2015, Takawira, from Murehwa where he was born on 1 August 1971 created the Costa Takawira Mangwende Foundation, which has benefited those gifted academically and sporting wise. He is working with another former athlete, Philemon Hanneck who is based in the United of America. The two were scholarship beneficiaries to Allan
Wilson after they were scouted by the late Gift Chigwere, who was a teacher at the Harare school.
Last month, Faith Nyathi, a 21-year-old long-distance athlete from Ndolwane in Bulilima district, Matabeleland South travelled to the USA to take up an athletics scholarship at the El Paso Community College. Nyathi joined Kelvin Chiku and Bradley Makuvire who are already on athletics scholarships.
"I believe in giving back to the community, I am a beneficiary of such programmes, thanks to the late Gift Chigwere, who encouraged me, who took me from the rural areas to Allan Wilson, where I ended up excelling both academically and in sport.
So, I decided to say, I was given a chance in life and as a way of giving back to the community, I decided to form a foundation, its known as the Costa Takawira Mangwende Foundation, our theme for that foundation, we say "educate the girl child, you empower the nation".
I mainly focus on 80 percent girls and 20 percent on the boy child, the reason why I chose the girl, our community, if you look at the Zimbabwean history or African history, mainly they focus on the boy child and they neglect the girl child so we said we also want to promote the girl child,'' Takawira, a father of three girls and one boy said.
The foundation identifies children from disadvantaged families, who are talented, be it academic or in sports, place them in certain schools from Form One up to Form Four with their school fees paid. When they finish Ordinary Level, they are sent to the USA.
"We make sure every year, we send a minimum of three or four athletes, this year, we have sent a slightly bigger number than the previous years and next year, I am looking at sending at least 10 athletes, six girls and four boys.
Everyone talks about women empowerment, that's the way we thought we should empower the girl child, especially those who are coming from rural areas where their parents can't afford anything. Most parents, if they can't pay fees, they would opt for the boy rather than the girl,'' Takawira said.
His desire is to ensure that Zimbabwe gets more athletes competing in the Olympics as well as the World Championships in future.
"The aim of the project is to develop talent in Zimbabwe. If you look at international level, we are behind, so we took it upon ourselves to say let's start now, develop a new team, that will probably represent us well in the next Olympics and World Championships. That's why we are now working hand in hand with most of the American colleges and universities to groom our talent and make sure we have proper representation,'' he said.
Takawira believes the chance to go to Allan Wilson turned his life around since he was provided with everything.
"We had everything, I remember during my boarding days, you would only carry your uniform to school, everything else was catered for, so it opened a lot of doors for me because I used to compete in various sports events, they would take you all over, we had the opportunity to travel the world.
It opened a lot of opportunities for me considering the fact that I was coming from a rural area where no one even thought that one day I would be an athlete, where not even a single person thought that one day, I would be a businessperson and I will be where I am today,'' said Takawira.
Having grown up in Mangwende Village in Murehwa, Takawira was identified by Chigwere who encouraged him and Hanneck to work hard in their athletics with promises of scholarships to the USA.
"Chigwere identified myself and Philemon Hanneck and said I want you guys to come to Allan Wilson when you finish your primary school. At first, I didn't really believe it because I was still young, I am coming from the rural areas and there is someone who is saying he wants to take me to a Group A school then, which was one of the best schools of our time. When I finished Grade Seven, I joined Allan Wilson where I continued in athletics.
"At Allan Wilson I collected more than 70 medals that was in various events like 100m, 200m, 400m, and 800m. During the off-season period I would also do cross country events, that's when I met Philemon Hanneck. During that time, Chigwere was still a teacher at Allan Wilson, he started encouraging us that if we perform better in athletics, he was prepared to send us to America on scholarships.
"I continued with athletics until 1990, that's when Philemon Hanneck left and went to El Paso, Texas to pursue his scholarship, I remained at Allan Wilson until I finished my A-levels,'' he said.
Takawira got to represent Zimbabwe at the then Zone Six Games in countries such as Botswana and Eswatini.
"I remember 1992 when I was doing my A-levels, that's when I qualified for the national team, I was part of the national team that went for the Zone Six Games in Botswana. In Swaziland, I went under the University of Zimbabwe for the Confederation of Southern Africa Universities and Colleges Games. I remember performing there very well. I ran my personal best (44,55 seconds) in Botswana at the Zone Six Games in 400m,'' he reminisced.
Takawira missed out on three scholarships to the USA, which he failed to take up for various reasons.
"I got three scholarships, the first one was university of Idaho, where I was supposed to join Felix Kamangirira, Tawanda Chiwira and Hillary Mawindi. With University of Idaho, I didn't manage to travel when the other guys left because I couldn't raise the air fares.
"I applied for another place which I got at Georgia University, coach Elliot was very interested in me and the other one was at Louisiana State University where Arnold Payne was and Hillary Mawindi, but the reason why I didn't manage to travel at that time, Arnold Payne and Hillary Mawindi, they left the university without telling the athletics department, the coach was very angry. The day when I was supposed to catch my flight to the USA, that's when I received a call from him to say he doesn't want to see any Zimbabweans and that was the end of it for me,'' he recalled.
With the University of Georgia, Takawira missed out because of age. The institution wanted someone under the age of 21 and he turned 21 some weeks before he could take up the scholarship.
Robert Mutsauki, Takawira's former coach pushed him to run faster so the then young athlete believed he could even break the world 400m record. He believes if he had taken up one of the scholarships to the USA, he could have become a better athlete.
"During those days, I remember when Mutsauki used to coach me, he used to say we want you to be like Michael Johnson, so my target besides the Olympics was to go for the world record because I thought I had the potential and I could feel in me that I had the potential to run very good times then. If I had managed to go for my scholarship, I think I was going to even perform better, I still believe then I would have run a better time,'' Takawira said.
During Takawira's time at Allan Wilson, the school offered a lot of technical subjects and that is when he got to study engineering. He is currently pursuing an MSc Engineering Management with a United Kingdom university. "Back then, it was Allan Wilson Technical School, it used to offer a lot of technical subjects, so I started studying engineering when I was in Form One and by the time I was in Form Four, I was qualified as a journeyman, class one fitter machinist and I also wrote, then it was the National Certificate and a national diploma when I was in high school and I continued with engineering when I was doing my A-levels, I wrote the HND Mechanical Engineering when I was still a student at Allan Wilson,'' Takawira said.
While he studied engineering, Takawira actually wanted to be a medical doctor, something he missed out on because he only got nine points at A-level.
"I was doing engineering because it was part of the subjects that were being offered. My passion was to be a medical doctor, I wanted to be a medical engineer and unfortunately, I only got nine points at A-level, I didn't make it in the medical field but because I had an HND in engineering, I decided to pursue engineering. After my A-levels, I joined Lonrho as a graduate trainee.
During the learnership programme, I pursued the City and Guilds, I did T1 up to T5 then after the T5 I registered for a programme for Chartered engineers. I studied until I qualified as a charted engineer in 1995,'' said Takawira.
After school, Takawira joined Shabanie Mine as an athlete and an engineer. Takawira continued with athletics until he retired in 2006 to focus on grooming youngsters.
Takawira moved to South Africa under AA Mines before he joined Manhattan Mining Corporation, which is a mining entity in South Africa specialising in diamond and gold mining. He started off as a junior engineer, rose through the ranks until he became one of the senior projects engineers. His next port of call was Eskom where he worked for two years prior to being called back by Manhattan. Takawira went back to Eskom in 2010 and worked at the South African power utility until 2013.
From 2013, Takawira has been venturing into business, with interests in engineering and mining.
"In 2013, I met Massimo Giannaccaro who is my (business) partner now, he is Italian. I joined Baldmin Engineering on the projects division, which was known as Baldmin SA in 2013. After working there for about a month, I decided to change the name from Baldmin SA to Baldmin Projects. By December 2013 I was a partner in the business where I was a minority with about 34 percent equity. In 2014, we opened an office in Harare.
"In 2015, I met Brian Chandiwana, who is my partner at Chandiwana Mines, formerly known as Sabi Gold Mine in Zvishavane. We resuscitated Sabi Gold Mine in 2015 and we've been running the mine ever since and we are in partnership with the Zimbabwe Mining Development Corporation. In 2016, I decided to venture into mining, we bought a claim in Chegutu, which is registered as Baldmin Mining, the plant is 80 percent complete, we are busy with the construction. After that we got another claim in Kadoma where we will be doing a bit of open cast.
More Zimbabwean athletes are heading to the USA at the end of this year as soon as they acquire their passports.
"So far when I started engaging Phil, we have sent six athletes and the other four, they were supposed to leave now, but they are having challenges with their passports, so we are trying to engage the Registrar General, to see if we will be able to do their passports, Phil will be flying into Zimbabwe in November and he will go with the athletes in December."
Takawira's biggest dream for local athletics is setting up of a Diamond League, a prestigious global series of one-day meetings. At the moment, Morocco is the only African which has hosted the prestigious event before.
"I want to start a Diamond Series for athletics in Zimbabwe like they do internationally. Maybe we will introduce incentives for the athletes so that they will be able to compete. My target would be 100m up to 400m events, relays.
Takawira's dream of bringing the esteemed Diamond League to Zimbabwe might take time to take shape but his desire to improve the lives of young Zimbabweans is very much happening.
Follow on Twitter @Mdawini_29