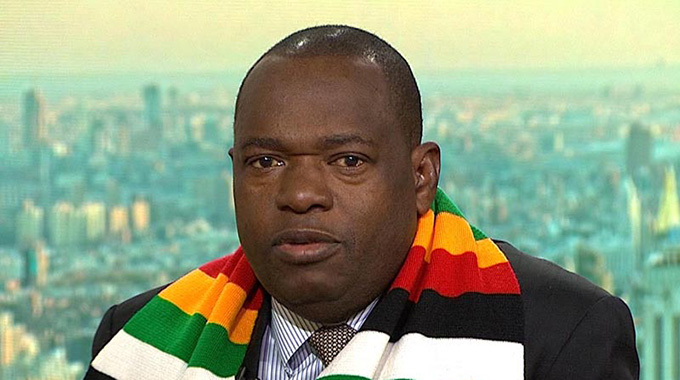 The Sunday News
Dumisani Nsingo, Senior Business Reporter 
THE Government is finalising the formulation of a new National Trade Policy and the National Export Strategy for the period 2019 to 2023 as it forges ahead with efforts to facilitate the productive sectors of the economy towards export-orientation and international competitiveness, a Cabinet Minister said.
Speaking at an exporters' breakfast meeting organised by ZimTrade last Friday in Bulawayo, Foreign Affairs and International Trade Minister Dr Sibusiso Moyo said the Government was determined to ensure that appropriate policies and strategies are put in place in order to facilitate the development and growth of exports.
"The new National Trade Policy and the National Export Strategy documents to guide the whole country's trade policies and practices for the next five years — 2019-2023 are under consideration for approval by Cabinet, in fact they are ready for adoption by Cabinet. The trade policy and export strategy are anchored on the Industrialisation Development Policy that would soon be launched and are all intended to advance Zimbabwe's exports led industrialisation agenda," he said.
Dr Moyo said the key strategic priorities of the National Trade Policy and the National Export Strategy include consolidating and expanding traditional export markets, exploring and developing new exports markets and diversifying our exports.
"The main objective of the 2019-2023 National Trade Policy and the National Export Strategy are to facilitate increase of total export of goods by at least 10 percent annually from the US$4 billion in 2018 to US$6,4 in 2023 and increase the country's export services by at least 15 percent annually from 513 million in 2018 to 1,1 billion in 2023," he said.
Dr Moyo said focus was also on improving the balance of trade position by at least 10 percent annually from US$ 2,2 billion in 2018 to US$ 1,2 billion in 2023.
He said although exports have over the years remained subdued, they remain the country's major foreign currency earner.
"There is no doubt that exports are the only sustainable source for foreign currency for Zimbabwe and have continued to sustain the economy over the years contributing more than 60 percent of the country's foreign currency earnings ahead of other sources such as Foreign Direct Investment and other remittances. Zimbabwe's exports have, however, largely remained subdued over the years, falling short of its potential to spur economic growth and development," said Dr Moyo.
He said there was a need for the country to diversify its export products and markets to enable it to realise growth.
Zimbabwe's export markets remain limited to a few traditional trading partners. 
In 2018 South Africa remained the larger market for Zimbabwean products absorbing 51 percent of total exports, followed by the United Arab Emirates on 18 percent, Mozambique (15 percent), Zambia (10 percent), Belgium (two percent) and China (one percent). 
On the other hand major import source markets were again South Africa, 39 percent, Singapore (22 percent), China (six percent) and the United Kingdom (four percent) and Japan (four percent).
"The need to inculcate and entrench an export culture among our enterprises can never be over-emphasised across all the sectors. There is also a need or actually a concerted effort to diversify the export products and markets, which we are having now in order for the country to be able to grow the export base. Potential is there for Zimbabwe to generate foreign currency through export services," said Dr Moyo.
Speaking at the same event ZimTrade chief executive officer Mr Allan Mujuru said there was a need for the country to diversify its export markets.
"Zimbabwe's economy is at risk because the bulk of our exports are destined for South Africa. This situation leaves us vulnerable to economic shocks in those markets," he said.
Mr Mujuru also said there was a need for the country to consider adding value to its export products so as to grow its economy.
"Current trade statistics show that the country is overly reliant on raw material exports namely minerals at 54 percent and un-manufactured tobacco at 21,3 percent, a situation that is not healthy for the country's economy as it means that we are simply exporting jobs to other markets where these are being value added," he said.
Mr Mujuru said in an effort to enhance exports ZimTrade has reviewed its strategy to remain relevant and responsive to the needs of local companies.
"This year we have undertaken a number of export development and promotion programmes to assist emerging exporters to better prepare for export markets and established exporters to consolidate or increase their exports," he said.