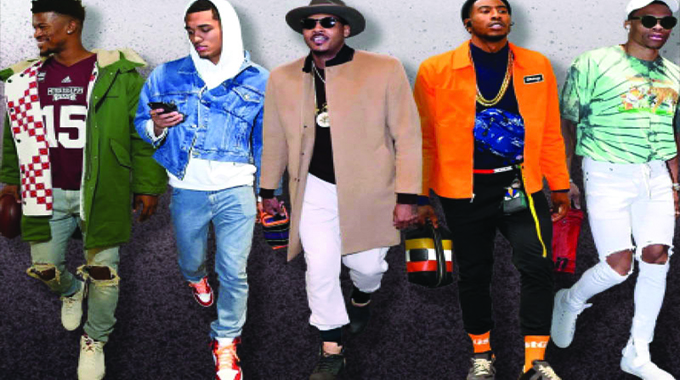 The Sunday News
Rutendo Chidawanyika 
OVER the course of the years we have managed to see a lot of progress and milestones in the men's fashion world. But with great responsibility comes a whole lotta fails.
This article brings us to a light-hearted compilation of the most unforgivable men's style and fashion sins to ever be committed by unsuspecting men. And from this article you will know the crimes which no man should ever commit in fashion.
White Socks,  Black Shoes
I shouldn't still have to bang on about this, but guys are not listening. Whether you're in a rush to make happy hour or get in line for fuel, you should never ever wear white socks with a suit or dark jeans and pants. It's like drunk driving, just don't do it. Rather be late, get black socks and get serious.
Exercising In Fitness Leggings Without Shorts
This just kills me. Why guys persist on not wearing shorts over their gym leggings is beyond anybody. The last thing anyone wants to see when you're jogging around the gym is someone coming toward you with their meat jumping about the place. Do us all a favour and keep them covered.
Canvas Slip-Ons
These are almost as bad as Crocs but have a slight redeeming quality in that they're a disabled cousin to the Espadrille. The new wave of canvas slip-ons sees men take a further step down the road of footwear insanity. These nasty shoes are poorly made, fall apart and get so dirty you think the people wearing them are homeless. They look like those kung fu shoes, not a good look.
Men's Cargo Pants
I thank the good lawd that these pants are not in season, however, there are still some souls who dare to wear them. Cargo pants are without a doubt one of the most hideous kind of pants a guy can wear. They're bulky, unflattering and unless you're a soldier serve little or no purpose.
Black Work Socks For Run/ Gym Workout
Here's the guy who thinks he's killing two birds with one stone. Your black work socks may have already had 8 hours of wear but that does NOT give them the right to go to the gym with you. Pack an extra pair of white socks and stop being so lazy (and Dad-like).
Black Shirt, White Tie Combo
Seen most often at bogan weddings and within the IT industry, the black shirt/ white tie combo is often accompanied by a poorly fitting suit and fake D&G wrap around sunglasses. Black shirts in general should only ever be worn with black ties or with an open collar. Keep the gangster vibe for your next dress up party.
The Deep Vee
Then we have the deep v-neck t-shirt. Once an essential part of any young man's wardrobe, the deep v is now strictly saved for urban thugs and inked up heroes. It's time to ditch the deep v and invest in some scoop necks or v necks that don't show off as much of your cleavage.
Embellished Denim 
Please leave the cowboy looks  for the cowboys, don't try to go for Embellished Denim. Pockets designed with embroideries, golden beads, logo designs and some wired tattoos. Oh, it is the worst fashion trends of the twenties, never try it again. Try out ripped jeans or skinny jeans for a dapper look.
Baggy Tees 
Clothes that don't fit you will never look good on you, this is the basic rule you should follow while buying clothes for yourself. Have you ever wondered what will happen when you step out of the house and your baggy tee falls off from one of your shoulders, such an embarrassment! Well, if you have one such tee in your closet it's time to get rid of it right now and invest in good t-shirts .
Doctor sleeves
There is no need to pick two favourite shirts to get a perfect look as doctor sleeves trend has faded out ages ago. Never style a short sleeve shirt over a full sleeve t-shirt unless you want to make fun of yourself. Instead try to layer your t-shirt the right way, or else stick to one shirt or t-shirt to complete your stunning look.
Flares/ Hipsters
1970's days are gone where flares ruled the fashion world and everyone you see on the street used to styled themselves with flares. Recently a few years back in the 1990's it came back in trend with a bang. But times has changed and it's no longer a fashion trend. Flares shouldn't be a part of your wardrobe as it looks terrible today. Go for regular trousers or denims for a simple and elegant look. (Additional information from online sources)
Email: [email protected]