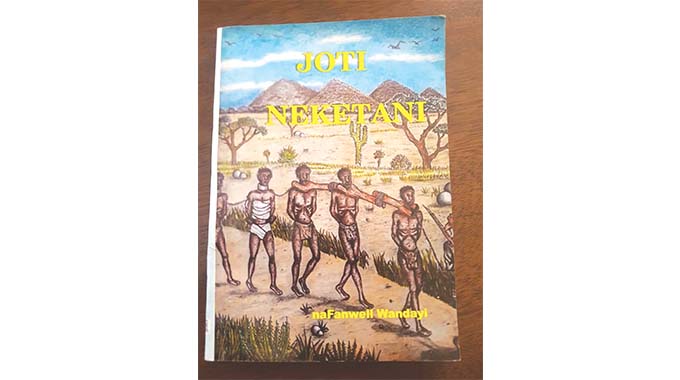 The Sunday News
Samantha Munyurwa, Sunday Life Reporter
BULAWAYO-BASED novelist Fanwell Wandayi has published his second Shona novel titled Joti Neketan after Ndaiti Ndinotewo which he published a few years back.
Wandayi is also a marketer by virtue of being a holder of a marketing management degree from the Midlands State University.
"I also engage in part-time consultancy work for start-ups and part-time writing," he said.
The title of the book, when translated into English literally means shackles and chains. It is a fiction story based on slave trading in colonial Rhodesia, the participation of local chiefs in the trans-Atlantic slave trade and the effects of this dark chapter in the history of black people. The book has generated a lot of interest from fellow writers particularly from the WinZim and other online platforms.
"I think this is because the book could be the first of its kind to touch on the issue. Much of what has been published on the slave trade mainly concentrates on West Africa being the source of the slaves and the Southern States of America and the Caribbean islands being their major destinations. But this book tells an untold stories of our own people being taken into captivity and sold as slaves to the Portuguese sugar planters in Brazil through ports in Angola and Mozambique. So, I can say the book is unique.
"There are questions of course on the factual side of this story and my answer is, the book is a product of research.
Did you know that by the year 1830, Quelimane (Mozambique) had become one of the most important slave ports in Africa, exporting between 10 000 and 15 000 slaves annually? In the story, a local chief's son is among those captured and sold into slavery. Although he manages to escape and return back to his people to try and set them free, he discovers that ahead of him lies a mammoth task as most of his people now identify themselves with their captors and are even prepared to fight and defend them," he said.
Wandayi is also working on play, other novels and short stories.
"I have novels only to my name but as I speak, we are working on a short story anthology, myself and Louis Chihata, a Zimbabwean radiographer who is based in Ireland. So, I can say I'm also into short stories and poetry."
He added that he was proud of local languages, hence his writing in Shona.
"I'm proud of local languages, my dream is to have all my books translated into IsiNdebele and other local languages. My work should be inclusive."
Wandayi is smitten by other writers' work such as Charles Mungoshi locally and Wilbur Smith.
"I have read Charles Mungoshi's books and I found him to be extraordinary. I'm also inspired by many budding writers in this country, their unshakable spirit in the face of challenges presented by the ailing economy is just marvellous. From abroad, the work of Dan Brown and Wilbur Smith have had some influence on the way I approach my work."