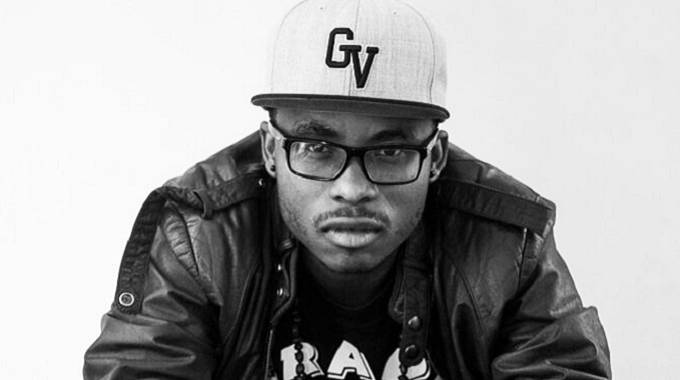 The Sunday News
Bruce Ndlovu
FOR rapper Cal_vin, the country's current economic challenges mean he has no time to worry about gold chains and diamond rings, trinkets that wordsmiths in other countries have been known to covet.
Like many people with families to support, a life of bling is far from what the rapper has in mind at the moment. He is battling to survive. His survival means those that also eat off the rapper's palm get to survive too.
"It's not really about living life that people expect of you as a public figure. It's about just living life in general and being able to do XYZ. We're all praying and hoping for improvement and I'm personally hoping things change because my life is not my own. I've got too many people
I'm responsible for so when my life is affected like this then it gets even worse for them," the rapper told Sunday Life last week.
As the country attempts to drag itself out of its current economic quagmire, Cal_vin is now singing a song that is familiar enough to anyone with their ears pressed towards the arts sector. It's a tune whose chorus has been picked up by everyone from musicians to dancers and actors.
The gigs, the oxygen that kept young rappers like Cal_vin alive for many a year, have dried up. As belts tighten across the country, promoters now look at live gigs as a throw of the dice. It is a gamble that very few are willing to indulge.
"Honestly everybody is being affected by this economic situation that we're facing right now and this applies to us as artistes. Why is that?
Well, it's because there're no gigs. There're just no gigs and no bookings and all that means there's no money coming in. When you're selling albums people are complaining that they don't have money so it's a tricky situation for everybody really. We're all affected by the same problems and we all want money but we're not getting any," he said.
Rappers cater to a very young demographic, with most of their fan bases comprised of teenagers most of whom are at school or are fresh out of school and yet to find employment, one would understand why most would be shying away from their shows. As parents face increased hardships, it stands to reason that most dependants would have little disposable income of their own.
However, it is not artistes that cater to youthful listeners that are feeling the pinch. Artistes that belt out tunes for supposedly "mature" listeners have also not been spared.
"When the economy is like this it is always a very bad time to be an artiste," said veteran jazz artiste Jeys Marabini. "For us to survive we need people to be working and making money which means that our shows become attractive to them. As it is it's challenging. Artistes are striving to survive even at a time like this and I think people should applaud them for that."
Marabini's take was supported by playwright Raisedon Baya, who said that as pockets dried up, the arts were becoming a luxury many were unwilling to indulge in. At the end of this month Baya is set to bring the last days of Zimbabwe's former president, Robert Mugabe to the stage. The play promises to be a potential gem, with Baya's pen providing ample material for veteran director Memory Kumbota while Zenzo Nyathi is once again to showcase why he is one of Zimbabwe's greatest ever stage talents when he takes on multiple roles in the play.
As compelling as that line-up of talent is, one would have to go deep in their pockets to witness what promises to be a bit of must-see stage magic.
"The problem we've got right now is that when you put up a show people don't come for various reasons. For example, a person from Pumula will count the transport costs and the fee you want to charge at the gate and stay away.
"A person that wants to drive to the same show will think it would be better if they spent the time they would use up at a show in a fuel queue.
In terms of prioritisation the arts are really suffering and we've got a joke that says if you ask artistes how they're making a living nowadays they'll just tell you that they aren't living at the moment," Baya said.
Despite the problems that a hard economy brings for artistes, Baya sees a silver lining. When things are tough, he argues, that is when the creativity of artistes flourishes.
"It's a paradox for many artistes. When things are like this, there's usually plenty of material because you tap into whatever hardships are going on at the moment. Everywhere you look there's content. The problem we've got now is that we aren't doing art for art's sake anymore.
We've got to put food on the table for the kids," Baya said.
Baya also said although the problems seemed insurmountable they could play a role in cleaning up the arts. When things had been easier, many a chancer had jumped on the arts bandwagon in hope of making a quick buck. As the economy hardened, the wheat would be separated from the chaff as only those with a true dedication to the arts would stick it out. It would also help wean the arts from donor funding, a vice that had seen many rest on their laurels for years.
"We used to get people paying for everything and maybe because of that maybe we relaxed because we thought it would always be there. We had donors supporting everything but now they've taken a step back and we're now we're basically starting from zero. We're trying to build an audience that will understand that they've got to pay for things because the artiste has to put food on the table," Baya said.
As the arts became a game where only the toughest survive, visual artiste George Masarira said one now had to rely on the connections made down the years to make a living. A visit to Masarira's Facebook wall would inform one of the connections he claims, with a lot of multi-national interest shown in what will be his solo exhibition south of the Limpopo.
"At the level that I'm at, you get a few people coming to buy one or two art pieces. I would say that the major source of income for me comes from the connections that I've made through the years, especially with the art galleries in South Africa," Masarira said.
For younger artistes who are yet to weave the intricate webs of connections that are necessary for progress in the arts, life is not as easy in such times. After bagging three gongs at the Zimbabwe hip-hop awards last month, rapper Asaph has had to confront the realities of life in economically tough times. After a prolific award season, many would expect the young rapper to be living a champagne lifestyle as he toasts to his multiple triumphs in 2018. However, Zimbabwe's arts scene is no Hollywood, and different, harsher realities confront its musicians.
"Shows come but it's never enough so trying to keep up with the "lifestyle" is an expense most artistes should not need to keep up with. No one expects doctors to live a certain lifestyle so why should artistes feel that pressure? If we were to compare our Zimbabwean doctors to what SA doctors earn and how they live we'd see that it's just the same for artistes," he said.