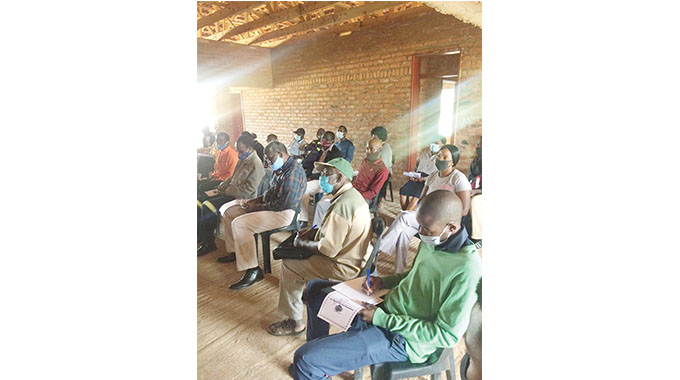 The Sunday News
Judith Phiri, Farming Reporter
FARMERS have been urged to create fodder banks that they can use to feed their animals during drought to avert losses.
Speaking during a fodder (animal feed) crops workshop in Bulawayo on Friday, Matopos Research Institute research officer Mr Alois Hlatshwayo said there was a need for farmers to make use of the erratic and isolated rains being received in the country through cultivating fodder crops to feed their livestock.
"Every year farmers in the Matabeleland region have a shortage of feed. This semi-arid region receives highly erratic and low rainfall, which also affects production of grasses on the veld. During the dry season farmers get challenges accessing or sourcing feed for their livestock. By attending such trainings we are saying farmers should be prepared and have some kind of disaster risk strategy through fodder production," said Mr Hlatshwayo.
He said by growing fodder crops farmers will also be reducing pressure on the grazing lands and thereby allowing them to recover. Mr Hlatshwayo said the fodder crops have various benefits as they are very palatable, nutritious, can adapt to a wide range of soil types, easy to grow, drought tolerant, withstand extended periods of moisture stress and can be grown on dry land without any irrigation. He also noted that through fodder production farmers can grow various forages and legumes crops which are nutritious for their livestock.
"Forages and legumes crops give animals energy or crude fibre. They also give them proteins that allow the animals to maintain their good body condition which they would have gained during the growing season," he said.
Mr Hlatshwayo noted that animals that are supplemented with various forages and herbaceous legumes are able to produce enough milk for their offsprings.
"For grasses such as banner grass we harvest them when they are about one to 1,2 metres in height by then it will be very palatable and highly nutritious. For legumes they are normally harvested when they are about 30 to 50 percent flowering stage. After that depending on the farmer's capacity or choice of preference they can choose to conserve or preserve the feeds in two ways either in dry form which we call hay or in fresh form which is called silage," he said.
He added that hay forages are chopped, dried and then baled. Mr Hlatshwayo highlighted that farmers should also grow multipurpose trees where animals can eat directly from them such as mulberry, moringa, cactus which are good sources of livestock feed. These trees are highly nutritious and have high protein content which is very beneficial to animals.
Matabeleland Goat, Sheep and Poultry Trust chairman and operations director Mr Njabulo Bango encouraged farmers to take fodder crop production stating that it saves them money.
"We have realised that a lot of farmers lose their animals especially ruminants such as cattle, goats and sheep during the droughts yet within their reach there is a possibility of growing fodder crops. We want to capacitate them so that they also cut heavily on feed costs and most commercial ones are expensive. Also fodder production will assist on their livestock productivity," he said.