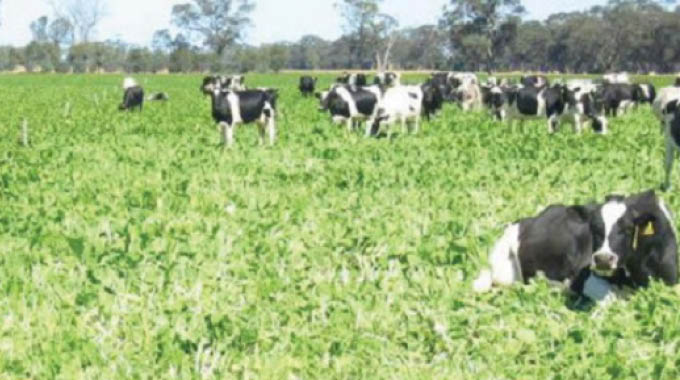 The Sunday News
Dumisani Nsingo, Senior Farming Reporter 
THE Department of Agricultural Technical and Extension Services (Agritex) is calling on livestock farmers to take advantage of the erratic rainfall through reserving part of their land for fodder production to avert their animals from succumbing to the effects of drought.
Matabeleland South Agritex provincial crops and livestock officer Ms Simangaliphi Ngwabi said there was a need for farmers to make use of the erratic and isolated rains being received in the country through cultivating fodder crops to feed their animals.
"It's high time farmers utilise part of their land for fodder production by taking advantage of the erratic and isolated rains being received so far. 
By so doing they will enhance feed availability of which fodder deficiency is one of the major factors that has led to high poverty deaths and of course the unavailability of reliable water sources being the other," she said.
Ms Ngwabi said a sizeable number of farmers in Matabeleland South had ventured into fodder cropping but hinted that there was a need for all livestock farmers to embrace the concept to save their animals from succumbing to poverty deaths.
"There are quite a few farmers in Gwanda South that are into fodder production with some that had grown Lablab, dried it and baled it already having assisted quite a number of other livestock farmers to feed their animals," she said.
Fodder crops may be classified as either temporary or permanent crops. 
The former are cultivated and harvested like any other crop. Permanent fodder crops relate to land used permanently (for five years or more) for herbaceous forage crops, either cultivated or growing wild (that is wild prairie or grazing land), and may include some parts of forest land if it is used for grazing.
About 16 000 cattle have so far succumbed to drought in Matabeleland South only although the figure might far outstrip that as other cases are going unreported.
Ms Ngwabi urged farmers to de-stock by way of selecting unproductive animals within their herd and sell them to purchase stock feed so as to save the productive ones.
"The little rains we have received of late have seen the condition of cattle slightly improving thus farmers should start coming with various initiatives to save their cattle herds. 
For instance, this is an opportune time for them to select and sell unproductive animals within their herds so as to buy stock feed especially supplementary feed," she said.