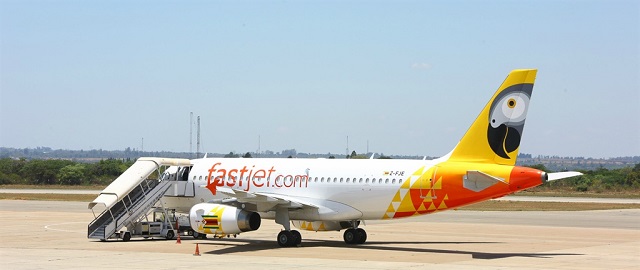 The Sunday News Business Reporter
LOW-COST airline fastjet has been recognised as Africa's "best" low-cost Airline at the World Airline Awards, presented by Skytrax at the Paris air show in France on Tuesday.
This is the airline's first world airline award and its second accolade in two years after winning the world travel awards' best African low-cost airline in 2015.
The award is based on votes from customers making use of an airline's services and counts as chief executive Mr Nico Bezuidenhout's fourth world airline award for an airline under his leadership.
"The award is a welcome accolade and suggests that fastjet is on the right trajectory," said Mr Bezuidenhout, adding that while 2017 has been a challenging year, the airline is on solid foundation for measured growth.
"The recognition as the best low-cost airline in Africa comes as the stabilisation plan concludes and our focus broadens to commercial stability and positive movement in terms of network, distribution and fleet." He said fastjet's plan was to assume the role of Africa's first pan-continental low-cost airline riding on time performance and continued focus on making access to air travel simpler and more affordable.
"We offer a solid product that offers exacting standards across all the check-boxes," said Mr Bezuidenhout.
The airline services the Zimbabwean domestic route and also links Harare and Johannesburg. Skytrax chief executive officer Mr Edward Plaisted said: "fastjet continues to develop quality standards in the African low-cost market and their product and service offering has proved very popular with passengers in the 2017 awards.
"It is a fabulous achievement to win this award for the first time and should serve as encouragement to the airline staff and management for future development."