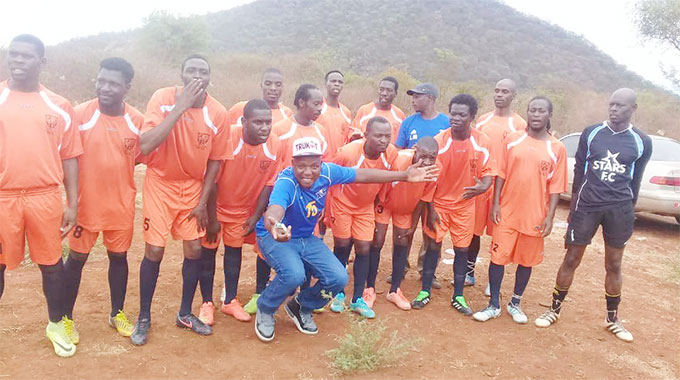 The Sunday News
Mandla Moyo, Sports Reporter
REIGNING Bulawayo Social Soccer League defending champions FC Stars are still on course to collecting a successive league championship crown.
Red-hot Stars have left a trail of destruction everywhere they go. This season, to date they have only lost once from a total of 14 matches.
FC Stars have Legends standing on the line of their fire this morning. As anticipated the reigning champions are expected to brush aside their hosts with ease while keeping their eyes on the ball as the league nears the halfway mark.
Their nearest revivals Man U will travel to Magwegwe for a date with Vule Vale in what looks like a tricky encounter on paper.
The fact that their opponents today drew two all against Old Timers is enough motivation to the visitors considering how the team fared in their last games as well taking into consideration their position on the log table.
However, from a Man U perspective it is worrying for a team placed second to continue donating goals like they did in their last game which they won 6-5 against Brotherhood.
If they desire to keep in touch with Stars they have to quickly plug the leaking holes within their defence.
Below are some of the games lined up for this weekend as anticipated high scoring games are expected. Last week the highest scoring team was Celtics who made sure that the goalkeeper retrieved the ball from the nets eight times without reply.
Pool A: 94 Strivers vs 70 Combination  (TM Cowdray Park), Khami vs Ndola (Khami), Makwee vs Cowdray Masters (Mazai, Makokoba), Funda vs Old timers (Tshabalala Ext), Magwegwe Bullets vs Congo chiefs (Magwegwe High), Creamtata vs Zulu Chiefs (Lobengula Youth Centre), FC Pirates vs Patapata (Rugby, Lobengula ), Santos vs Glenkara (Silwane, Pumula Old), Legends vs Stars (Food For Less, Emganwini), Iminyela timers vs Edgars (Ndola), Brotherhood vs Mthala (Desert, Njube ), Vule Vale vs Man U (Magwegwe West), Fireworks Vs Tigers (Luveve Sec).
 Pool B: Real Magwegwe vs Siyabangena (Magwegwe High),  Gwabalanda vs Bombers (Makhosi, Gwabalanda), Zinwa vs Finance (Mambo, Tshabalala), Real Shwelele vs Njube Crackers (Inyathi, Mpopoma), Matshobana vs NJC (Matshobana), Skippers vs Wembley (Bango, Mpopoma), Nkulumane vs Pumula Crackers (Phekiwe, Nkulumane), Pioneer vs Celtics (Matshobana), West Com vs Mabutweni (Nduba Pry, Pelandaba), Zobha vs Pelandaba (Sizinda), Happy valley vs Robert Sinyoka (Mazai, Makokoba), Shwelele vs Lobels (Inyathi, Mpopoma),  FC Zonke vs Mayihlome (Esporweni, Entumbane).