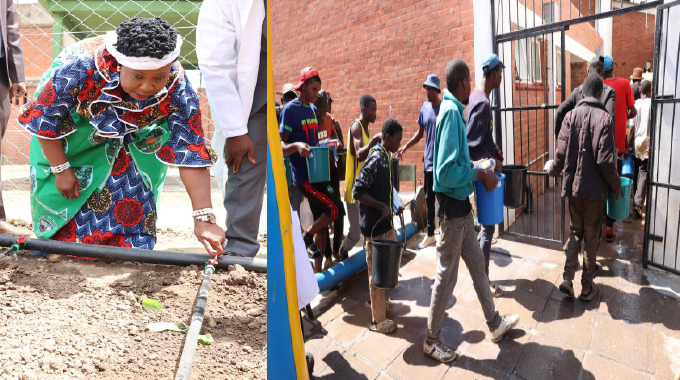 The Sunday News
Tendai Rupapa, Harare Bureau
FIRST Lady Dr Auxillia Mnangagwa has launched a massive skills development project in Mbare, Harare, for children living on the streets and drug abusers, as she continues with her empowerment drive and battle against drug abuse, prostitution and indiscipline, among youths.
Dr Mnangagwa showed her unconditional love for them when she provided toiletries and buckets for them to bath. She also provided them with food. Working with the Harare City Council, the First Lady revamped the Mbare Netball Complex and set up a nutritional garden and orchard with drip irrigation, a solar-powered borehole with 20 000-litre tanks and taps. She also built a cooking shade, sink area and put in place a washing line.
The mother of the nation further renovated bathrooms and toilets which will be used by the children as they will be doing various projects. Showing the way to the children, Amai Mnangagwa planted various types of vegetables and fruit trees with them under the project, which will be implemented in all the country's 10 provinces.
The complex becomes the skills development centre for Harare Metropolitan province, where children from the streets and around the community will receive training in various projects, including agriculture, carpentry, dressmaking, cooking and sporting activities. 
The support programme will afford the children an opportunity to stay off the streets, off drugs and embark on a new path, as they will also receive medical services. This is not the first time the First Lady has launched a project directly for children living on the streets and drug addicts, after she rounded up some a few years ago and committed them to Dr Auxillia Mnangagwa Children's Home in Chiredzi, where they are pursuing academic studies and being equipped with vocational training skills.
Beneficiaries of the programme have quit drugs and become masters of their own destiny through empowerment projects like piggery, goat rearing, horticulture and carpentry, to name a few. The home was changed from Chambuta Children's Home to Dr Auxillia Mnangagwa Children's Home in honour of the First Lady, who to this day continues mobilising resources for its sustenance and initiating countless projects there.
Amai Mnangagwa has also for a long time been working with children living on the streets in her fight against drug abuse through sport. 
Addressing the gathering in Mbare, Dr Mnangagwa highlighted that her motherly instinct compelled her to address the plight of street children, who are often exposed to drug addiction and child sexual exploitation. 
"Today, I have come to launch a programme focusing on these children so that they leave drugs and stay off the streets. This place (netball complex) had been turned into a dumping site, but I have given it a facelift in conjunction with the Harare City Council. We agreed to work closely together," she said.
"This programme focuses on rehabilitating those who are misbehaving in this programme called 'First Lady's Life Skills Development Project for Persons Living in the Streets and Drug Abusers'. There shall be an array of skills. I wish to thank all those who worked with me, those who assisted me and those who will continue to assist me. Thank you! A mother builds, moulds, and that is why I have come to mould those who are digressing from our expected norms. An elephant will never shirk responsibility. Come back and suckle vanangu, because there is no mother in the streets. Accept to be assisted."
The mother of the nation gave reasons behind her move to establish the project.
"I started this project because I discovered that children had been ruined by drugs and their internal organs were damaged. This is not happening in Zimbabwe alone; the whole world, drugs are a challenge. As mothers, pregnancy is painful, therefore, let's put our hands together and look after our children. We should never lose hope. Some of the challenges arose during the Covid-19 era, forcing children to drop out from schools, while others fell pregnant and ran onto the streets. Some children are running away from violence in the home and going to live on the streets," she added.
"As mothers, we no longer have dignity because our children have lost morals. Some mothers are pushing their children to go and beg on the streets. I once spoke to some of the children on the streets who poured their hearts out, saying they were being influenced by their mothers to stay in the streets and beg. Some mothers are selling drugs to our children. Madzimai, let us use our hands to work and earn clean money. Let us live in peace in our homes so that the children are not affected. Cemeteries are full of our young children. Let these children grow and realise their potential. Stop selling drugs; you are killing children. This is what I am fighting. That is why I came up with this skills development centre. As Mbare, let us support this project. Even those from around this area can come and learn life-skills. It is also going to be a rehabilitation centre. Doctors will also come to screen you for ailments. The way you bathed today marks the beginning of my relationship with you and I want you to maintain cleanliness on your body and the environment where you work. This is now your place and let us say no to vandalism and littering. Sporting activities will be done here. Vanangu, cholera is now here and do you know what causes it?" she asked.
The question elicited a lot of responses.
"Uncollected garbage and poor hygiene cause cholera," a child living on the streets responded.
A 13-year-old left the crowd in stitches when he said: "Momz, cholera inokonzerwa nekusageza (Mum, cholera is caused by not bathing)."
His colleague said: "We are getting cholera from bins where we compete with flies for food."
Amai Mnangagwa implored them not to eat from the bins, saying that was the reason why she had brought them something to do. A girl praised the First Lady for coming to their rescue.
"I thank you for what you have done to empower us, Amai, and wherever you touch, things improve. Cholera affects us because we eat without washing hands. We promise to work hard here and earn income to sustain us."
The First Lady emphasised that the programme was ongoing as it sought to empower them fully.
"The programme is not for today alone but it's a beginning of greater things to come. More projects are coming, like carpentry, sewing. My children, this is now your place. You are now the security officers of this place and please look after it. Leave the bins, get off the streets and let us start a new life. I could not prepare you food today on open fires because of cholera, but once it is over, I will come and cook for you some healthy traditional meals as we while away time playing different games," she said.
The street children and those from surrounding areas who are poised to benefit from the programme sang praises of the First Lady.
"It can only be God. I never thought I would be accorded a chance to prove myself in life. The First Lady is doing wonders for me and my peers and for that I am truly grateful," a 14-year-old girl said.
"Life on the streets is tough because we are exposed to many life-threatening challenges and bad things like drugs and prostitution. What our mother is doing for us is certainly going to improve our lives and ensure we are able to sustain ourselves. We promise to leave drugs and occupy ourselves with projects," a boy,16, said.
Also charmed was a 30-year-old beneficiary.
"Our mother has given us a fishing rod and all we need to do is use the facilities and resources she is providing us to change our lives. She is certainly an angel of hope for us," he said.
"Our mother is not selective. Today, she bathed us and spoke to us about hygiene. No one really cares for us the way the First Lady does. May God grant her a long life filled with blessings so that she benefits the whole nation for many years to come."
Harare Metropolitan Province Minister of State for Provincial Affairs and Devolution Mr Charles Tavengwa expressed gratitude to the First Lady for her benevolence.
"We are grateful for what you have done for our children here. We are thankful for the wonderful works that you are doing and the great work you have embarked on here. You have given them weapons, fishing rods and teaching them how to live. You saw that being in the streets exposes the children to drugs and prostitution. Amai, you are not leaving anyone behind. This is social development of these children and they will succeed just like others. You are everyone's mother and to the children, I say please come to your mother, who is willing to look after you," he said.
Harare City Council director of housing Mr Addmore Nhekairo, who was representing Town Clerk Mr Hosiah Chisango, gave a vote of thanks.
"I wish to start by thanking Her Excellency Amai Mnangagwa. My gratitude is not confined to this programme alone, but all initiatives she is spearheading in this country. Your interventions are bringing development in this country. Through your Angel of Hope Foundation, you are making life easier for many, especially vulnerable groups. This place was dilapidated, but you have done a lot to give it a facelift. Children from the streets will be getting assistance through your initiative, Amai. As city council, you have thrown us a challenge and we need to be strong so that we carry your vision forward," he said.