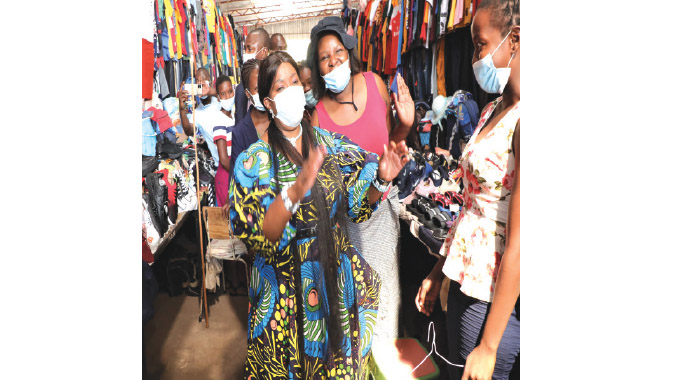 The Sunday News
Tendai Rupapa recently in Victoria Falls
TRADERS at Comesa market, which houses women and youth in business in Victoria Falls, had a rare opportunity to mix and mingle with First Lady Auxillia Mnangagwa, who visited, commended their work and urged them to continue working hard.
The First Lady, who was in the resort town with children from the San community she had taken for a week-long adventure, took the opportunity to spend time with the traders, giving them wise counsel as part of her drive to empower women and youths.
As a show of support for their enterprise, she bought merchandise from different stalls, bringing smiles to traders who said business had been low. She also chatted with traders, who could not hide their joy as they explained to her their experiences and shared jokes.
"Amai, muno hamubuditswe mari yaunenge waudzwa, you negotiate first, we are open for business and negotiations," said one of the female traders with a chuckle.
"Motondidzidzisawo vasikana kuti zvinofambiswa sei. You said this material is for $10? Aiwa asikana manje ndine $8 ini," responded the First Lady jokingly, bringing the whole market into laughter.
So passionate for empowerment of communities is the First Lady that she has been working hard to promote income-generating projects particularly for women and youths. Among the traders was Ms Thembi Mwembe, who said she was happy to have met the First Lady and was grateful for the support she got after she bought items from her.
"I am so grateful for the support she has given us. At times we go for a week without selling because business is low these days. Our business is reliant on tourists and has been hit by this Covid-19 pandemic. However, Amai put smiles on our faces when she bought from us to show her support," she said.
Equally elated was Ms Senzeni Tshuma, who was appreciative of Amai Mnangagwa's visit.
"During this difficult time of Covid-19, we felt relieved that Amai came to see the projects we are doing as women and youths. We follow her teachings that we should not sit down but work with our own hands. We cannot wait for men to pay for everything in the home; we should be their support pillars and play our part," she said.
Mr Believe Mushayavanhu, who also operates from the market, said the First Lady's visit was a blessing that would bring business.
"The coming of the First Lady brings us hope and we feel encouraged to work harder. We also spoke to her one-on-one as she shared with us important information on economic empowerment and financial literacy. I thank her fully for coming to back our efforts to sustain ourselves through working with our hands. As youths, we support Amai's stance against drug and alcohol abuse because this affects lives. Most people of our age groups are dying before their time because of drug abuse. I want to encourage other youths out there to use their energy on productive things so that they economically empower themselves," he said.
Another trader, Mr Tonderai Madzianike, also urged other youths to use their hands productively to earn a living and shun criminal activities.
"I am delighted with what our mother has done to come here where we work. It is my first time to see a First Lady visiting us at this market to see what her children are doing. As youths we listened to her wise counsel and we shall put it to good use," he said.
The First Lady, who believes in hard work, has previously paid unexpected visit to Lugwasyano Curio Market, Art and Craft, and Zambezi Arts and Craft Women markets, where she interacted with female traders. This was the first time in the history of the market any First Lady had visited, mixing and mingling with traders and buying their wares. The encounter will be etched in the trader's minds for a long time.