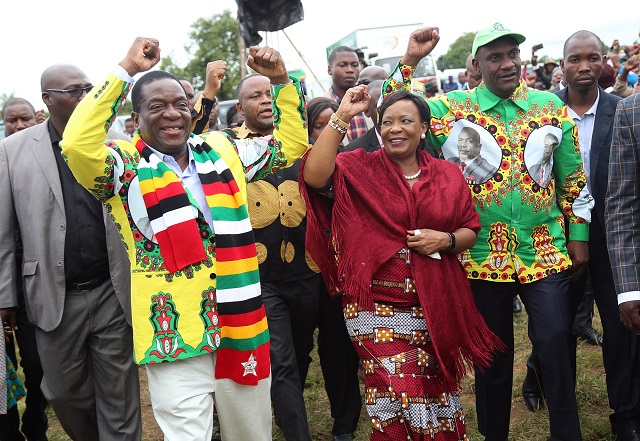 The Sunday News
Sukoluhle Ndlovu, Midlands Correspondent
FIRST Lady Cde Auxilia Mnangagwa has stepped down as Chirumhanzu-Zibagwe Member of the National Assembly to concentrate on her philanthropic work throughout the country.
Cde Mnangagwa became the MP in 2015 after a by-election after the seat fell vacant following President Emmerson Mnangagwa's elevation to the position of Vice-President.
Addressing thousands of Zanu-PF supporters at Mvuma Stadium yesterday, President Emmerson Mnangagwa said the First Lady was stepping down as MP to concentrate on her philanthropic work she recently started and her role as the First Lady.
"The reason I came here today is to tell you that Amai Mnangagwa is stepping down as Chirumhanzu-Zibagwe MP with immediate effect. She cannot be an MP and a First Lady at the same time. As First Lady, she can be in any constituency doing her philanthropic work which she recently started," said President Mnangagwa.
"And let me tell you, I did not hand-pick her to be the MP of this constituency. She contested in the Zanu-PF primary elections following my promotion to being the Vice-President in 2014. It's not true that she inherited the seat from me."
In an interview on the sidelines of the rally, the First Lady said while she was sad to be stepping down, it was prudent for her to concentrate on bigger and national projects.
"I am very sad that I'm stepping down but it had to be done. I had developed a good working relationship with the people from this constituency and seeing them cry after the President announced my stepping down really touched me. But I promise that I will never forget them," said the First Lady.
She said she had to ask the President to announce her stepping down as she could not do it herself.
"I had to ask the President to tell the people on my behalf because I couldn't say it myself. It really was a wonderful journey, but unfortunately it has come to an end. I'm now focusing on my new role as the First Lady and I cannot double up as an MP," she said.
Speaking during the same function, Environment, Water and Climate Minister Cde Oppah Muchinguri-Kashiri said the First Lady is committed to serving the nation.
"The First Lady is indeed a worker and we have seen the projects she was doing here. She is an organiser, a manager, an advisor. Imagine the President had to smile during those Interface rallies when he was being attacked. Because the First Lady is a good advisor, she managed to make him strong because he just smiled while being attacked. She is a nurse who loves the people as evidenced by her visits to hospitals," she said.
Cde Muchinguri-Kashiri, who is also Zanu-PF National Chairperson, said Cde Mnangagwa was indeed a wonderful woman who understands that she is supposed to be the President's helper and not his competitor.