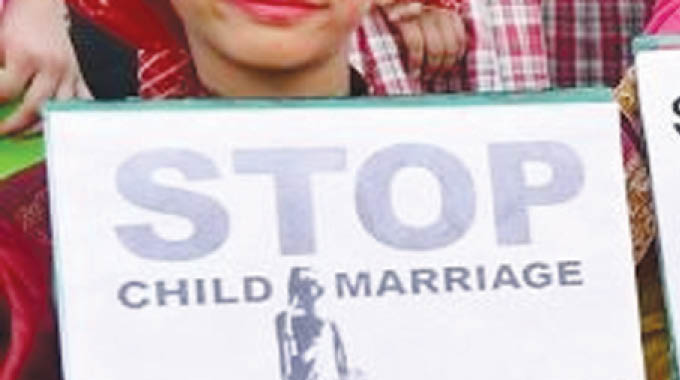 The Sunday News
Vincent Gono, Features Editor
Hi Sis Noe
I am 20 years old, my parents want me to marry a 76-year-old man, I do not like him, what should I do? Please help me.
Reply
Frankly I think your parents have lost their marbles — a marriage with a man who is 56 years older than you is overstretching it. This man is too old to make a good husband. He won't be able to relate with you, what he thinks makes life is not what you think. You won't have a meaningful conversation with him at all, while he wants to discuss old issues about this and that, you want to live your youthful days to the full.
This man is a cradle snatcher; he will drain the life out of you. Come to think of it he is in the twilight of his life, it might sound callous but its reality. You will be a widow at a young age. Granted, people die even the young ones but at least their deaths are not predictable as this one. In my book it's not lack of respect if you refuse to get married to this man. It's a sign that you won't accept a marriage that will leave you in the doldrums. I don't care whether this man is very rich; some things are not worth losing your life over.
The above is a letter and part of the reply that was published in one of the columns (Sis Noe) in this paper a few weeks ago and it clearly mirrors that society has been very slow to move out of some of the traditions that seek to suppress girl child rights and view them as commodities that can be disposed of.
Although the girl is 20 years old and is above the legal age of both consent and marriage, the fact that her parents are forcing her to marry a 76 year old for reasons that are not stated makes everything unusual, uncommon and illegal.
Such is the situation that some young girls find themselves in and in most cases such scenarios are caused by either poverty or cultural practices such as the need to please avenging spirits or in cases where an aunt or a sister has failed to be fruitful in a marriage.
In cases of pleasing avenging spirits, the girls are taken as payment — as sacrificial lambs whose happiness should be spilled on the altar of family expedience. 
And despite their illegality, such activities remain prevalent especially in some societies in the countryside where they are done under the guise of tradition and are not usually publicised.
Feminist activist Ms Daphne Jena said it was wrong for society to hold on to the old belief that the ultimate achievement for a woman was to get married.
She said the trend where parents force children to get married to certain men of their choice no matter the age of the child for any reason was both morally wrong and illegal and should be spoken against in the strongest terms.
"I think women should be allowed the autonomy to choose who they want to marry. The decision on who to marry if they decide to, should be left to the women and not their parents. 
"We however, have a problem in Zimbabwe where society should debunk altogether the misnotion that the ultimate achievement for a woman is to get married. Parents should not interfere with their children's right to choose who they marry," said Ms Jena.
On the causes she said forced marriages were a result of poverty in most cases, adding that patriarchal orientations have led the country to slide back into scenarios where men discuss marriage of the girl child without her consent, and for fear of alienation the girl is always put in a tight corner.
An official with Save the Children International said child marriages violates the fundamental human rights of girls and boys, but disproportionately affects girls as they are denied their right to consensual marriage as well as their right to an education, protection, economic engagement and reproductive health care.
A co-ordinator with Plan International said although such incidences were becoming fewer owing to the multi-sectorial campaigns carried out by stakeholders in the fight for the girl child's rights there were still some societies that believed it was their moral right to do what they want with their children's lives.
"Yes, there are certain societies that are still marrying off young children and with the drought this year such incidences are bound to be on the increase. 
"It is illegal. Girl children are not goods and should therefore not be commercialised. We know there is a drought but the Government has promised communities enough food. There is no excuse for those that want to engage in illegalities; even poverty is not an excuse.
"There are a lot of complications and long term effects in marrying children. Biologically their bodies will not be ready and results in high mortality rates, children with deformities while most of the marriages do not last. We have therefore been engaging traditional leaders to protect the girl children from such kind of abuse by their parents and guardians. 
"We know there are some among the girl children who rush into marriages even without being forced, they think of marriage as a poverty escape route but that is not true. They should go to school first and consider marriage when the right time comes." 
The trend is a global problem and is not confined to Zimbabwe alone.
According to a report by the United Nations Population Fund (UNFPA) on ending child marriages, an estimated 15 million girls under 18 years are married worldwide every year.
Zimbabwe is among 41 countries with the highest prevalence of child marriages in the world. On average, one out of three girls in the country gets married before their 18th birthday. The report says five percent of women aged 15-49 currently in marriage or union were married before the age 15 (rural 3 percent, urban 2 percent).
UNFPA and other agencies report that the problem is more common in rural areas compared to urban areas. This is because rural dwellers are more exposed to the drivers of child marriage than their urban counterparts. A UNFPA report across Zimbabwe concluded that women aged 20-24 years and living in the rural areas were twice as likely to be married or in union before age 18 than their urban counterparts, adding that this urban-rural divide has remained at roughly the same level since 2012. 
Although affecting children across the various sections of society, early marriage in Zimbabwe has also been prevalent among the apostolic religious sects.
The 2012 UNFPA survey concluded that child marriage is highest in Mashonaland Central Province (50 percent), followed by Mashonaland West Province (42 percent), Masvingo (39 percent), Mashonaland East (36 percent), Midlands (31 percent), Manicaland (30 percent), Matabeleland North (27 percent), Harare (19 percent), Matabeleland South (18 percent), and Bulawayo (10 percent) although the report does not provide the reasons for the variations.
There seems to be a deep rooted cultural and religious problem that has permitted child marriages to flourish within the Zimbabwean set up and the trend seems to be going on.
The Minister of Women's Affairs, Community, Small and Medium Enterprises Development Sithembiso Nyoni said her ministry was working on a robust programme that would ensure both forced marriage and child marriages were eradicated saying the country's Constitution outlaws forced marriages.
The Constitution stipulates that, "no person may be compelled to enter a marriage against their will", and calls on the State to ensure that no girls are pledged into marriage.
Minister Nyoni said a number of cases have been brought to her attention adding that after her visit to Niger they were extensive programmes involving schools, churches and chiefs to conscientise the communities on child marriages with a view to nip the illegality in the bud.
"I was in Niger where we discussed girl children and their vulnerability through traditional leaders and communities. We are going to involve chiefs and members of the community so that we eradicate child marriages that have become a problem not only in Zimbabwe, but in Africa as a whole. We want this matter solved although it will take a little bit of time," she said.
She urged girl children to report the issue of child marriages without fear.
"There is a lot of political will to have child marriages eradicated. The problem that we have is that the girl child does not stand up and talk about these issues, she prefers to suffer in silence. With enough education I am sure all this will change," she said.
President of the chief's council, Chief Fortune Charumbira said they were going to take a proactive approach in collaboration with the Government and gender activists to curb forced and child marriages.
Despite the country having ratified various international conventions and declarations on child rights, particularly the Convention on the Rights of the child (1989) and the Convention on the Elimination of All Forms of Discrimination Against Women (1979), many girls continue to suffer at the hands of forced marriages and discriminatory laws.