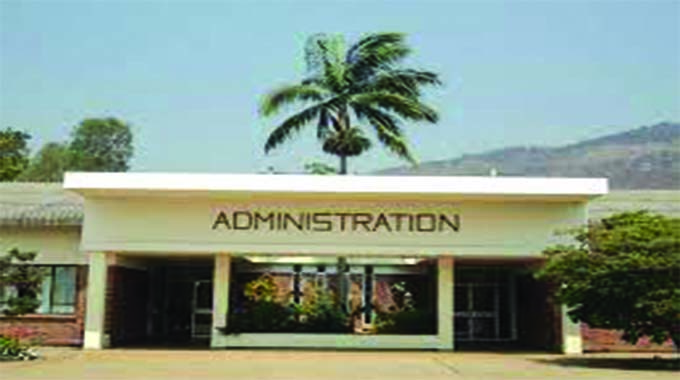 The Sunday News
Judith Phiri, Business Reporter
THE Forestry Commission of Zimbabwe has said value addition of forest products create new economic opportunities for communities near forests, developing their provinces and country at large.
According to the United Nations Forum on Forests, healthy forest ecosystems provide a wide range of services including reliable clean water, climate regulation, and productive soils, while forests underpin many of society's basic needs, economic processes and cultural or spiritual values.
Zimbabwe forests cover around 45 percent of the country's total land area, but deforestation is an increasingly pressing issue, resulting in forests disappearing at a frightening rate, according to the United Nations Development Programme (UNDP) Zimbabwe.
Forestry Commission of Zimbabwe assistant entomologist Mr Leon Tshuma said some women were utilising the forest for mopane worm farming.
"Mopane worm farming is a forest-based enterprise that has sustained livelihoods in many communities. In Matabeleland South, women in mopane worm farming have set up groups that include the Rovhona Raita Women Cooperative and Matshiloni Group in Beitbridge and in Plumtree there is Vusanani among others," he said.
He said apiculture was also possible by doing beekeeping, an art, business and science of rearing bees for the production of honey, beeswax and propolis.
Mr Tshuma said the Forestry Commission was rolling out beekeeping projects, offering sustainable solutions to traditional practices of beekeeping and offering a livelihood option that is friendlier to the environment.
"Bees play an important role in the pollination of many flowering plants and crops and therefore promotes agriculture, while beekeeping promotes forest conservation because the practice is only sustainable in the presence of well conserved forest that provides bee forage. In Manicaland there are a number of apiculture groups such as Priston, Holland and Makoni Beekeepers just to mention a few," he said.
He said value addition of forest products was key such as investment into value addition of non-timber forestry projects.
Mr Tshuma said an opportunity that could be tapped into was collection of non-timber forest products, processing to make cosmetic and edible oils, drinks, jams, fuel and other products, as well as creating marketing linkages at local, regional and international level.
He said: "People can utilise the forest and venture into charcoal briquettes making. A briquette is a compressed block of coal dust or other combustible biomass material such as sawdust, wood chips, baobab pods, coconut shells or paper used for fuel and kindling to start a fire. There is Fuel Flip in Mutare that produces and sells charcoal briquettes from sawdust. Their charcoal is sold under the brand name Xero Charcoal."
Mr Tshuma said some trees and fruits such as the ximenia caffra (tsvanzva, umthunduluka) a semi-parasitic, spiny, sparsely-branched, deciduous shrub or a small tree that is native to Africa were commonly used in traditional medicine to treat various ailments and diseases.
He said the plant was also known for its edible fruit, which is highly valued within its native range.
"Some are into value addition of sour plum, the fruit may be used to make storable jam, jellies, desserts, and porridge. Oil extracted from the seed can be used to soften leather, oiling bowstrings, and general ointment. While, alternatively, the oil can be used cosmetically for the hair or for the skin to soothe chafing," he added.
Mr Tshuma said Vusanani Women's Club, a women's group in Bulilima with 10 women from Natane area were making business from harvesting and processing marula fruit to produce oil, jam and peanut butter.
He said Gwanda Siyazama Women's Group was also processing marula and baobab to make jam and jelly.
"These are some of the opportunities available for women and youth in forestry as sources of livelihoods. In safari business there also are opportunities available. The Forestry Commission has leased forest land for photographic safaris in Matabeleland North and we offer equal opportunities when leasing out land for safari operations," he said.