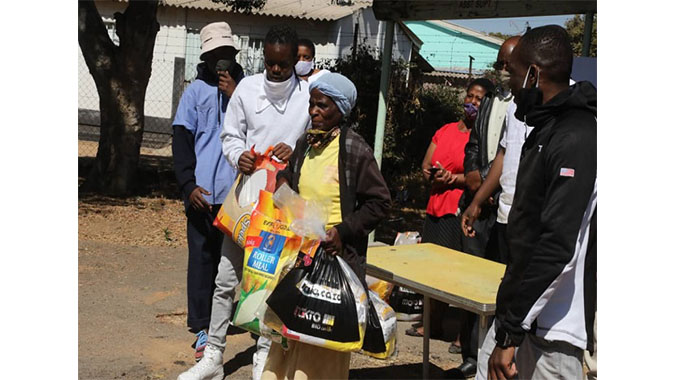 The Sunday News
Ngqwele Dube/Mthabisi Tshuma, Sunday News Correspondents
FORMER Highlanders Football Club player who is now based in the United States of America Malvern Ntini has donated groceries to elderly people and underprivileged families in Mpopoma, Bulawayo.
Ntini, through his Rainydayz Entertainment Foundation which he co-founded with his wife Marian donated food hampers to residents from his boyhood suburb yesterday. Ntini grew up in Mpopoma where he played for local youth club Mthala, before moving to Division One side Phinda Mzala and then Highlanders at the turn of the new millennium. Upon moving to America, he ventured into music and recently set up a recording label in South Africa.
The food hampers consisted of 5kg sugar, 5kg flour, 1kg beans, 10kg rice and 10kg mealie-meal. A total of 25 families benefited from the initiative. The foundation was set up in 2017 by the couple from their Seattle Washington base and seeks to help empower women and the girl child where they also create music as a way of celebrating life.
The foundation's representative Mr Mthandazo Ngungu said the donation was a token of appreciation by Ntini to a place he grew up and calls home.
"The food hampers are not much but we hope that it will help in fighting the spread of Covid-19 by people being able to stay put at home. We would like to thank various stakeholders in the USA and the country for making the event a success," said Mr Ngugu.
Ward 9 Councillor Donald Mabutho expressed gratitude for the timeous donation.
"This is one of the transparent programmes that has come to our place. Ntini remembered that there is a time for someone who has excelled to give back to his roots. The identification method was done on various churches which shows the transparency. Generally we have five sections and we picked people from all these points to make sure we reach out to everyone with the oldest being Mr Mleya who is 95 years old. We would like to thank the couple for such an amazing donation of basic food products. This is definitely excellent and beautiful," said Clr Mabutho.
One of the recipients, Mr John Kahuchiri (84) expressed joy at the donation saying the food hamper will go a long way in assisting them as a family. Kahuchiri said the parcel came at the right time due to the tough times caused by Covid-19 pandemic.
"I am at a loss of words. I don't how we can thank them for their assistance," he said, adding he lives with a family of seven.
Margaret Zulu (72) was also ecstatic saying the food hamper gives them hope in trying times with five orphans under her care.
Mpopoma Residents Association chairman, Mr Stanslous Dube praised Ntini and his wife for the noble efforts.
"We are glad that children of Mpopoma continue to remember us and send us what they can afford. During such a trying period it is time we assisted each other in whatever way we can," he said. —@mthabisi_mthire.