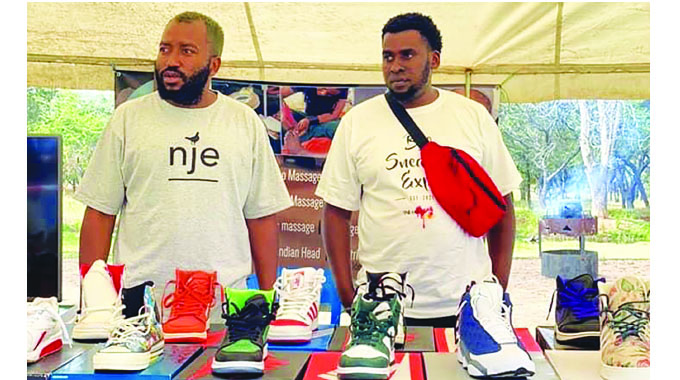 The Sunday News
Bruce Ndlovu, Sunday Life Reporter
AFTER two editions, the Bulawayo Sneaker Expo established itself as one of the great showcases of style in the city, with an event that was meant to show the best and latest trends from the sneaker world, instead transforming into an extravaganza that went beyond simple footwear.
As the Sneaker Expo became a movement and a lifestyle, it dawned on its organisers that they owed Bulawayo, the city where the idea of the footwear convention was born, more than good shoes and nice "vibes" on the day of the event.
On Friday, organisers of the Expo showed that they are ready to shoulder the burden of social responsibility by making sure that, when Bulawayo's elderly step out into the cold of winter this year, they will do so in style, after they donated 23 pairs of sneakers at Ekuphumuleni Geriatric Nursing Home.
Ekuphumuleni (which means a place of rest) is a home that admits elderly people aged 65 and above. In an interview with Sunday Life after making the donation, one of the organisers of the Expo, Davison Feliate, said they decided to make the donation after the first edition of the expo. "The initiative starts after our first event when we decided that we have the people and the means to pull this off. After our first edition last year, we had a post where we were collecting donations but not much came in. We had eight pairs or so but we didn't want to give them away in such a small number so we decided to have another pop-up star where we would have donations as well. This time we partnered with House in the CBD who gave us a stall on one of their events on a Sunday. We put up an advert again and fortunately guys came in numbers," he said.
Feliate said the donation had come about as a collaboration among many stakeholders in the city, all of who were passionate about footwear.
"We collected 29 pairs, including for kids, which was great and other guys that were not able to be at the event called afterwards to bring their donations. Having partnered with Juluka, a shoe cleaning service, they offered to do the cleaning for us for free and they also brought a few sneakers for donation as well. We deliberated on who we would give them to and we conclusively agreed that we would donate to Ekuphumuleni. We spoke to the sister-in-charge and she told us we are most welcome and today we made our promise a reality," he said. Feliate said that while the donation of sneakers was well received, they still wanted to do more as they had learnt that the home had other pressing needs besides footwear.
"We don't want to be people that make a once-off donation, so we did ask that in the event we cannot collect shoes, if there was anything else that they were always in need of and she mentioned adult pampers so we sat down again and decided that while we could not have everything in time for this donation, we hope that in time we will have another callout and drive for that donation.
"This is something that we really want to tackle because the matron impressed on us the need for adult pampers so that the dignity of the elderly is kept intact. We hope to go bigger going forward and we have another donation drive before our next main event. We want to work with both the old and young going forward," he said.