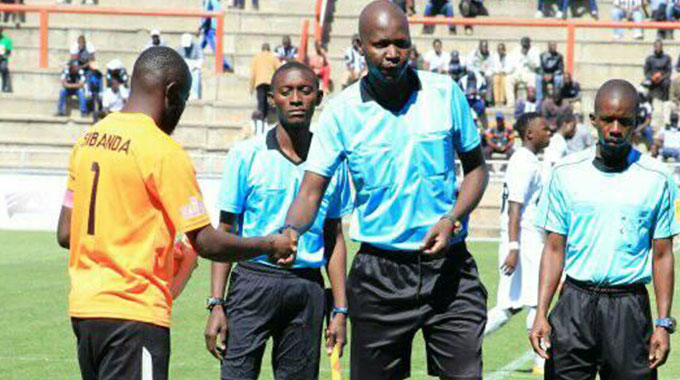 The Sunday News
Mehluli Sibanda, Senior Sports Reporter 
BEING employed as a guard by a leading security firm in Bulawayo has not acted as a deterrent to Prince Mathumo from pursuing his football refereeing career, with the lanky centre-man now part of the Fifa panel after just one year of officiating in the country's top flight.
The 37-year-old, whose refereeing career started off in 2012 is now one of Zimbabwe's referees on the Fifa panel, with him and Lawrence Zimondi the new entrants. 
Mathumo replaced Philani Ncube who had been part of the elite group since 2016 until he failed a fitness test last year. Zimondi took the place of Nomore Musundire, who had also been on the panel since 2016 and was axed due to poor performance as well as refusing to write a report that was required by the Confederation of African Football. 
On what he feels he did to get the elevation to the Fifa panel, Mathumo believes that he put in a great effort and performed to his best of his capabilities. 
"It's a great achievement, I feel blessed, I give glory to God. I believe that I performed to the best of my abilities, I worked very hard and the rest I glorify the Almighty for opening the doors for me,'' he said. 
Mathumo is employed by Safeguard and is fortunate enough that his bosses at the security company love football so they have made his working hours flexible so that he can fulfil his refereeing duties. 
"My bosses at Safeguard are football people, they understand that on weekends I have football duties to attend to so they drafted a duty roster which makes me work Tuesday to Friday and I am off duty from Saturday to Monday," Mathumo said.
A former goalkeeper during his playing days whose highest achievement was turning out for the now defunct Sparrows in Division One, Mathumo also plays football for the Safeguard Bulawayo team whenever he is available especially when they are playing other Safeguard branches.
Mathumo credits his friend Vusumuzi Mpala for the role he has played in him becoming the referee he is today. It was Mpala, also a football match official who paid for his first referee's course and bought him his initial kit. 
"I wanted to be goalkeepers coach but my best friend Vusumuzi Mpala influenced me to be a referee, he went as far as paying for my refereeing course and bought me my first set of kits, he is a class one assistant referee now, without him I wouldn't be a referee today, I owe him a lot,'' Mathumo said.
Mathumo aspires to officiate at big tournaments such as the Fifa World Cup, Africa Cup of Nations, African Nations Championship and Cosafa competitions. 
The married father of three looks up to Thando Ndzandzeka from South Africa who happens to be his favourite referee and similarly admires Michael Oliver from England. 
Mathumo also draws inspiration Mike Dean who is still handling high profile fixtures in the English Premiership at the age of 51. 
Nicknamed Kwaito because of his love for that music genre, Mathumo handled some high profile matches in the Castle Lager Premier Soccer League in 2019. 
The biggest of them all was the title decider between Caps United and FC Platinum at the National Sports Stadium. 
FC Platinum won the match 1-0 to be crowned champions for the third time in a row. Mathumo showed bravery in his application of the laws of the game to show Guyve Nsiala of FC Platinum a red card at half-time for an altercation with Caps United officials.
@Mdawini_29