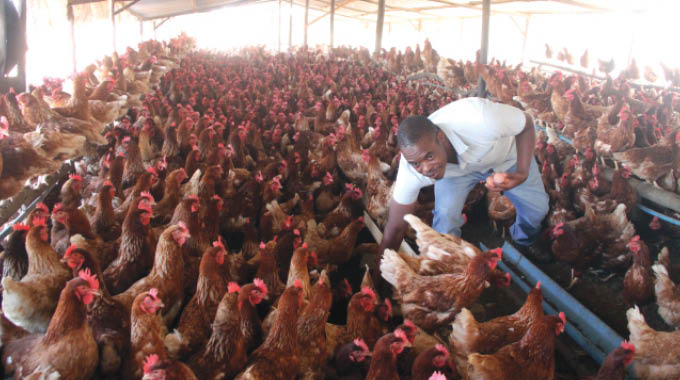 The Sunday News
Dumisani Nsingo, Senior Farming Reporter 
ONE of Matabeleland region's renowned livestock farmers and Agricultural and Rural Development Authority (Arda) partner, Mr Vengai Runyowa says the Government should consider remodelling its Command Agriculture Programme through funding farmers with a proven track record of productivity so as to enhance the country's food security.
Mr Runyowa said the Government should consider revisiting its modelling of the Command Agriculture Programme by ensuring it channels resources to farmers with a traceable record of being productive. The enterprising farmer is in a partnership with Arda at Sedgwick Livestock Estate where he rears about 800 cattle with 650 of the animals being breeding stock. He is also into layer poultry farming with over 7 500 chicken layers. 
"In funding Command Agriculture, the Government shouldn't start at the Capex (capital expenditure) stage but identify farmers that are already going concerns, which have records of delivering their produce to the Grain Marketing Board and at its livestock local abattoirs and retail outlets. The Government should consider that these farmers are operating but at limited capacity and work on raising their capacity level as they are already operating. We should appreciate that in these coming few years we are more of being in a survival mode.
"We really applaud the Government for coming up with Command Agriculture but the way it is implemented it might not yield the desired results. Our country is an agro-based economy and for us to survive the Government needs to assist farmers that are already breathing and thereafter we look at Capex bearing in mind the rainy season is only a few weeks away. If we aren't going to adopt a new model for Command Agriculture, we risk having a cycle of poor and restarting farmers. We shouldn't re-invent the wheel under such circumstances," he said.
Mr Runyowa also said most renowned cattle farmers in Matabeleland did not benefit under the Special Livestock, Fisheries and Wildlife Programme, which falls under Command Agriculture, citing that this might have a negative impact on Government's efforts to revive the national herd.
"We have a number of big cattle farmers here in Matabeleland who are well-versed in cattle breeding but I'm not aware of any who benefited under Command Agriculture and this might have a negative impact in our efforts to grow the national herd because people with expertise in animal breeding have been overlooked," he said. 
The Government introduced Command Agriculture in the 2016/17 season as a strategy to boost local food production and guarantee food security for Zimbabwe after financing towards the sector had drastically slumped. It has earmarked $2,8 billion for Command Agriculture, which will extend the facility by another year and result in the production of maize on 210 000 hectares of maize and 30 000 hectares for soya beans during the 2019/20 summer cropping season. Mr Runyowa also said most poultry farmers are at risk of halting operations owing to an acute shortage of feed and steeping price of the same over the last three months.
"Poultry farmers are faced with a predicament whereby feed is no longer readily available or when one gets it, the price has risen astronomically to the extent that it's no longer viable to run the enterprise," he said.
Mr Runyowa said he was considering selling and culling about 4 000 of his 7 511 chicken layers due to feed shortage. 
"We used to buy layer mash at GMB (Grain Marketing Board) and supplies started being erratic and now there is nothing and for layers if you don't give them feed for three days you have to compensate that feed for the same number of days without getting any production, it's more of re-induction. We are now considering selling these point of laying pullets, which are in their third week of laying though they have minimum of 365 days to lay," he said.
The enterprising farmer used to produce about 210 crates of 30 eggs each from his Kensington plot on the outskirts of Bulawayo and sold them to wholesalers and retail shops in Bulawayo and Beitbridge town.
"The price of layer mash has gone up by over 700 percent over the last two months and we have also raised the price of eggs by 400 percent and if you keep on raising the price you risk having a stockpile of eggs," said Mr Runyowa.
He said there was a need for the Government to expedite its stock feed support programme or allow farmers to import duty free so as to avert a catastrophe of livestock deaths and demise of numerous agricultural enterprises.
@DNsingo