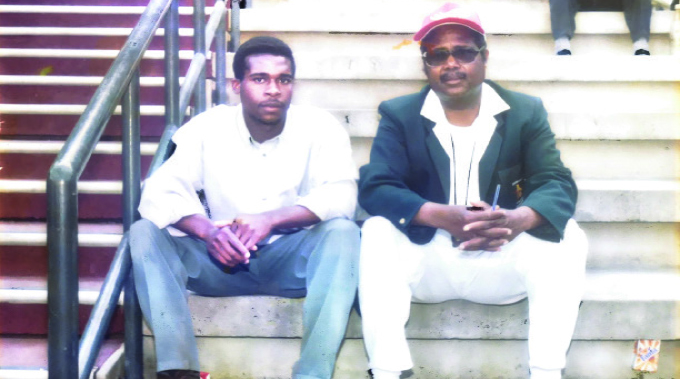 The Sunday News
OUR value system in Zimbabwe only recognises the man who appeared to be holding a podium athlete's hand as he went up to receive his medal.
Yet there are many men who made Yesteryear Greats the crowd pleasers and national heroes and heroines they got to be.
Gabriel Bennedict Mlilo is one such individual credited with unearthing gems at Hwange's St Ignatius Primary School and Induba Primary School in Bulawayo's Pelandaba suburb.
To many, Induba is just a primary school next to the founding father of Zimbabwe nationalism and late Vice-President Joshua Nkomo. But to others, it's a school where a number of footballers, some who even hit national prominence, started their football careers.
Surely without some of these teachers giving some of the boys the first feel of organised and structured football development opportunities, there would not have been breakthroughs in football careers.
Mlilo sits at his Pelandaba home and looks back with pride of his contribution to athletics, football and netball where he has churned out stars. He is among hundreds of such unsung heroes left out of the sport reward system by self-seekers who hijack the sport's struggle where many men and women sacrificed even personal resources and time for someone else's kid to reap handsome rewards later in life.
As usual, mention only starts with the coach who was standing by when provincial or national honours started flowing. But the many men who slept in classrooms, criss-crossed the district at the back of open trucks in seas of red soil dust or walked 15km with kids to a cluster competition are out there, shut out in obscurity and poverty.
Mlilo, who turns 78 later this year, made a mark and despite ill-health after suffering a stroke in 2017, looks back with pride over his contribution to Zimbabwe sport.
A trained football coach and athletics official, he trained a developing Alfred Ncube and Zephaniah Ncube in Hwange around 1970-71 in athletics.
Zephaniah, later to be 5 000, 10 000m and the cross-country national champion, also dominated the 1 500, 3 000, 5 000 and 10 000m at the Chamber of Mines athletics scene.
"I worked with Alfred at Wankie's (Hwange) St Ignatius and Zephaniah who was at Wankie United School later known as Lwendulu. They were budding athletes and I am happy they rose to great heights," said Mlilo, a former national athletics race official.
While his memory is fading, he lights up when he speaks of his football past.
Born in 1944 and educated at St Joseph's Mission in Kezi and Empandeni Mission in Mangwe where he trained as a teacher after his junior certificate education, Mlilo coached Wankie stars Francis Kalala and Masiwa Sakala.
"Masiwa was a great goalkeeper and would kick the ball from one goal area to the other with ease."
"He coached many players who made an impact, only that his memory is no longer that sharp," joins Mlilo's wife Stali Mary (nee Mathe) as the former coach nods in approval.
So good was Masiwa that he guarded the posts during Posani Sibanda's absence at Chibuku Shumba after the legendary goalminder had been enticed to the capital by Jack Meagher alongside centreback Stephen Chuma and striker Twyman Ncube nicknamed the Ghost of Chibuku.
Mlilo coached netball as well at St Ignatius before leaving for Victoria Falls' Chinotimba Primary School.
Eager to be closer to his Matobo home, he sought a transfer to Bulawayo and was sent to Induba Primary School where he made a big impact as a teacher, athletics and football coach with 1995 being among his best years in soccer.
That year Induba won the Ingwebu Primary Schools title contested primary schools from the three Matabeleland provinces.
He was so happy that he went to his cattle kraal and slaughtered a beast for his team.
A man of a quieter demeanour who usually came to life in sport coached a number of players like former Blue Ribbons, Dynamos and Warriors left wing forward Max Makanza later to change to Lunga.
Rabson "Sarafina" Muchichwa who played for Eagles, Black Aces, AmaZulu and Kaizer Chiefs where he won the Kickoff Player of the Year award apart from being capped by Zimbabwe is among a list of his most outstanding products.
Jogging down memory lane like most coaches and teachers do about some of their nasty moments in sport, Mlilo recalls how he was nearly beaten up by Muchichwa's brothers.
The former foward's family were devout MaPostori and to augment family coffers, the Induba star player had to sell metal dishes and buckets.
But because of football commitments at times he would not join the family on such errands.
This infuriated Muchichwa's elder brothers who one evening armed themselves with knobkerries and wanted to mete out instant justice to the least expecting school teacher.
"The brothers came home at the dead of night and were armed with knobkerries and wanted to beat me up because their brother was no longer selling family wares. But he rose to be a star," said Mlilo.
He spoke with pride of former Eagles and Young Warriors star Collet Dube who would also play for Dangerous Darkies and AmaZulu in South Africa after a brief stint with Black Mambas of Harare.
Kunda Nyoni also played in the South African Premiership for Orlando Pirates under an assumed name (Name Known).
Other stars who went to play for Eagles are Ndodana Mhlophe, Kheyi Christian, Kenneth Thebe, who is now an Assistant Commissioner in the Zimbabwe Republic Police, Prince Moyo, Essof Melusi Dube – younger brother to former Wanderers striker Thabiso, Lizwe Ntuli, Francis Moyo and Allan Ndlovu.
"Mlilo was a good teacher and I was in one of his classes and he went on to be my coach and was good at it too. Quite a number of players who went on to play for local clubs either in the Super League later to be Premier, Division One and Two went through the hands of this gentleman," said Thebe.
Collett, among Mlilo's capped stars by Zimbabwe described his mentor as a disciplinarian too.
"He was an incredible man who was very strict, especially with school work. He groomed many players," said the man who would on retirement help in the founding of Division Two side Masakhe FC though he stayed an athletics official and a Bosso fanatic.
"Mlilo was a good coach, he used to carry a skipping rope while at training. If a left or right winger failed to cross the ball into the 18-yard box, he would beat the foot until you got it right.
"Sometimes he trained us in the morning before going to class and after school. Our headmaster, a Mr Mabaso, was always there when we trained. He wanted us to win all the games and we did just that.
"He would then buy us frozen drinks, cakes and biscuits for us to enjoy ourselves. Soccer then was entertaining when we played schools like Mtshede, Helemu and Insukamini, schools which had very good players who went on to be selected to represent Matabeleland. Mlilo groomed a very big number of players who went on to play for Eagles," said Allan, a very promising defender who had a stint in South Africa before returning to star for AmaZulu as they chased promotion.
Allan revealed that they also benefitted as a school as Dairibord supported football at grass roots levels by bringing stars like William Sibanda, Douglas Maneto, Ebson Sugar Muguyo to work with Mlilo and other schools' coaches.
Mlilo retired from teaching over a decade ago and went into cattle farming before ill health struck.
He is married with five children; three boys and two girls.
His son Gilbert played high school football at Mzingwane while Artwell is regarded as one of the most technically gifted volleyballers ever.  Ishmael played volleyball for Highlanders, Nontandokayise played volleyball at Matopo and Senanilisile played netball and was bronze medallist in national finals in 1998 while with Empandeni.
Unlike other former players who when they rise to stardom forget their roots, the Mlilo family is grateful to the many stars who have come back to visit or assist even financially.
"Ubaba is proud of his former players. They came to assist when he was very sick and whenever they are in town they always drop by to say hie," said Mlilo's wife, Mary.
Some Yesteryear Greats like Benjani Mwaruwari have come back to invest in their communities for the next big star to be identified and developed.