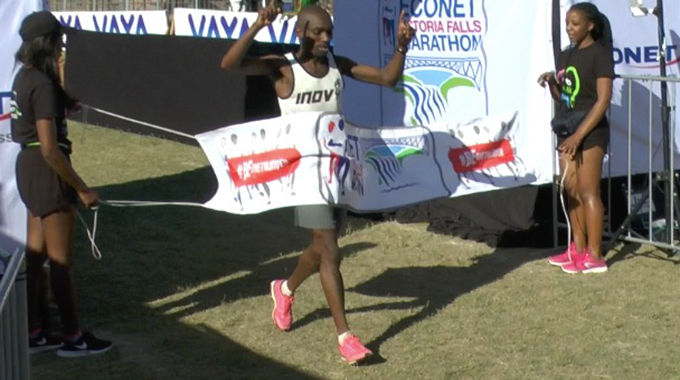 The Sunday News
Mehluli Sibanda in Victoria Falls
ZIMBABWEAN Christopher Gondwe is the winner of this year's Econet Victoria Falls Marathon with Zambian Felistus Chitoshi taking the women's top honours at the same race in the resort town on Sunday.
Gondwe crossed the finish line at Victoria Falls Primary School in two hours, 25 minutes and 36 seconds, while Zambian Costern Chiyaba strongly followed in two hours, 25 minutes and 44 seconds. Lyno Muchena took third spot in a time of two hours, 25 minutes and 48 seconds. Just to show how close the men's contest was, Blessing Topodzi took fourth spot in two hours, 25 minutes and 534 seconds. Last year's winner, Nkosiyazi Sibanda failed to defend his title as he finished in eighth place, with his time being two hours, 27 minutes and three seconds.
For his sweat, Gondwe was rewarded with a US$900 cash prize, Chiyaba walked away with US$750 while US$600 went to Muchena.
Chitoshi was first in the women's race in a time of two hours, 52 minutes and 31 seconds, followed by veteran Chiyedza Chokore in two hours, 58 minutes and 12 seconds. Another seasoned athlete, Tabitha Tsatsa, winner of the marathon in 2017 took third spot in two hours, six minutes and six seconds.
The same prize money given to the men's top three was handed out to their women counterparts.
Moses Tarakinyu won the men's Half Marathon when he hit the finish line in one hour, five minutes and 47 seconds. He was closely followed by Ebel Chibanda in one hour, five minutes and 49 seconds. In third spot was Isaac Mpofu in one hour, seven minutes and 11 seconds.
Tarakinyu picked up a cash prize of US$500, Chibanda pocketed US$350 and Mpofu took home US$300.
The women's Half Marathon was won by Olivia Chitate who opted not to defend her full marathon title. Chitate romped to victory in one hour, 19 minutes and 52 seconds. Rudo Mhonderwa was second in one hour, 22 minutes and 18 seconds with Constance Nyasango third in one hour, 23 minutes and 16 seconds.
As was the case for the full marathon, the women's half marathon top three picked up the same prize money as their male compatriots.
Elford Moyo won the men's Half Marathon Wheelchair ahead of Samson Muroyiwa. The women's Wheelchair was taken by Thandie Ndhlovu while second place went to Margret Bangajena. The male Hand cycle race was won by Previous Wiri who beat Alexander Mkandla. Moline Muza was first in the women's Hand cycle contest with Ratidzo Tomu second.
@Mdawini_29
Ends…..