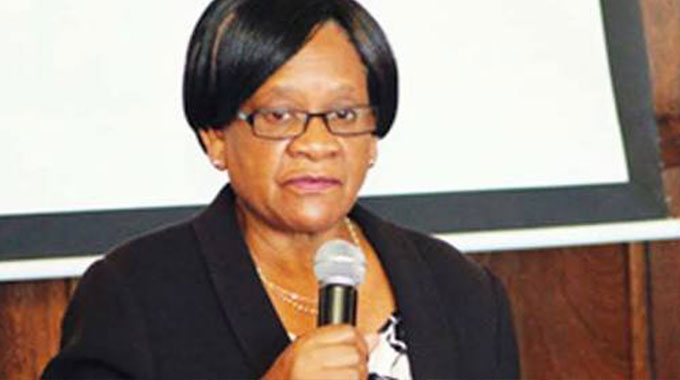 The Sunday News
Michael Magoronga, Midlands Correspondent 
THE Government is working tirelessly to ensure that all irrigation schemes across the country are up and running, Minister of State in the office of Vice-President Constantino Chiwenga, Dr Evelyn Ndlovu has said.
She made the remarks during a familiarisation tour of Igogo Irrigation Scheme in Kwekwe last week. Minister Ndlovu who is on a tour of irrigation projects across the country, said Government was committed to fulfil President Mnangagwa's vision that of the country regaining its bread basket status.
"President Mnangagwa, when he was still Vice-President was the one who started this programme of resuscitation of irrigation schemes. He started by targeting Arda Farms first where he engaged partners and the project has since paid dividends. Now as Government, we are saying we are ready to support the resuscitation of all irrigation schemes across the country and we are not sleeping until we achieve that," said Minister Ndlovu.
She said with everyone playing their role, it was possible to ensure food security for the country which is facing drought after poor rains during last summer season.
"There is nothing we can do with the rains, it's God's plan and we cannot change that. But we can utilise the resources available like land and some water bodies that are still there. Irrigation schemes are the only source of livelihood the country has been given and as Government we are doing everything in our power to support that," she said.
She said gone are the days when people used to blame Government for everything, rather people should also play their part in economic resuscitation.
"Ask yourself what you are doing towards economic turnaround. I'm glad this irrigation is a very good example that should be a model to other schemes. I hear people hear work as cooperatives rather than individuals. That is the way to go and I think that should be copied by other schemes across the country," said Minister Ndlovu.
The minister also hailed the farmers at Igogo Irrigation and assured them of another tractor and a combine harvester. Igogo irrigation scheme, which draws water from Mbembeswane Dam about six kilometres away, has 43 farmers who operate collectively under a co-operative. The 85- hectare farm has 32 hectares under winter wheat which is about to be harvested. 
Chairman of the Igogo irrigation co-operative Mr Jeremiah Ruwende said power cuts were a major challenge as they were reducing the hours they water the crop.
"The ongoing load shedding has largely affected our work here. Most of our wheat is not doing well as we have limited time to be watering the crop. We are therefore appealing to Government to assist with alternative sources of power so that we can be able to continually water the crop," he said.