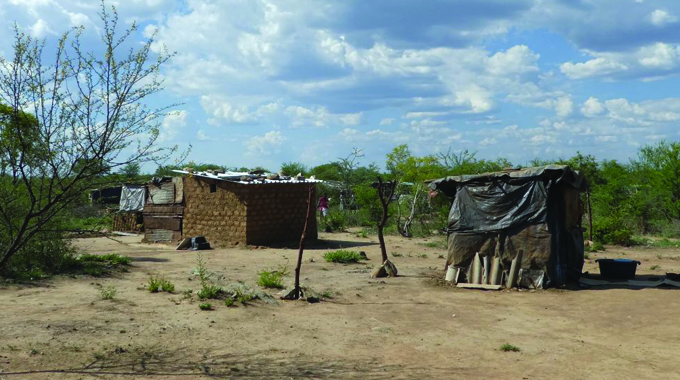 The Sunday News
Judith Phiri, Features Reporter
A FORCED eviction from a place that he had called home for the better part of his life almost drove Nigel Moyo (50) into destitution.
The spacious house in Romney Park suburb in Bulawayo that he grew up in was his grandfather's, but he wasn't aware of it. He was disinherited of it in 2010 by his uncle (his father's young brother) following an ownership wrangle that spilled into the courts. From there, Moyo and his family of five have never known decent shelter. He relocated to Trenance on the outskirts of Bulawayo where there is a sprawling squatter camp which he has been part of.
"Our lives are in danger, this is a potential time bomb, a health hazard. We are exposed not only to human waste but to the vagaries of the harsh weather conditions. Our makeshift houses do not have toilets and Bulawayo City Council (BCC) by-laws do not allow us to dig any since we are settled illegally. I did not come here by choice. The house I grew up in, knowing it as my parents' house was taken away when they passed on. It was said to have been left in my father's brother's care although there was nothing written."
With his salary as a security guard then, he said he couldn't afford decent accommodation and had to move into one of the squatter camps that Bulawayo is not short of. The squatter camps include but are not limited to Cabatsha, Trenance, Ngozi Mine, Durnkirk, Willsgrove and Killarney, some of which have sprouted anew and are buzzing with life.
There are no ablution facilities or properly built structures. There is no electricity and residents rely on poached firewood for energy. Moyo says they are at perennial risk of diseases such as cholera, typhoid and dysentery. 
He said eviction threats were no longer new, adding that as long as there was no solution to their housing predicament squatter camps would remain part of the city's vocabulary.
"If we are moved from here, where will we go to, as you can see, we are already suffering. We admit that we are illegal settlers but we appeal to Government to legally allocate us housing stands so that we regularise our stay."
The plight of squatters is not unique to Bulawayo but all major cities in the country have that problem. In fact, the country is facing an estimated 1,5 million housing backlog and efforts are being made to redress the challenge with Government targeting to construct 220 000 houses by 2025.
This has been accompanied by President Mnangagwa's pronouncement that colonial structures in the country's old suburbs will be pulled down to accommodate better facilities that are in tandem with the country's vision of an upper middle-class economy by 2030. 
When the Zimbabwe National Human Settlements Policy (ZNHSP) was launched last year, the President said his Government, through the Ministry of National Housing and Social Amenities, is spearheading the development of modern and affordable urban and rural human settlements and social amenities in a co-ordinated and sustainable manner.
Recently unveiling 90 fully serviced stands at Hopelyn Housing Estate near Mahatshula suburb in Bulawayo, Housing and Social Amenities Minister, Daniel Garwe, reaffirmed the Government's commitment towards decent shelter. He said his ministry was re-examining the mortgage finance system for those in the informal sector to access housing finance as the country targets constructing 220 000 houses by 2025.
The mortgage finance system has been viewed as one of the impediments that hinder access to housing for citizens and vulnerable groups who are in the informal sector. He said they were working tirelessly to remove all the impediments that hinder access to such facilities.
"As we move towards our target of 220 000 houses by 2025, we are amending laws such that even those who are not formally employed can access mortgage finance, this is important because most people here are self-employed and have for years been excluded from mortgage finance to access housing loans," said Minister Garwe.
He said a majority of Zimbabweans were self-employed and terms such as requirement for pay slips should be reviewed to accommodate those who are like Moyo from Trenance. Minister Garwe said they were also building flats throughout the country with the young people in mind. 
"We are not very much concerned whether somebody has got formal employment or not but we are saying as long as you can afford, we don't mind your source of money, we fully appreciate that the majority of our youths are self-employed, they generate their own income, so we are not worried about pay slips.  But we have got various schemes that we are considering for ownership. You can rent as you prepare the journey to ownership through rent to buy. The President said no one and no place will be left behind in that journey."
Commenting on houses in some parts of Bulawayo such as Mabuthweni and Iminyela suburbs where there are an estimated 300 houses that do not have title deeds to date, Minister Garwe said they were working on President Mnangagwa's declaration that every Zimbabwean with a house but without tittle deeds would get them. 
"That's the only way we can confirm ownership of that property, but however, it's a process that we need to go through. It's not an event where somebody sits in an office, signs documents written tittle deeds and hands it over to the people. A proper approach will be used to ensure that everything goes smoothly." 
Minister Garwe said the Ministry of Higher and Tertiary Education, Innovation, Science and Technology Development was mapping settlements using drones. He said this would allow them to identify legitimate land owners from illegitimate ones. 
"Those that are legitimate will have their tittle deeds processed while those that are illegitimate will be relocated to an area that will be identified by Government," added Minister Garwe. 
The minister said they were starting from Epworth and Caledonia in Harare and soon spread throughout the country. 
"We have also invited private companies to join us in the provision of on-site and off-site infrastructure such as roads, water and sewer. So, we will be coming to Bulawayo very soon." 
He commended Government's strategic partnership with Shelter Afrique in housing infrastructure development which he said was now bearing fruit. Shelter Afrique is a Pan-African banking institution that exclusively supports the development of affordable housing and real estate sector development in Africa.
The country is a shareholder in Shelter Afrique, and has seen a number of banks in Zimbabwe partnering with the institution for housing development projects.  Zimbabwe will host 45 nations for the Shelter Afrique 41st Annual General Meeting (AGM) and Symposium in Victoria Falls from 25 to 29 July 2022.
Major international financiers, the International Monetary Fund (IMF), African Development Bank and other developers have confirmed participation including at least 25 reserve bank governors from within the continent.
Meanwhile, the mapping exercise of urban settlements to pave way for the issuance of title deeds is nearing completion with just one settlement in the country still to be completed. The exercise was targeted at new urban settlements whose beneficiaries had no title deeds with Government using new technology provided by the Zimbabwe National Geo-Spatial Agency (ZINGSA) to expedite the mapping exercise and the issuance of title deeds.
During a recent post-Cabinet briefing, the Acting Minister of Information, Publicity and Broadcasting Services, Dr Jenfan Muswere said the issuance of title deeds had already begun for beneficiaries in Caledonia.
"Government is also mapping urban settlements against approved layout plans in order to pave way for the issuance of title deeds to deserving beneficiaries. Cabinet is pleased to announce that the mapping of Caledonia, Hopley, Saturday Retreat, Cowdray Park, Gimboki (Mutare), Karoi and Victoria Ranch (Masvingo) has been completed, while the mapping of Eyrecourt Farm is underway.
"The exercise to process title deeds for Caledonia is on course, with 7 523 beneficiaries being targeted under phases one to three, and 925 stand owners have started the process of acquiring title deeds for their properties," said Dr Muswere.