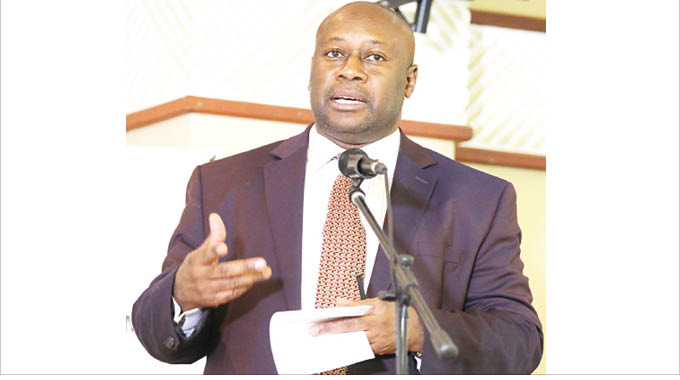 The Sunday News
Fairness Moyana in Hwange
THE Government is looking into addressing issues raised by mining companies, among them foreign currency retention on exports and high cost of production that may hinder the realisation of the US$12 billion target by 2023.
Coal mining companies on Friday told Minister of Mines and Mining Development, Winston Chitando and Finance and Economic Development Minister Professor Mthuli Ncube during a joint fact finding tour in Hwange that their viability was threatened by a number of factors that included unfavourable exchange rate, low retention on exports proceeds, depressed thermal coal prices and subdued supply of raw materials.
"A number of factors are affecting our viability such as the unfavourable exchange rate, we wish for the authorities to find a sustainable solution on the currency for the country. Low US dollar retention on the little exports we do where the bulk of our products goes to power generation (60 percent) and support local industry. We are exporting an average of 10 percent and retain less than 48 percent as 50 percent goes to RBZ and over two percent to royalties and Minerals Marketing Corporation of Zimbabwe (MMCZ). There is no incentive for exporting coal. Thermal coal prices have remained depressed and uneconomical with ZPC (Zimbabwe Power Company) promising to pay 50 percent in US dollars upon approval," Zambezi Gas operations director Engineer Menard Makota told the ministers on behalf of coal miners in the province.
He said most suppliers of raw materials and consumables were now demanding payment in foreign currency in order to import machinery, equipment and spares.
"Considering the exchange rate of the RTGS offered by the RBZ versus raw materials and consumables we buy locally our profit margins are shrinking. This means we have high production costs with little returns hence we propose that our US dollar retentions be reviewed," said Eng Makota.
Responding to the concerns, Minister Chitando said the Government was seized with finding lasting solutions to ensuring that the sector was well supported in fulfilling the US$12 billion target.
"There are also a number of interventions which are required to make sure that the sector meets the $1 billion target (coal sector only). About a month ago there was a meeting which was held at State House with representatives of coal producers association and the President which highlights the importance of this sub-sector to the economy. The challenges which were discussed in that meeting is work in progress. The direction that was set by His Excellency which include but not limited to the need to firm up off-take contracts with Zesa which include pricing structure.
"We are aware that up until two months ago the price of coal has not been reviewed including the structure of the payment as well as retention levels were issues which were raised and those are being worked on and this visit is part of the process for my colleague who also wanted to have a hands-on insight as what is happening in the sub-sector," said Minister Chitando.
The coal mining industry was identified as one of the major minerals with the potential to contribute towards the US$12 billion mining industry economy by 2023.
The two ministers visited Afrochine Coking Plant, Zimbabwe Zhongxin Coking Company (ZZCC), Jinan Coking Coal Project, South Mining and Zambezi Gas before meeting coal producers at Hwange Colliery Company.
Most of the coal processors are now opting to mine their own raw materials in the coking process citing a depressed supply from existing coal producers, Hwange Colliery Company, Zambezi Gas, Makomo Resources and Galpex. ZZCC, Afrochine Coking Plant and Jinan Coking Coal Project are awaiting Government approval after applying for Coal Special Grants (CSG) as they also move towards value addition.
In his address, Prof Ncube said the Government would continue supporting the mining sector through various interventions as it played a key role as a foreign currency earner.
"Basically, this a familiarisation tour for me to try and understand what is happening in the mining sector the target is $12 billion over the next couple of years and it's achievable from what we have seen and what you do. Quite clearly, we are on our way to achieving that. We have understood the issues, challenges and constraints and we will deal with those as well," said Prof Ncube.
"Covid-19 is passing and will not be here forever, some included certain policies that we as Government are running issues like exchange rate and payment front we will deal with those in the fullness of time. Some of them have to do with skills retention, we are also aware that it's an issue for the industry as typical of mining to attract and retain. The mining sector as a whole is the largest exporter earning 60 percent of all our exports as a country so it's a critical sector so we want to make sure that we support it so that it grows and we are able to earn foreign currency that we so require to run the economy."