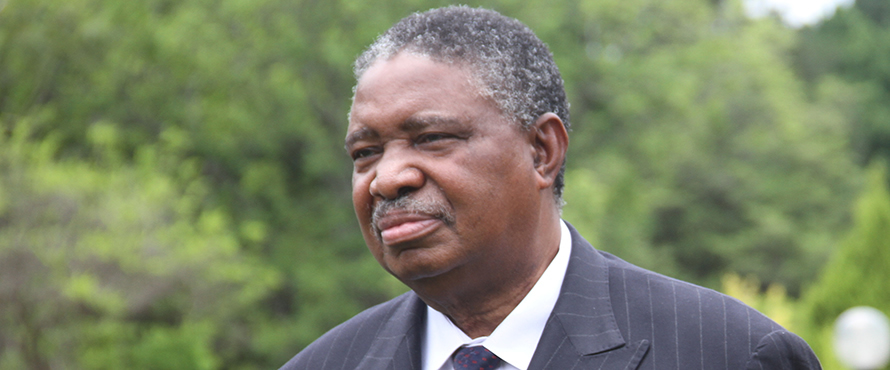 The Sunday News
Harare Bureau
CIVIL disturbances that rocked Zimbabwe in the early years of Independence were part of a region-wide conspiracy to destablise Southern Africa and not part of any anti-Ndebele agenda by Shonas, Vice-President Phelekezela Mphoko has said. In an interview with our Harare Bureau at his offices in Harare last week, the VP opened up on what triggered the violence that is commonly referred to as Gukurahundi.
Hostilities formally ended on 22 December, 1987 when President Mugabe and Dr Joshua Nkomo signed the Unity Accord that joined their two parties in today's Zanu-PF.
VP Mphoko said there was no way Zimbabwe could come to terms with this dark chapter in its history — which President Mugabe has referred to as a regrettable "moment of madness" — if citizens did not speak frankly about what happened.
Key to this healing, VP Mphoko said, was analysing the roots of the problem; which he traced to a wider conspiracy formulated within the context of the Cold War politics that sought to discredit black nationalist rule as informed by Socialist and Communist ideological underpinnings.
"There is one point which has not been articulated to my satisfaction: The issue of Gukurahundi," said VP Mphoko, who was Zapu Chief of Logistics and the direct link between President Mugabe and Dr Nkomo during the Second Chimurenga.
"Now, there were two Gukurahundis. This must be understood — two Gukurahundis.
"The first Gukurahundi was a proclamation by President Mugabe in 1975 as a New Year's message to his advancing forces that let's turn this year into what he regarded as Gukurahundi.
"That was a proclamation during the war, a revolutionary demand that 'this is how we should defeat the enemy'.
"Meanwhile, on the Zapu side, the old man (Dr Nkomo) proclaimed a similar situation as a turning point in the armed struggle. There is Gukurahundi here by Mugabe; there's a turning point there by Joshua Nkomo. This was a pre-Independence Gukurahundi; pre-Independence turning point by the two leaders."
He said that first Gukurahundi ended on 18 April, 1980 when Zimbabwe attained Independence via the military and diplomatic onslaught by President Mugabe's Zanu and Dr Nkomo's Zapu.
VP Mphoko continued: "Now, I have always said the post-Independence Gukurahundi was a conspiracy of the West. This I maintain . . .
"When Portugal gave up its overseas territory in 1974 . . . the Rhodesians, the South Africans, General (Hendrik van den) Bergh who was head of the BOSS (apartheid Bureau for State Security) and Ken Flower who was head of CIO here, they almost walked to Portugal to protest to the Portuguese.
"'Why are you doing this? You have opened the gates in Mozambique. ANC terrorists will walk into South Africa. Rhodesian terrorists will walk into Rhodesia. The terrorists of the ANC from Angola will walk into Namibia and into South Africa. Why did you do this? Can't you reverse this?'
"The Portuguese said, "No, we can't do that. Find your own solutions'.
"South Africa and Rhodesia insisted 'you have opened gates to Communism'.
"So then, what do they do? Information we have is that the Americans, the British, the South Africans and Rhodesians . . . (decided) 'we need to find a solution to contain the situation'.
"So they came up with a buffer zone in Mozambique and Angola to stop ANC from both sides; to stop ANC and the Patriotic Front forces on this side. They created — in Mozambique — Renamo, which was heavily supported by South African military intelligence.
"And they created Unita in Angola . . . which was heavily supported by the South Africans. Unita was supported by the Americans: $15 million every year for 27 years.
"They were given some of the best weapons to make sure no Communism passes to Namibia, passes to South Africa; no Communism is passed from Mozambique to South Africa and also to Zimbabwe. That is what happened. They created that.
"Now, because their concern was South Africa, they wanted to protect their interests in South Africa from the Mozambican front and the Angolan front that side.
"Come Zimbabwe becomes independent: South Africa gets the same threat now. Zimbabwe is independent; the front is open.
"So what do they do? They create — from a myth, from nothing: 'Ah, Zapu wants to overthrow you (the Zanu Government)'. (This was) in order to justify, to create something.
"So that is what happened. So the Gukurahundi after the war had nothing to do with Mugabe — nothing! That is a fact. People can say what they want, but that was a Western conspiracy. You can never hear the British condemning that — never! They can't say anything. They never said anything. They never condemned anything because it was their baby.
"They knew what they were doing because they were protecting South Africa. So that point should be emphasised; it is very important."
VP Mphoko said greater awareness of this history was crucial for Zimbabweans to stop being divided by external forces.
"Our people should be very careful not to be used . . . the Rhodesians, the British have always wanted a war between the Shonas and Ndebele.
"They have always wanted that and this is historical. And up to now, there is so much suspicion between the Shonas and Ndebele because of these things.
"We have lost relatives, I was a victim also. The people who were affected will never forgive you and that is what they wanted.
"It is going to go a long way to heal. That is where the problem is. They have achieved it. But we have to be very analytical as a people to understand the source.
"If we don't do that then we will continue for years and years. But if we understand and be analytical, then you will understand that yes, it was a conspiracy."
VP Mphoko, who also heads the National Healing and Reconciliation portfolio, said his work was cut out for him in this regard.
"That is a very sensitive area because people lost lives. But we need to solve a situation. We need to heal those wounds. It would be very important that eminent persons in the affected areas participate in the healing system. That's very important.
"You see, we should avoid the tendency of: 'Wow, jobs have opened up, this is an interesting ministry . . .'
"No, no, no. It's a very serious matter. It needs eminent people. There are people who were killed . . . where people have died you have to be very careful."
VP Mphoko said unity between Shonas and Ndebeles pre-dated the Unity Accord with the first formal and nationwide collaboration coming in 1972 after the Organisation of African Unity meeting in Benghazi, Libya.
"That was the time of Cde Herbert Chitepo and JZ (Cde Jason Ziyapapa Moyo) when we formed the Joint Military Command in Mbeya (Tanzania).
"And I must emphasise here that the Joint Military Command was the first unity between Zanu and Zapu . . . "In the meeting, and we were very clear, we don't want anyone to have an advantage over the other. This is a win-win situation.
"If Chitepo becomes Chairman, then the Commander of the Army will be from Zipra. If JZ Moyo becomes the Chairman, then the Commander of the Army will be from Zanla. So that's what happened.
"Chitepo became Chairman, and then Mangena Nikita became Chief of Staff.
"And we were sharing positions. Josiah Tongogara became Chief of Operations. I became Chief of Logistics. And Robson Manyika became Commissar; John Mataure became (Chief of) Personnel and Training and then Gordon Munyanyi became (Chief of) Military Intelligence and so forth . . .
"Zapu and Zanu identified each other as allies in the fight against the Smith regime. That's very important."
VP Mphoko said thereafter, following an attempt by Bishop Abel Muzorewa, Reverend Ndabaningi Sithole and Cde James Chikerema to take over Zanu in Mozambique, unity between Zanu and Zapu again came to the fore.
When their attempts were rebuffed, the trio approached the OAU Liberation Committee saying no material assistance should be given to Zanu fighters.
"So, everything was completely cut off, and that is when we had a lot of sicknesses in the camps because there was no food, no medical assistance. A number of people died."
He said during a tour of the camps with Mozambique's leadership as well as Bishop Muzorewa, Rev Sithole and Cde Chikerema; Cde JZ Moyo witnessed firsthand the dire situation.
"When he got back to report to the Revolutionary Council about the trip, he talked about the problems in Mozambique; affecting our people in Mozambique — Zanla; Zanu people.
"Moyo insisted that we have to rescue that situation because we have identified each other, Zapu and Zanu, as allies, we have to protect the revolution to deny the reactionaries from taking over what is there.
"So, we came up with a plan to rescue that situation. Sithole and others had put a condition that the Zanla (cadres) should join Muzorewa, Chikerema or Ndabaningi. If they don't, no food; nothing!
". . . we had to come up with a limited strategy to rescue Zanu from this crisis. The limited strategy was to form Zipa (Zimbabwe People's Army) on the same lines as we did with the Joint Military Command of 1972.
"Hashim Mbita (head of OAU Liberation Committee) promised JZ Moyo that: 'If you do that we can rescue the situation. That's the only way we can do it.
If you don't do it now, we can assure you that Zanu and Zapu are likely to be de-recognised and then Frolizi and Muzorewa recognised at the next Liberation Committee meeting in Addis Ababa'.
"The most important thing here is that the formation of Zipa was mainly to rescue Zanu from collapse. Any other interpretation is not correct."
VP Mphoko said as Chief of Logistics, he secured supplies and arms in Tanzania and took them to Zanu fighters in Mozambique.
"Zanla in Mozambique became alive again . . . And when our mission was accomplished, we withdrew as Zipra because we had finished our mission . . . Our mission was to rescue Zanu from collapse and this is what we did."
He, however, pointed out that finding each other as Zanu and Zapu had not been easy.
"The relationship between the two parties was very hostile in the early days. But those who meet at the front crossing, you cannot try to fight each other because enemies are close. We met John Mutaure on several occasions at the front there and then we had a common approach long before the leadership . . .
"The military people, we had our own relations. You would find a Zanu fellow or he would find you stranded on the way from Tanzania to Lusaka with a tyre puncture. He is going that side; you are coming this side. You would say, 'Take my spare wheel. Take it to Lusaka, but don't take it to (your) place'.
"And this is how things were. So, that relationship in the military is older than the unity between the two parties."
VP Mphoko also singled out the formation of the Patriotic Front as another landmark in Zanu-Zapu ties.
"After the withdrawal of our Zipra command in Mozambique, unfortunately when we were planning these things, other people had their own views. They wanted a third force. They wanted to control and so forth.
"Now this is very critical. What happened was when these people wanted a third force, we refused. We came with a mission to rescue Zanu. The people who knew about that were the Zipra Command and Rex Nhongo (General Solomon Mujuru). Not the rest."
He said there was pressure from the likes of Wilfred Mhanda to depose the leadership, to the point of even claiming that Dr Nkomo was collaborating with the Smith regime.
Through that tense period, President Mugabe emerged as the natural leader, acceptable internally and within the Frontline States; with Dr Nkomo playing a pivotal role in convincing the likes of Mwalimu Julius Nyerere of Tanzania to realise that Bishop Muzorewa, Rev Sithole and company had in fact become destablising factors.
"That's how those boys lost. From that time, they were told to toe the line and the Frontline Heads of State recognised Zapu and Zanu.
"And when those young fellows left, they were in actual fact told by Nyerere and Samora Machel to toe the line. So they refused. They wanted to exist as a separate entity but they couldn't and ended up having problems with the Mozambican government.
"So when we went back to Maputo that is when we formed the Patriotic Front on October 30, 1976.
"That's when we formed the Patriotic Front because the feeling was that we should go to (the) Geneva (Conference) as one.
"Immediately after forming the Patriotic Front, the co-leaders of the Patriotic Front, created a Commission of Inquiry to find out what led to the collapse of Zipa. What was highlighted were the fights that took place in the camps.
"So, the Commission from Zanla was led by (Cde Simon) Muzenda, (Dzingai) Mutumbuka, Rex Nhongo, Josiah Tungamirai and Mark Dube. The Zapu side was led by George Silundika, Dumiso (Dabengwa), Gordon Munyanyi, Ambrose Mutinhiri and I . . .
"That commission went to Tanzania collecting evidence; went to Zambia and the camps in Mozambique to collect evidence. But we knew what was there. Well, we knew about our mission which was limited.
"But there was another element where there were clashes in the camps. That element was a foreign element, which reveals heavy infiltration, the anti-unity element within the liberation struggle."
VP Mphoko said after that commission, he remained in Mozambique as a Zapu representative after the withdrawal of Zipra, on the instruction of the Zipra command.
"When Mozambique became independent, we wanted a presence as Zipra. We sent a man called Tom Ndebele in 1974 to go and be our man there.
"He disappeared. So when I remained there, one of my tasks was to establish what happened to him. He was arrested. There had been too many Rhodesians . . . So he was arrested, thrown into a prison called Mashava and he died there. They killed him there.
"That was an interest we had. Frelimo was a partner and military ally and so forth. I had worked with Frelimo before. When they opened their Tete front in 1968, I personally delivered weapons to their front there.
"I had worked with them personally from a logistical point of view. And I remained there in Mozambique, as a representative now of Zapu.
"When we went to Tanzania when the leaders had decided to  . . . Zapu and Zanu, I was told by the old man, Joshua Nkomo, to go back and represent Zapu.
"And then I said to the old man: 'Mdala, I have a problem being there in Mozambique. The relationship between Zanu and Frelimo and I am squashed there, sandwiched'.
"The old man said to me: 'You must go back and make sure that that situation also favours you'.
"Those were his instructions. So, I went back. Now, after the formation of the Patriotic Front that's when I was co-ordinating the two leaders of the Patriotic Front. That was my biggest mission."