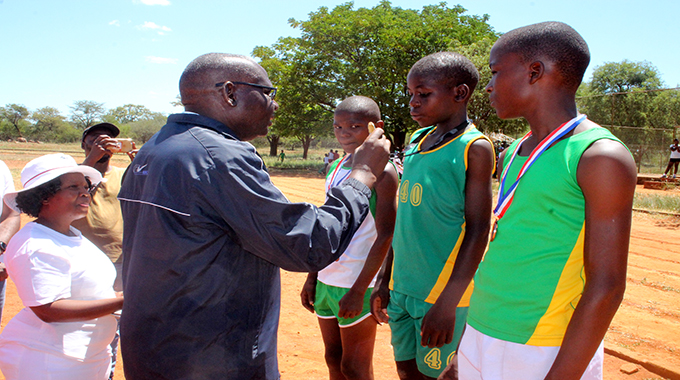 The Sunday News
Judith Phiri, Sports Reporter
UMZINGWANE Member of Parliament Retired Brigadier-General Levi Mayihlome has urged the corporate world and well wishers to join hands with the Government and help improve the standards of sporting facilities in primary schools.
Speaking at the Umzingwane District Athletics Competitions 2019 that were held at Sacred Heart Primary School in Esigodini on Friday, Rtd Brig-Gen Mayihlome expressed concern over poor facilities at most primary schools.
"Our facilities are in bad shape so they need to be improved as an effort of recognising most primary children's talents so that they can go as far as Olympics if they are well nurtured and groomed. We are calling upon well wishers and the corporate world to come through and assist to identify talent that can be groomed to international standards in our constituency. They should be able to sponsor for the facilities used which are dilapidated in some schools while others don't have facilities such as well tracked athletics grounds, netball, soccer or basketball courts, proper jumping mattresses, gyms for their fitness and full kits to be used to groom and nurture the students from a tender age," he said.
Rtd Brig-Gen Mayihlome said the new curriculum was broader and diverse as it allowed for other activities in education, allowing pupils to identify their different talents. 
"We are happy that our updated curriculum includes other activities that were not there back in our days such as gymnastics, high jump, discus, shot put and javelin. This shows that teachers are doing all they can to identify different talents as they groom the children from a younger age.  Sports around the world and Zimbabwe have in the past decades become an industry on its own with athletes now being able to make a living out of it. We have a great number of examples which include our current Minister of Youth Honourable Kirsty Coventry," he said. 
National Association of Primary Heads (Naph) chairperson, Mr Sibanga Ncube who is also Mhlangeni Primary School head said the competitions were in preparation for a team that would be able to compete at the district level and move to the provincial level. Primary schools from different zones that participated include How Mine, Sigola, Siphezini, Glen Grey, Matshetshe, Sacred Heart, Esigodini, Ntabende, Mpisini and Bayethe, among others.
@Judiephiri9