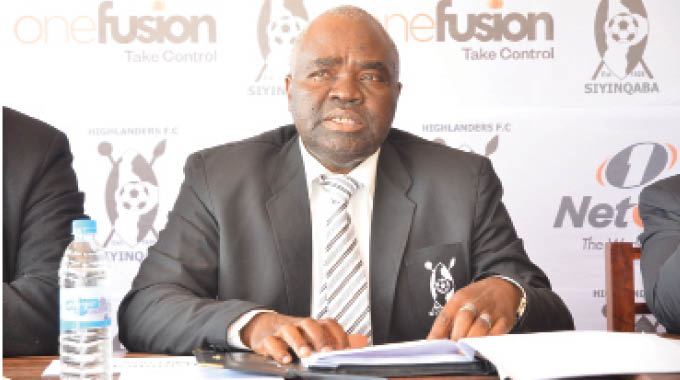 The Sunday News
Mehluli Sibanda, Senior Sports Reporter
HIGHLANDERS executive committee chairman, Kenneth Mhlophe is expected to give an update on the club's state of affairs on Thursday.
Mhlophe is expected to speak to the media on a number of issues, including the club's financial situation.
It is likely that Mhlophe will announce that the club is free of debt after receiving the last batch of funds from a crowd funding initiative led by South Africa based Bosso member, Nodumo Nyathi.
Last week, Nyathi announced that his initiative had sent ZWL$410 000 raised by Highlanders supporters in the diaspora while ZWL$10 000 had come from those domiciled in Zimbabwe, with the total amount enough to wipe off what was remaining of the club's debt.
Highlanders were left without a main sponsor when their main bankroller NetOne decided to refocus their social corporate responsibility of fighting the coronavirus pandemic.
Mhlophe is expected to give an update on the progress made in finding a new sponsor.
The Highlanders family should be eager to know what plans the club has in ensuring that some of the key players whose contracts are renewed.
Mhlophe announced last week that they were in talks which should see striker Prince Dube move to a foreign club in the coming weeks.
Dube's contract with Bosso expires at the end of this year and Highlanders are at the risk of losing one of their prized possessions without any financial gain if they do not sell him.
Other senior contracts whose contracts expire at the end of the year are first choice goalkeeper Ariel Sibanda and reliable defender, Peter Muduhwa.
Brian Banda and Tinashe Makanda are now out of contract, with the two said to be on their way to joining former Highlanders coach Pieter de Jongh at FC Platinum.
Highlanders are however understood to be still paying salaries to Banda and Makanda, which is an indication of the club's willingness to renew the contracts of the two players.