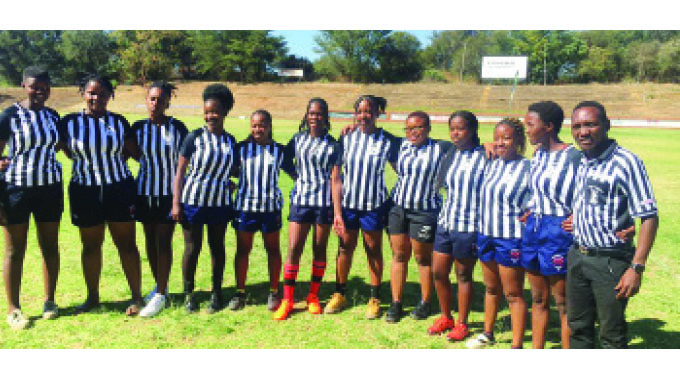 The Sunday News
Brandon Moyo, Sports Reporter
FOREIGN-based former Highlanders Rugby Club players have decided to plough back to their club by donating men and women's kits.
The kit presentation ceremony was held yesterday at Hartsfield Rugby Grounds and  attended by club players. Apart from the jerseys (both shirts and shorts), the team also received medical bags with sprays, water bottles, caps, boots, socks, warm-up and bench jackets and assorted training shorts and shirts.
The legends who ploughed back to the club include Silomuzi Ngwenya, Dave Rolson and the United Kingdom (UK) Chapter.
Ngwenya chipped in with KZN Sharks shirts, medical bag, water bottles, sprays and caps. Rolson, who is the founder of Highlanders Rugby Club, sent in black and white jerseys and 12 pairs of new boots.
Former players who are now based in the UK chipped in with coaches' shirts and track tops, black Highlanders branded golf-shirts, black and white striped shirts, shorts, socks (red and black and white), assorted training shorts, boots and jackets.
Highlanders' chairperson Thulani Tabulawa expressed gratitude to the former players, adding that the black golf-shirts and the girls' t-shirts will be used when the team is travelling so that they look presentable.
"This kit will go a long way in assisting us. We have always relied on hand-outs where at times we go a season with one kit being shared between the boys and the girls but in this case, we now have got a kit where the players can play one week in one kit and the other week in another different kit and all these donations go a long way.
"We had a situation in the past where players were loaning each other boots, however, we want each player to have his or her own set of boots and socks so that they don't keep on exchanging among themselves. We really appreciate these donations because they go a long way to make sure that our players look presentable and are all putting on strips as we don't want a scenario whereby one player is putting on black shorts and the other is putting on red shorts, we want it to be uniform," he said.
First team head coach, Sijabuliso "Finch" Moyo also shared his gratitude to the club legends who ploughed back to their beloved team. Moyo, who is also a club legend, said he played with some of the players who donated the kit and asked for commitment from the players. Tabulawa also added that they will continue looking for support for the club from different people and businesses.
He added that they take trips to Harare and Francistown (Botswana) and, in the long run, are planning to have trips to South Africa and they will need people to partner with to assist with sponsorship in terms of transport and or donations of any kind.
Highlanders Rugby Club is one of the oldest clubs in the country. — Follow on Twitter @brandon_malvin