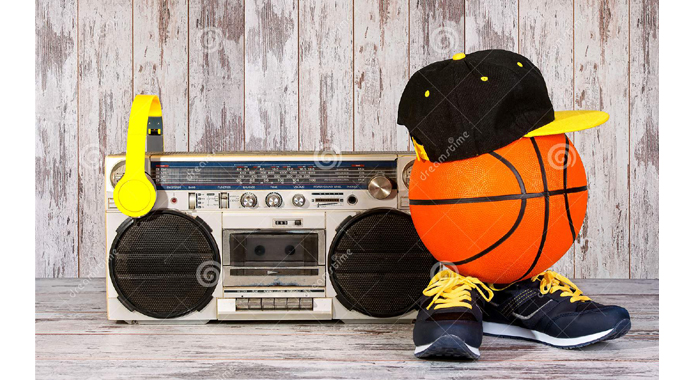 The Sunday News
Simba Jemwa, Sunday Life Reporter
For a long time, Legends' forward Duke Madubeko was a headphones or earphones guy when he worked out. In the last couple of years, however, he and some of his peers became a proponent of the speaker. Normally, he won't use a loud sound system unless he is alone in the gym.
Sometimes the court is empty. To become one of the best players in the country requires lots of work, much of it without anyone else in the room. In those moments by himself—accompanied only by a ball and the court—Madubeko can focus on the finest details of his game. For him to get in the right headspace, though, he needs something that unites most of the basketball world: hip hop.
Across the world, the latest tracks in music's most popular genre has filled the air of basketball courts for decades. From the outdoor courts of New York City like Rucker Park, to Khanyisile Basketball Courts on game day, hip-hop music is the accepted soundtrack of the sport. So, it's no surprise that when Madubeko unplugs his phone from his headphones and attaches it to a speaker via Bluetooth, the bars of popular rappers like Lil Durk, King Von, Meek Mill, Pop Smoke and more bounce off the gym's walls. Now, Madubeko can get down to work.
Madubeko said there's a "weird relationship" between his music and his training.
"You just listen to the music, you shoot it and just vibe. It's kind of like a poetry type of thing."
According to Madubeko, for him to be at his best, he needs to be in constant motion. Putting pressure on the defence by always moving gives him the opportunity to be creative, as opposed to being in a stagnant standstill. This ability to glide around the court and operate at an elite level, despite his relatively mid-size stature, is "creative" and "free-flowing" in a way he likens to his favourite rappers and players.
"It's kind of like how Steph Curry would play. It's kind of like a poetry type of thing," Madubeko said.
"Just the way he moves on the court, I think that's kind of where you get the creative side, just to be able to find those spots and use your mind and see outside the box, just like a lot of artists and hip-hop artists think outside the box."
This flow and creativity is what Madubeko loves so much about the game of basketball. Basketball and hip hop are fundamentally linked together, two cultures that have fused into one! In general, any making this argument is seen as an American wannabe identifying with two cultures that are invariably not natural to them but acquired through exposure.
However, a visit to Khanyisile Basketball Courts in Bulawayo, Sherwood Basketball Courts in Harare or wherever else this sport called basketball is played, you will find hip hop present: whether through music or through dress, it is there as part of the basketball scene.
The dress sense in most Hip-Hop music videos suggests a positive interaction between Hip-Hop and basketball. For the most part, many prominent rappers have played basketball at some level or the other: be it 'balling' on street courts or a 'jam session' in someone's backyard. And some even play it to date! Just to mention a few, J Cole, Drake, and The Game consider basketball as their second home.
Drake is even a Global Ambassador of a Canadian National Basketball Association (NBA) franchise called Toronto Raptors. This shows his loyalty and passion for basketball and its culture!
It is not surprising that most rappers own or once owned a pair of Jordan sneakers. As evidenced at a recent league match at the Khanyisile Basketball Courts, most if not all players had detail sneakers and even the Jordan socks proved their loyalty to the sport and its affinity to the culture of Hip-, giving it a little 'swag'.
Drinking is norm at just about every basketball court in the world. Mostly, the alcohol is smoothly laced with a dash of music: hip hop or its sub-genres being the dominant genre of any playlist showing the close cross- cultural mix that is Hip-Hop and basketball.
And just as a sweetener, many a hip-hop dance move has been choreographed to mimic basketball players' moves and footwork on the court.
But that's not all: the attitude explains among rappers and ballers is primarily the same. Case in point: ballers will celebrate dunk or a block with a lot of the 'hood' fist or chest bumps, gestures that are also found in some Hip-hop music videos which on its own signifies the symbiotic relationship between Hip Hop and basketball.
Over the years, movies have been made that show this relationship, from sports action to sports animation to real-life documentaries to romantic comedies. And all have celebrated the two cultures through soundtracks and basketball themes.
Bekithemba Sibanda, a former basketball player who became a renowned hip-hop artist and personality, feels the same way about the game. Known by the name "Thorne Laroq" in the music scene, the Bulawayo local fell in love with both music and basketball at a young age. For him, one of the best parts of his two biggest passions is the dueling artistry in each.
This artistry in Thorne's mind comes out best when someone is rapping in a way that their words find a unique connection with the listener that "hits even more." Comparatively, in basketball, he notices it when a player makes a move. When they shake their defender in a unique way or find a way to create space, Thorne said he thinks they are expressing themselves in basketball.
"It's really an art."
Thorne got into the music industry over two decades ago. Quickly, Thorne's voice connected with his friends and they insisted he take it up full time. Though initially uncertain, Thorne was swayed after "hearing support from a bunch of people."
His early work received praise in the hip hop community and was featured on several big projects that defined the hip hop scene in Zimbabwe in general and Bulawayo in particular. His goal with music has always been to reach people on a deeper level.
"Music that you can feel is something special," he said. @RealSimbaJemwa