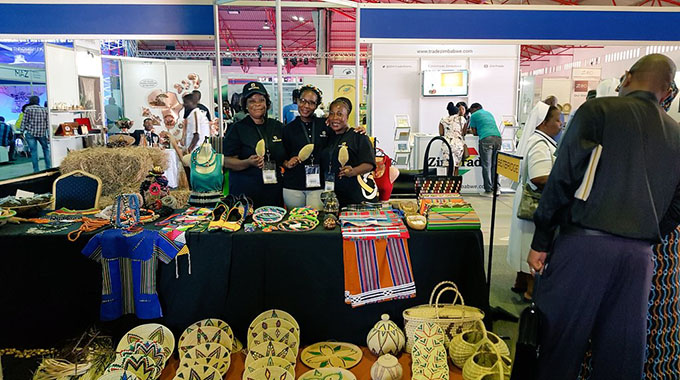 The Sunday News
Judith Phiri, Sunday News Reporter
RESERVE Bank of Zimbabwe (RBZ) subsidiary, Homelink has awarded women from Bulilima Rural District in Matabeleland South $5 000 for being the best 2019 Matabeleland Rural Women Exhibitors at the just ended Zimbabwe International Trade Fair.
The award is part of efforts to improve small-scale businesses. 
Speaking at the awarding ceremony that took place at the Homelink exhibition stand last week, Homelink marketing manager Ms Tendai Rafe Moyo said the company was working with the Ministry of Women Affairs, Community, Small and Medium Enterprises Development to promote financial inclusion and market access of SMEs in the rural areas. 
"We are working together with the Ministry of Women Affairs, Community, Small and Medium Enterprises Development to empower the Small to Medium Enterprises (SMEs) run by rural businesswomen under the Women Entrepreneurship Development Training (WEDT).
"As Homelink the programme is for financial inclusion and empowerment of these women as their products, the basketry, timber doors, chairs and tables, bead works, among other things can be exported so that they can also generate their own income and attract local, regional and international markets, therefore also boosting the economy," said Ms Rafemoyo.
She said the company also facilitated the exhibition of best SMEs from rural areas and also awarded them with cash vouchers. "We have brought 12 districts from Matabeleland South, Matabeleland North and Chiredzi from Masvingo. 
"We first had the prejudging sections in the 12 districts and the best SMEs in each district got the opportunity to exhibit their product at the 2019 ZITF.
"In every district, winner one to three got a voucher of $500, $300 and $200. This project started last year and it's an on-going one so it's never too late to start your business. It's a national programme and we will continue to support the women for financial inclusion, how the money works, how to bank it, save it and invest it so that they grow bigger and realise maximum potential from their God-given talent," she said. 
She added: "We have so much talent in the rural areas and we have carried out workshops and training so that they get market access, know what the market wants, recognition of their work, how to attract and speak to their customers and how to make presentable business proposals."
Bulilima women representative Mrs Sindiso Ncube-Masuku said support from Homelink has helped them improve their products.
"Homelink has assisted us to be able to carry out our crop and livestock farming, poultry project, bead works and the amarula fruit projects where we use the fruit to produce butter, jam, and oils among others. 
"We were trained on business farming so our produce we sell and get money to do other projects and support other women in our area. 
"We are going to use the money as a revolving fund for disabled women in our districts and also to get more equipment so that our production capacity also increases," she said.