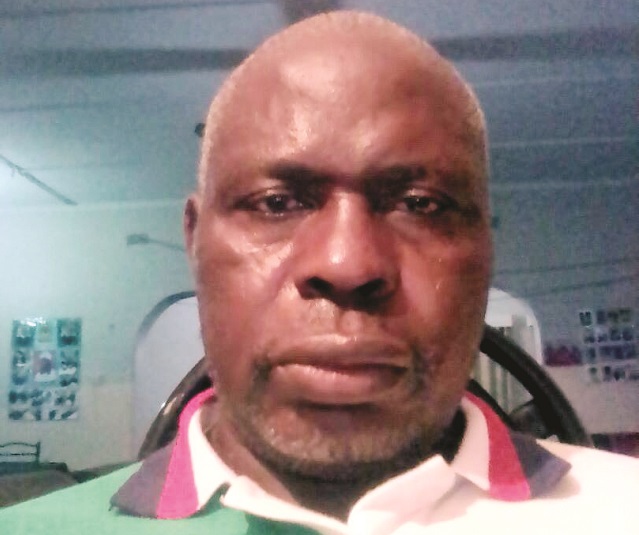 The Sunday News
Danisa Masuku
SOME players are born natural strikers. A number are made but Isaac Lungu was born a natural forward who shone like a beacon in the domestic football scene.
Having been born in a family that prided itself in a son, Ephert Lungu, who led from the front in as far as football was concerned, sparked interest and passion that had lain dormant in the fresh-faced forward wonder boy.
"I can proudly say I was inspired to play football by my brother Ephert Lungu who turned out for Rio Tinto FC and the Zimbabwe National Team. After having watched me a number of times playing street football he told me that I could be a good striker if I concentrated my efforts to soccer and it could open other avenues for me. I did just that and the rest is history," said Lungu.
"At secondary school I was a key member of the squad and helped our team in winning a number of trophies in zonal competitions. Since then I never looked back", he shares.
After school he joined Shamrock Mine a Division Three outfit and stayed with the side from 1973 up the end of the season in 1975.
In 1976 he took his footballing career to the elite league when he joined a Midlands outfit — Risco Steel FC.
He was not a mediocre forward who fluffed chances but was a dependable striker. He became a permanent member of the first team and reveals that he never missed a match unless when he was nursing an injury or when he was not feeling well.
But his footballing years had not been without heartaches, in 1977 his side was thrashed 5-2 by Zimbabwe Saints at their home ground, Torwood Stadium. Following that Zimbabwe Saints clinched the Rhodesia National Football League title.
"We were humiliated 5-2 by Zimbabwe Saints at our home ground and they clinched the league title. What made that season painful was that we finished without any silverware," he reveals.
The year 1978 goes down as his best season in Risco Steel colours as he played an instrumental role in helping the Midlands outfit clinch Castle Cup after beating BAT Ramblers 4-1 at Rufaro.
"I was part of the scorers in that epic battle, I scored a brace and that remains one of my most memorable match out of many matches I played for my team. I reckon after that match my chances of showcasing my talent in national team colours brightened," he revealed.
The squad that brought pride and joy to the Midlands soccer-loving masses was made up of the following players: Victor Dhliwayo, Steven Phiri, Frank Mukanga, Clement Sibanda, Ephraim Moloi, Bernard Zikhali, Ali Saidi, Frankson Nyembere, Tobias Moyo, Njabulo Zulu, John Madura, Isaac Lungu and Henry Mwase. Riscosteel was under the leadership of Paul Moyo, Nicky Murphy was the team manager.
He pays tribute to Paul Moyo for playing a father figure role.
"He helped me in moulding my career and would take time to give me notes on perfecting my scoring techniques. He could also give advice on how I should carry myself in public. He warned me to keep away from drugs and alcohol as he said that would ruin my career," he reveals.
In the following year (1979) Lungu played an instrumental role as he aided his side in settling for Castle Cup runners-up. However, he had his fair share of heartaches after the determined well-oiled Risco machine was defeated by Caps United 4-2 in Castle Cup.
"Unfortunately we lost 4-2 to an on-fire Caps United. Our defence lapsed in concentration. Even the mid field department was not up to scratch," he shares.
However, his worst moments came when his side was relegated to Division One in 1981 and Paul Moyo was unceremoniously dismissed.
The late football stalwart Morrison Sifelani took headship of the side but the players did not accept the change.
"We were used to Paul Moyo's people management and we did not embrace the change as such some of the key players left and that led to some string of poor results as a result we were relegated," he recalls.
But he did not slow down in improving his work rate and perfecting his skill as he gave his best as a result in 1983 he was selected into Zimbabwe national team that participated in a tournament in Kenya. The squad had the household names like Stanley "Sinyo" Ndunduma, Japhet Muparutsa, Stanford Mutizwa and Joseph Zulu and his brother Ephert Lungu just to mention five of the galaxy of stars that wrote their own piece of history in Zimbabwe football books.
However, they lost 2-1 to the Kenya national team.
"We did our best but the Kenyans were too good for us as such they won the match 2-1 in a semi- final on their soil," he shares.
That year (1983) goes down as the major highlight of his career as he was the second top goal scorer in the league after having banged in 19 goals.
"It was a good season for me as I was the second top goal scorer with 19 goals to my name while Gift Mupariwa walked away with the golden boot as he had scored 21 goals," he reminisces.
For his sterling efforts he was rewarded with Z$500. His glowing career had to come to an end in 1993 after he suffered a horrific injury.
"I fractured my right leg after I collided with a defender. I was operated on and when I recovered I did not regain my form as a result that forced me to quit soccer at the age of 35," he reveals.
He then became Ziscosteel coach. During his early months of coaching he took up a course in coaching.
He says: "I am a Level Three holder of coaching certificate with Zisca and also holds a British International Preliminary Coaching certificate."
After a short stint with Ziscosteel he left at the end of season in 1994 and joined Falcon Dalyn Mine.
At Dalyn Mine's technical department he joined his brother Ephert Lungu.
After his football career he worked at Falcon Gold Mine as an accountant.
Fact File
Isaac Lungu was born on 17 February 1958.
He is married to Tracy and they have been married for the past 39 years. The couple is blessed with four children Naison (38), Alec (35), Jessica (32) and Elmelda (29 ).
They worship at the Roman Catholic Church.
He is now working at Dalyn Mine as an accountant, Chakari, Kadoma.