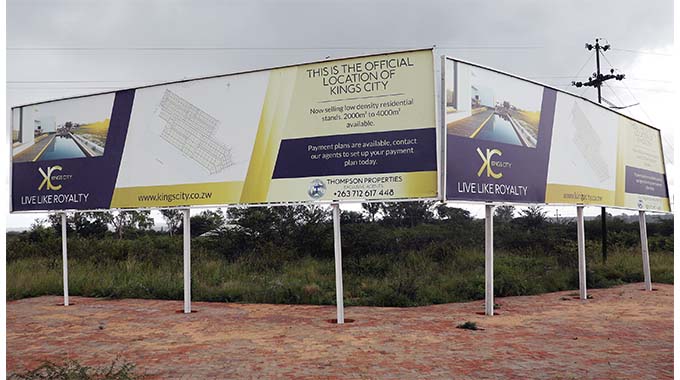 The Sunday News
Eliah Saushoma, Sunday News Reporter
BULAWAYO is set for a massive new housing project that will see 8 500 stands being developed on a 5 000-acre area along the Bulawayo-Gwanda road.
The project is being implemented by Thompson Properties and will see beneficiaries getting stands ranging from 2 000 to 4 000 square meters, officials have said. In an interview, director of Thompson Properties, Mr Jonathan Thompson said the project will be the face of Bulawayo for people getting into the city from South Africa by road.
"Kings City is a huge project which is going to be predominantly low and medium density with shopping mall, schools, hospitals and light industries. It is a 5 000-acre project with about 8 500 stands measuring between 2 000 to 4 000 square metres which will be developed in the coming years. Development is run by professional companies all from Bulawayo. We love Bulawayo, we want to see Bulawayo prosper and we want to see Zimbabwe prosper. We began selling the stands to people from all over the world."
Mr Thompson said the project was also meant to improve housing problems in the city.
"We believe in giving back to the community and we just want to see people excited about real estate and getting into homes and properties. We just had people from all over the world buying stands at Kings City. We believe in under-promising and over-developing. It is critical to meet targets properly and overcome shortcomings."
He said the first section of the first phase has already been serviced.
"Just over 4,2 kilometres of new road and 5,5 kilometres of new water lines have been done. We have started servicing of the second section and people will be excited when they see the quality of work that has been done on all sites, the quality of the original company, the quality of our company and the quality-of-service providers. We are just excited about the way the project has been done," he said.
Mr Thompson said the project will be all encompassing that will see a number of utilities being found in one place.
"It has not been easy the past year due to the Covid-19 pandemic but we are happy to have just completed Phase 1 of the project ahead of time. The whole team has been very fantastic in the implementation of this project.
Thompson Properties has worked on the Hopeville project which was one of its most successful projects. It was an amazing journey to see the Hopeville development rising from the surrounding bush to become a small city of its own. We hope for innovative advancements in the construction, design and affordability of future housing. Looking into the future, the company would have prospects of venturing into construction and perhaps rent to buy management. The future looks bright," he said.