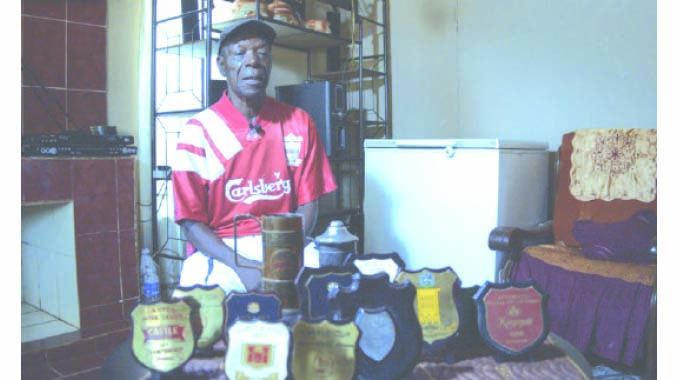 The Sunday News
HIGHLANDERS FC had their plans to sign "red hot" Chita Antonio scuttled at the last minute by Zimbabwe Saints.
Antonio had bagged 24 goals to be the season's top goal scorer in the Northern Region. His tally and impressive performances for Metal Box had him finish among the two runners-up for the 1973 Soccer Star of the Year Award.
He was one of the most terrific strikers of that era spoken of in the same level with Peter Nyama, Josiah Nxumalo, Paul Tsumbe and Ernest Kamba.
Nick-named Black Mamba for his complexion and devastating effect in front of goal, Antonio had inflicted enough damage to defences in the North Zone and proved his worth against South Zone champions Highlanders with an outstanding performance at Luveve Stadium in the first leg of the national play-off.
Silas Ndlovu, who was then Highlanders coach did not hesitate to sign him on when Metal Box, the sponsors of the club pulled off at the end of 1973.
There was a scramble for the Black Mamba's services with all top teams eager to have him on board.
Antonio came to Bulawayo and everything was done to the script with the charismatic Ndlovu splashing some cash towards the player's signing on fees.
Sunday Chidzambwa, Antonio's teammate at Metal Box remembers the partying that followed the Bulawayo trip.
"Hey, we drank so much with Antonio when he returned from Bulawayo. We knew he was headed to Bulawayo but were surprised later when he joined Zimbabwe Saints," said Chidzambwa.
Zimbabwe Saints official, Herbert Ushewokunze allegedly used underhand tricks to change Antonio's final destination.
Antonio said when word got to Ushewokunze that he was headed to Highlanders, the city medical doctor pursued him and told him he would get more in signing on fees than paid by Highlanders.
"Ushewokunze said they would stop me from playing for a team with a predominately Matabeleland support base, and that my option was open and that it was Zimbabwe Saints," said Antonio.
He would have joined a strike force boasting of Isaac Mafaro, Josiah Nxumalo, Tommy Masuku, Cavin Duberley, Tymon Mabaleka and Itai Chieza — indeed a Destruction Machine.
"I was very close to joining Highlanders and Ushewokunze said I should not join Highlanders. They gave me more than what Highlanders had given me as signing on fees," said Antonio.
He would team up with the likes of Gibson Homela, William Sibanda, Simon Supiya, Adam Maseko, Lucky Rufani, Isaac Banda with Ebson "Sugar" Muguyo, Max Tshuma and Ebson Muguyo arriving from Mutare later.
"I had some good times at Zimbabwe Saints where we played some breath-taking football.
I liked the set up in Bulawayo because it is similar to Harare where we had boys' clubs like Mai Musodzi, it was a haven for talent development.
"Those structures have proven results, they must take yesteryear greats to coach there and they will unearth superb talent," said Antonio, in an interview recently at his Kuwadzana 5 home in Harare.
A lethal finisher, he was upstaged by teammate Homela in a Bulawayo City derby played in Harare — the 1976 Chibuku Trophy final.
"Gibson Homela deserves respect in Zimbabwe football. He is a big man worthy legendary status as he shone as a player where he played as a striker, midfielder and defender. I am sure he could have guarded goalposts, if need be, he was a winner," said Antonio.
He said news of Homela flying home for the cup final from the UK had motivated guys in the camp forcing the club to camp at Kambuzuma several days ahead of the match. This was to allow Homela to train with the club.
"I started with Homela in attack with Max Tshuma and William Sibanda pulling the strings in midfield, it was no surprise to have him score a brace, with Tshuma adding the other two. We overran Highlanders that day, we were unstoppable," said Antonio.
But his move to Zimbabwe Saints had heightened rivalries between the two teams' sets of supporters. So fierce was the build-up that some lost limbs as fighting began on the Monday or Tuesday the fixture was announced.
With two Chieza brothers destined for Highlanders landing at Chikwata and them making it 3-0 with another shocking last-ditch diversion of John "Gwejegweje" Nyumbu using similar underhand dealings of places of origin, Bosso felt a "third force" was behind that.
To make matters worse at the end of 1976, some outsiders influenced Bosso senior players to leave and form Olympics.
The team took Bosso's franchise in the Rhodesia National Football League while Amahlolanyama started the South Zone Soccer league which became a huge success.
The Bosso faithful have not forgiven those behind the split and still see conspiracy in that a majority of the players who deserted were not their "Mpopoma and Mzilikazi sons".
But were players like Itai Chieza and Stanley Nyika who had joined from outside Bulawayo.
Antonio said he was looking forward to playing with the likes of Tymon Mabaleka, Billy Sibanda, Ananias Dube and Lawrence Phiri but had fear instilled in him by the Chiwororo Camp, as Saints was known.
He said he enjoyed his football and when he called time up to join his family in Harare as the breadwinner following the passing on of his father, he had added several silverware pieces with the 1977 Castle Cup and league title.
He joined Black Aces where he played with great players like Rodrick Muganhiri, David Muchineripi, Tymon Mabaleka (1979), Archieford Chimutanda, Peter Manyara, Wonder Chisetera, Brenna Msiska, Simon Mudzudzu,
July Sharara and Clever Hunda.
"Aces were a good football project. They allowed players to explore their talents, express themselves on the field yet retaining team goals of collective success," he said.
When Cone Textiles were formed in the early 1980s and entered the Division One Soccer League scene, Antonio joined them and played with the likes of Joseph Tembo who had a brief spell at Highlanders in 1985.
"On retirement I became part of Wieslaw Grawboski's technical team as assistant when the club changed to Darryn T.
I worked with so many good players there and I remember we produced Stewart Murisa, Alois Bunjira, Edelbert Dinha, Lloyd Chitembwe and my son the late Felix.
They were a great crop of youngsters who went through the mill," said Antonio.
A married man with grown up children, Antonio said tribalism has no room in society.
"What happened during the time I moved to Saints was unfortunate. Sport brings people together and is a useful tool for social cohesion," said the legendary striker who was born and bred in Mbare where he attended school and started off his career.
He says back in the day strikers knew that if they did not score in three consecutive matches others were lying in wait to grab the opportunity.
"Throughout my career I had strikers in the team who pushed me to the limit and I benefited from that.
At Aces Wonder Chisetera knew of the competition between us but we were good friends," said Antonio.
He was called up to the national team a number of times but when a cap looked imminent at one stage against South Africa, the match was called off.
Antonio is retired and lives a quiet life in Harare where in Kuwadzana 5 he is still a household name.
The Sunday News crew was given directions up to his doorstep by community members who affectionately refer to him as Mudhara weLiverpool.