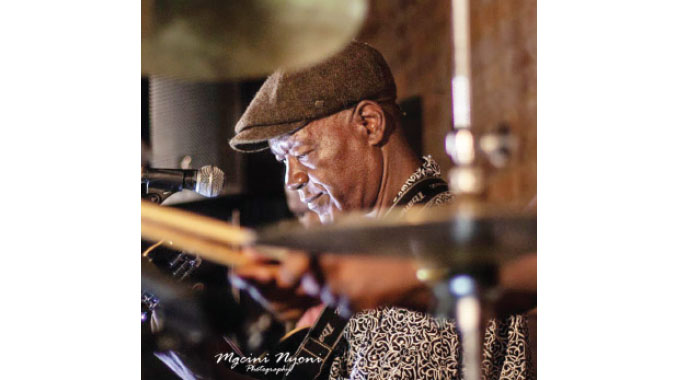 The Sunday News
Bruce Ndlovu , Sunday Life Reporter
HUDSON Simbarashe has always been in love with the blues.
It is the one genre of music in which he found himself as an artiste, sparking a love affair with the guitar that has made him almost inseparable from the instrument.
Anyone who is anybody in the Zimbabwe music scene will tell you that Simbarashe has been a blues man. However, when he embarked on a road trip into the heart of rural Matabeleland, seeking to locate the musical pulse of the south western part of the country, Simbarashe was unprepared for how his encounters there would shake his love-affair with the blues genre itself.
The Hudson Simbarashe Road Trip, made possible by support from Culture Fund under Creative Actions2, which is funded by the European Union, was intended to add the musician's deft blues touch to the raw but inspired rhythms flowing from different parts of Matabeleland.
Instead, Simbarashe found himself questioning if, in his discovery of blues, he had strayed too far from nearer sources of artistic inspiration, sources that reflected his nature better as a Zimbabwean.
"What I realised is that we learnt western music and do it more than we should. The type of music that I learnt from these people is what I should have been able to express myself through. Surprisingly I can express myself through blues, yet these people are 100kms from me but blues comes 10 000kms from me. These people's music is our music but we don't know it. That's one thing I realised when I went out there. We really don't know our music and I think we should start teaching our children our music before they learn the other stuff we hear on radio. I think music is easier for them because they learnt it when they were young and they have been doing it for as long as they have been alive whereas for us, the music that we interpret as ours, is borrowed music. We don't know the roots of that music which is in contrast with the people who we met, because they know the roots of theirs," Simbarashe told Sunday
Life in an interview.
Before embarking on a road trip that took him to Plumtree, Mbembesi twice, Gwanda (Matshetsheni), Lupane, Tsholotsho, Kezi, Matopos, West Acre and Mawabeni, Simbarashe had his own idea of what he would find on the road. After all, he had grown up around sounds and music that he thought came from the Matabeleland countryside. What he found, deep in the remote areas where artists pluck rhythm from guitars that seem to be a single riff away from having their strings broken, was beyond his wildest imagination.
"It was a learning process for me as well because the places that I went to I had never been to before. When I went there, I thought I knew what those people do but when I got there, everything was different, including the language. Growing up in town in Bulawayo, I always thought I knew about how they make their music but when I got there, it was so different. The talent that I found in those places was unbelievable.
"Before we went there, I had my own imagination of what we would find but when I got there, I realised that we overrate ourselves here in town. Considering the working environment and the equipment that they have to work with, it is really amazing the stuff that they gave us. Using old guitars, that have been there for years because they know that if those strings break, there is no way to replace them. People like us in town, on the other hand, we are crybabies and if we use a guitar for three weeks then we want to change the strings," he said. What Simbarashe found particularly impressive was how, with little rehearsal, communities were wholeheartedly dedicated to the craft of music.
"I was impressed by the women's choirs that I saw as well because the voice is the most difficult instrument to master. You carry it with you, so you can't say that you left it at home. You can't say you didn't practise. So, I was very impressed because those women do not rehearse like we do. They just meet at whatever gathering there is and get the job done.  The spirit of working there is different to what we have seen.
"When people have their get-togethers, they take the music part of such gatherings very seriously. You find that the whole community drops whatever it is doing and goes to an event. When we went to these places, we found abandoned villages along the way because people had left their homes to go where the events were. We were surprised at how seriously take uMguwo, which is what they call it. From the instrument players downwards, the level is high," he said.
Simbarashe said while the assumption may be that the music that comes from Matabeleland was uniform, he was surprised by the sonic diversity that confronted him while on the road.
"When we got to Plumtree, the people there were separating music according to title. To us, that music sounded the same but the old ladies where ladies were telling us this is amakhwayara, this is this. To me, it was the same music but the owners told us it was different and they also showed us how it was different.  Every area did their thing differently from the others," he said.
However, despite the entire road trip being an eye-opener, Simbarashe said he had not found it hard to adapt to the music, as it awakened the inner-African within him, an identity that many musicians do not readily embrace as they yearn for foreign sounds.
"I didn't struggle a lot to adapt to the music because, while I might not know the songs, they are also my roots as well. When they sang them, something rang a bell inside even though I had never heard them.
So, it shows that there must be a connection that we have always neglected. I am happy that this thing was made possible by Culture Fund because it made us realise how much we don't know about ourselves," he said.
The Hudson Simbarashe Road Trip, a 21-track album which includes six interludes, is set for release on 30 September during the Intwasa Festival koBulawayo at the National Art Gallery in Bulawayo. a documentary and a photo essay will accompany the release of the musical project. Mgcini Nyoni, who was an integral part in the making of the project said this would not be the last time, finances willing, that Simbarashe would be giving a taste of the sounds of rural Matabeleland.
"We are going to purchase a mobile studio and go back and going back means more money. It should be possible to stay in one area and work. I felt we were doing a rushed job because we would have hired a car for a limited amount of time so if you're told that the person that you're looking for is not around today but they will be around tomorrow you end up killing your plans. But if you have more resources, you can wait and be doing other things while you wait. This is not the end. The idea is to go back and make it bigger," he said.