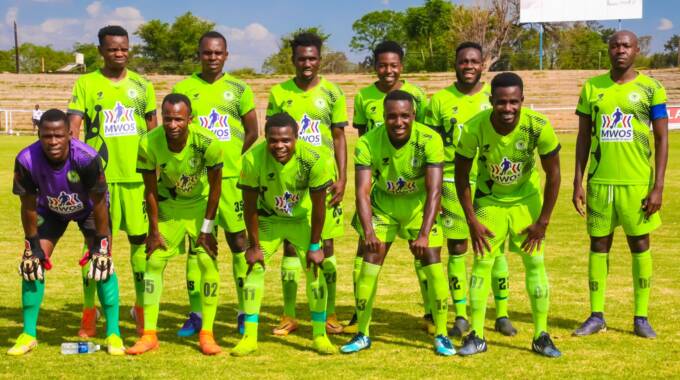 The Sunday News
Fungai Muderere at Barbourfields Stadium
Bulawayo Chiefs 2-1 Dynamos
AFTER staging a two-day strike, Bulawayo Chiefs FC players managed to turn on the power and hand Dynamos their first defeat in over a month in a match that was played at Barbourfields Stadium this afternoon.
Chiefs' all important goals came from club captain Malvin Mkolo and bustling striker Obriel Chirinda.
Dynamos got theirs from the boot of Dominic Mudadi.
This was after the first half of the game, which was dominated by DeMbare, had failed to produce goals with Bulawayo Chiefs imposing goalkeeper Isaah Ali having been found jittery on many occasions.
In the second half, Bulawayo Chiefs turned on the power and it was interesting to note all the games' three goals were scored in a space of less than five minutes.
Mkolo, who is the Bulawayo Chiefs captain, found the opener in the 47th minute.
Three minutes later, in a quick turn and fire situation, Mudadi grabbed an equaliser for the Glamour Boys.
With the blue and white camp still celebrating, speedy and skillful Obriel Chirinda got the better of DeMbare captain Frank Makarati and beautifully placed the ball home after beating a badly exposed Taimon Mvula who was in goal for the Harare giants.
It was Chirinda's 10th goal of the season.
Also interesting to note is that Chiefs goalie Ali picked himself up in the second stanza to produce a number of stunning saves with DeMbare hunting for an equaliser which continued to elude them until the referee's final whistle.
The referee Tichaona Tigere was found wanting after making a number of questionable decisions with the Bulawayo Chiefs crying foul on a number of occasions and so were neutrals.
Chiefs are now on 29 points and DeMbare remained glued on 36 points.
It was also fascinating that the drum beating Dynamos fans accepted the defeat to a club that handed them a 3-2 loss in the first leg tie that was played earlier on in the year at National Sports Stadium.
Teams
Bulawayo Chiefs
Byo Chiefs: A Isaiah, K Sibanda, B Nyahunzwi, M Msebe, N Gama, O Chirinda (D Dlodlo 74th minute), M Mkolo, D Phiri, M Gasela, F Moyo, F Matare (Veremu 58th minute)
Dynamos:  T Mvula, M Donald, E Moyo, F Makarati, J Makunike, E Jalai, I Sadiki (Paga 66th minute) E ILunga (Chikona 46th minute)K Madera (Chintuli 79th minute), S Nyahwa (Musiyiwa 46th minute) K Moyo, D Mudadi (Ziocha 66th minute)
Ends