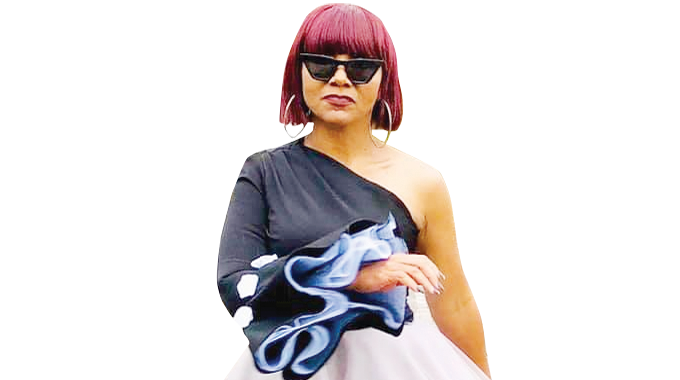 The Sunday News
Vincent Gono, Features Editor
WHEN Diane Deadol was growing up in the coal mining town of Hwange, she would often get beatings and reprimands from her grandmother for cutting house curtains leaving them hanging short on the windows to design dresses and costumes for her dolls.
At school she was to be conscripted into the school drama but still her fashion sense refused to grow out of her. She would end up selecting costumes that goes with the script and it became a stubborn culture that was not to be weaned off easily. 
As she grew to become a woman, she was no longer cutting short her grandmother's curtains and any other cloths in the house but nurtured her designing talents that started to manifest in an unusual childhood delinquency manner.  
And from her naughty costume designing past she has a success story to tell. She recently got a slot to showcase her designs — Didi Couture (from Diane Deadol) at the just ended Soweto Fashion Week where she met the who is who of fashion and design in South Africa, a dream she said she was afraid of losing to the winds of time and fate. She has grown past making dresses for dolls using curtains. Her lines cater for the contemporary woman from classic elegance costumes, weddings, special occasions, evening wear and ready to wear lines.
"I grew up in the coal mining town of Hwange in Zimbabwe. I used to love story telling drama at school but for some reason I always ended up doing the selection of costumes and dresses, I used to enjoy it a lot," she said.
On how it all started she said, "When I was growing up I had a small company where I used to make and sell fabric dolls, it was challenging as I had no fabric and materials, I would cut up anything I laid my hands on including my grandmother's curtains and pieces of clothing, and I used to get into trouble when she discovered her half curtains hanging on the windows. 
"I have been making dresses on the sidelines for years but now I believe I'm ready to do it full time and make amazing and fabulous garments." 
She said she never went to school to learn fashion and designing but it has always been her passion that couldn't be suppressed by her studying a few different fields such as engineering.
"I loved making stuff from a young age," she added. 
Deadol said it was not easy to break into the industry and the Soweto Fashion Week provided her the springboard from where she would dive into the deep ends of the dynamic industry. 
"It's quite difficult to penetrate the industry locally and abroad. But I believe that once you put your mind to something you love, you can achieve it. So I'm super excited to embark on this. It's a long time dream I have had to make fabulous clothes and be a designer of note. 
"I had very positive and amazing feedback from the audience and fellow designers. My garments were classy and absolutely stunning. Getting positive reviews felt special as I felt I was doing well. I have a lot of people requesting I make them dresses which is amazing," said Deadol.
She has an ambition to dress the catwalks of Milan, Paris and New York as well as dressing the First Lady of Zimbabwe.
"Being my first time to showcase, I learnt a lot from compiling my collection, (fabrics, sketching and making the garments for the runway), to dealing with models fittings and coaching the walks. It was my first showcase. It has given me the exposure for growth and to make my brand bigger locally and abroad."
Soweto Fashion Show producer and creative director Ngugi Vere said the show was created to promote and give a platform and exposure to upcoming designers in the townships.
He said Didi had never had the chance to audition and showcase but when she did her garments were amazing and everyone was saying it was something beautiful. He said Didi was really talented and gifted at the art.