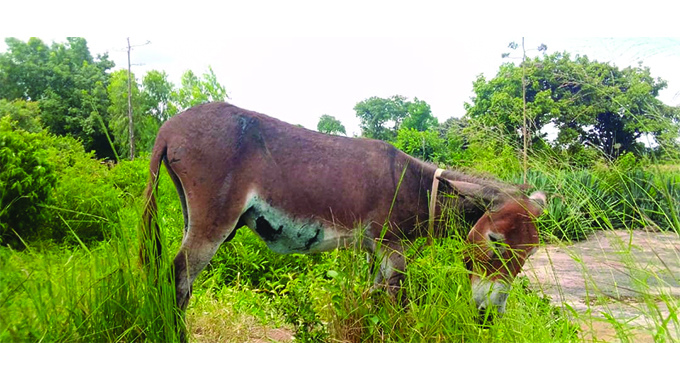 The Sunday News
Valencia Ndhlovu, Sunday News Reporter
VILLAGERS in Ward 37 in Mberengwa district have lost a number of livestock to hyenas that have invaded their community with fears that the carnivorous animals may end up attacking people.
So marauding are the hyenas that they have decimated donkeys, goats, sheep and calves leaving the villagers counting their loses and without draught power. The most affected areas are villages, Nungirai, Chivasa, Pararai and around Gwai Primary School, Makwava Primary, Chapungu Secondary and Mundi-Mataga Dam area under Chief Chingoma.
"These hyenas are surely causing a headache to us as villagers. Goats, sheep and donkeys are at the mercy of these animals. We have never had them in such a big number.
This time there are many and are sure to leave us poorer and hungry as donkeys form part of our draught power," said Mr Luckson Pasipanodya.
He said the situation was worse in Chief Chigoma's Ward 37 where villagers were now living in fear of the hyena attacks.
"They haven't attacked people but fears are that they may pounce on children and those that may be travelling to catch buses at dawn," he said.
He added that they do not know where the greedy animals came from but suspicion was high among villagers that they migrated from farms in the Sovelele area in Mwenezi and Makhado into Mberengwa. House of Assembly Member for Mberengwa South Cde Tasara Hungwe said the hyenas have become so much of a problem in the communities in his constituency going even further into Mberegwa West where they were also troubling villagers around Masase High School. He said they have engaged the Zimparks for help in dealing with the hyena menace and the teams were in the area.
"The hyenas have been a problem for some time but now the issue has escalated as people are losing livestock almost on a daily basis and people are even scared for their lives at this point. We have engaged the Zimparks team and we hope they can do something to scare them away because people's livestock are at risk," said Cde Hungwe.
He advised people under Chief Chogoma not to walk at dawn and dusk as chances of attack by hyenas were high. Nungirai village head Mr Wilbert Pasipanodya said he came across a hyena with nine puppies which made it clear to the villagers that the hyenas were yet to become a problem as the environment seems to be good for their breeding on a massive scale.
He said the hyenas sometimes don't wait for the donkeys to be in the fields but they attack from within the kraal and in some homesteads, they had to scare them away by making noise and torching them.