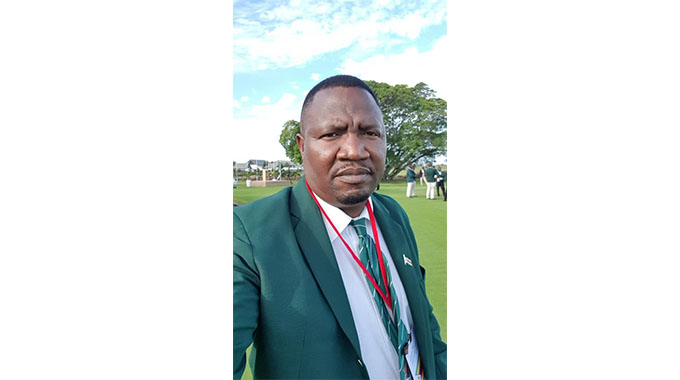 The Sunday News
Simba Jemwa, Sunday News Correspondent
Sunday News (SN) What drives you as a ZGA board member first and president second? What is your pedigree as a golf administrator?
Martin Chikwana (MC) What drives me is passion! I am passionate about golf and have been from the first time I took up the sport in 2004. From day one I developed a huge passion for golf and I have been involved with the administration of golf literary since day one. I joined my first club, Hillside Golf Club in Mutare in 2004 and almost immediately became a member of the executive as a member of the greens committee.
Eventually I was elected club vice captain and later on vice chairman of the club. While I was at it, I was elected the vice-president of the Manicaland Junior Golf Association then president and I also held the same portfolios with the Manicaland Golf Union. As MGU president I also became a member of the Zimbabwe Golf Association executive committee for two years.
Six years ago I was elected ZGA vice president a post I have held until this year when my peers at the ZGA endorsed my ascension to the presidency. It's been a very long journey for within the golfing family.  Every morning I wake up and wish I had a magic wand to wave around and make all things that affect golf better. I would grant a wish to every kid who wishes to play golf!
SN: What are your aims, targets as president? And how can stakeholders measure your success against those aims, targets?
MC: Generally it would be easy to draw up a list but I don't have a monopoly over golf administration especially in the ZGA and so I cannot just up and say this is how we should do things. Fact of the matter is that we have different views from our different stakeholders: corporates have their own views as does a youngster from Tsholotsho who dreams of one day becoming a golfer or the social golfer.
During my tenure, I will try and put together all these wishes, package them and hopefully make them mine and the ZGA's aim and objectives for the sport of golf in Zimbabwe. And this why at this very moment I am pushing for a strategy conference with as many stakeholders as possible. And this conference should determine the direction of my administration.
This is the Committee's immediate task and the resolutions from the strategy conference can then become the yardstick with which to measure my administration. Is the amateur game a continuum of the professional game or are they two entirely unconnected activities? If the latter, then how do you think the amateur game should be structured and what should its objectives be?
As the ZGA, our main concern is the amateur or social golfer. It is from here that we believe the skilled ones ascend to the pro levels. Our primary objectives lie with social golfers. If we could increase the numbers of social golfers, we can increase the human resource base for pro golf in Zimbabwe.
Golf is an industry with several divisions so to speak and has the potential to become a major employer: we have green keepers, caddies, golfers and club administrators all employed within the golf industry.
To put this into perspective, Zimbabwe has plus or minus 3 000 golfers and at any given time at least 75% of these golfers needs a caddie. Another example would be Scott Vincent's five-men entourage. He has a nutritionist, caddie, statistician, trainer and coach as part of his support staff. So in essence, these are five different job opportunities available in golf.
Golf has the potential to generate it's on income and as an example this can be done through green fees or club membership. Zimbabwe is unique in that it can marry its golf to tourism and develop golf tourism sector.
SN: Where do you stand on youth/schools golf? Are there alternative structures that should be considered?
MC: At the moment, we only have a few schools playing golf at that level and these are primarily trust schools (private schools). A few have produced the odd quality golfer and this can be improved with more participation across the education spectrum. Yes golf is a fairly expensive sport to play, but if we could get a few of the Government schools involved, then we could be well on way to producing more pros.
I would love to see a scenario where students from Government schools get access to golf courses to help them develop a passion for the sport. Zimbabwe seems to produce a top golfer every ten years or so and we need to narrow down this gap and also the number of top golfers produced at any given time.
We had Nick Price as a world number one at some point and he was recently inducted into the Hall of Fame in both the United States of America and South Africa. Over the years. We have also produced top golfers like Mark McNulty, Tony Johnston, Marc Cayeux, Ryan Cairns, Tongoona Charamba, and more recently Scott Vincent. All this means is that we have what it takes to become a major golf competitor on the global field.
Over the years, there have been alternate structures that have develop golf in the country. We had the Mabikacheche Rural & Urban Sports Promotion Golf Foundation established and run by the late former ZGA vice president, Tavenganiswa Mabikacheche. This Foundation produced the likes of pro golfer Rabson Chinoi whose first taste of golf was at the age of 17 but look at how he has developed into an accomplished pro over the years. So yes there have been alternative development structures and my opinion they have worked and been fairly successful and should be encouraged.
SN: What are your views on the standard of both pro and amateur golf?
MC: We have huge potential. For example look at the number of scholarships that have been awarded to our young golfers over the years. In pro golf, the numbers of amateur golfers cannot be used as yardstick for the success of pro golf.
SN: From a governance perspective what are the key areas in the sport that need attention?
MC: As an association we have made huge strides towards being sound at a governance level. Over the last three years, our finances have been successfully audited which reflects our desire to ensure financial accountability to both our stakeholders and the golfing constituency. This in turn allows to remain attractive to the corporate world which is a major stakeholder in the growth and development of golf.
It is also important to note that we are also in good standing with all our affiliate bodies.
Under the stewardship of our former president, Mufaro Chivonivoni, we managed to create the technical, Covid and Zimbabwe Open sub committees that have ensured the smooth running of our operations and subsequently the last four years have been very positive administratively for the ZGA. Going forward, we hope to establish a few more such sub committees.
It is important to also note that during Mufaro's tenure, we became a member of the World Handicap System (WHS) which was launched in January last year. This system provides golfers with a unified and more inclusive handicapping system for the first time and our own golfers are right there with the rest of the world.
SN: What are your views about the number of golf courses in the country and access to them?
Zimbabwe has around 30 golf courses dotted around the country. We had a few more but they have been forced to close down over the last few years. But the fact of the matter is that we need more golf courses if we are going to increase the number of active golfers in the country.
And while we are at, we need to see golf clubs actively seeking to increase the number of their membership as this will lessen the financial burden of managing the said clubs and also enable them to improve their courses. More members translates to more income which also translates to improvement financial resources to manage the clubs.