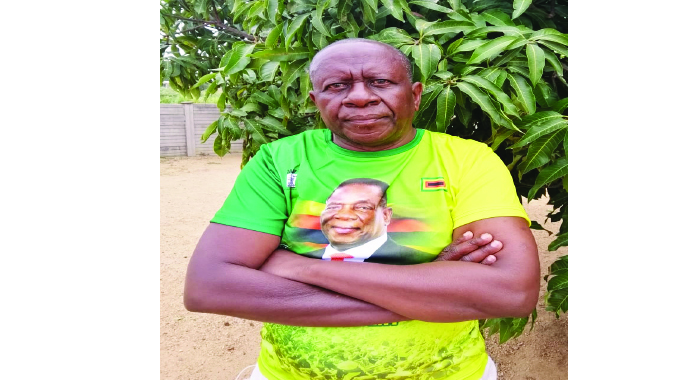 The Sunday News
WE continue our interview with Cde Mitsho Mlobi Ndlovu, pseudo name Cde John Sidambe, who during the war operated in the Sanyati and Gokwe areas.
Cde Ndlovu, a younger brother to Zanu-PF councillor in the Insiza Rural District Council, Councillor Tennyson "Thambolenyoka" Ndlovu or Cde Magedleni last week told our Assistant Editor Mkhululi Sibanda (MS) how the late Vice-President Dr Joshua Mqabuko Nkomo's visit at his family's plot at Gwatemba African Purchasing Area as the place was known then, influenced him into joining politics and eventually the armed struggle.
This week Cde Ndlovu continues the conversation by narrating how he crossed the border into Botswana en-route to Zambia and his training at Mwembeshi.
Below are excerpts of the interview.
Read on….
MS: Last time you spoke about leaving Bulawayo with five other recruits and two guerillas to join the armed struggle.
Let's resume our conversation from there.
Cde Ndlovu: From Bulawayo we were driven by a member of the Zapu province, a Cde Nhliziyo in his Zephyr car.
Like I said last week he took us to near the border with Botswana.
We crossed into Botswana and we had some food, just bread and soft drinks.
Transport was organised and we were taken to Francistown and that is where we surrendered our particulars.
In Francistown we did not stay long, if my memory still serves me right, it could have been three weeks being there.
From Francistown we were flown to Zambia where we landed at the Lusaka International Airport. From the airport we were driven to Nampundwe Transit Camp. Yeyi what a place that one. Kwakungatshiphanga. However, I think I need to take you back.
I was talking about the commitment that people like Nhliziyo who lived in Luveve had towards the liberation struggle.
There are many like him who made personal sacrifices such as recruiting and taking young people to the border with Botswana so that they could join the armed struggle.
The Rhodesian security forces did not turn a blind eye to their activities.
They punished them and Cde Nhliziyo had his house bombed after taking us to the border with Botswana.
MS: What happened, may you elaborate on that one.
Cde Ndlovu: This is what I gathered later on.
During the week I left for the war, a relative of ours, a nephew to be specific arrived at our family property, Plot Number One at Gwatemba.
He came in the company of a colleague and the two were guerillas, they came armed but were injured.
So my uncle, Naison Khutshwekhaya Ndlovu, uNK went there to take care of the situation.
The arms of these two, the AK-47s were taken and concealed at our neighbour's farm, a Harrisman, I am not sure of the spelling but just write the way it sounds. NK then smuggled those two guerillas to Bulawayo using a Shu-Shine bus and they were treated and left.
Everything was well organised I was told.
The Rhodesians later got wind of that and even that boys from the Khutshwekhaya family had gone to join the war.
They went to our plot and killed my grandfather, uKhutshwekhaya in cold blood. He was shot at close range. They later traced Nhliziyo and bombed his Luveve house. By that time my father Mlobi had long passed on.
MS: When you talk about the Khutshwekhaya boys how many went to war?
Cde Ndlovu: I said last week I come from a family of revolutionaries.
In my family we were five boys and one girl. All the five boys fought in the liberation war. Our sister, Thabitha is the only one who did not go to war. I will say more about others in the later stages of this interview.
MS: What then happened to NK?
Cde Ndlovu: NK had been in and out of prison because of his political activities but on this one that involved firearms he had to skip the border and that is what he did.
That is how NK crossed into Botswana en-route to Zambia to join other Zapu leaders in exile.
MS: Since you are now talking about NK, as a relative and someone brought up by him, what did you find unique  about him.
Cde Ndlovu: Like any other Khutshwekhaya son he was very forthright in his approach to things.
However, with time he had become a little bit softer.
The other thing NK never sought employment in Rhodesia when it was fashionable to do so, he used to run his own leather business.
His premises were located at Barbourfields Shopping Centre, just a stone's throw from the stadium.
He was manufacturing shoes and other leather items. He had acquired that skill at Mzingwane.
If you look at the history of many nationalists, some had done trades like carpentry, building and leather was the other that was offered at Mzingwane but NK chose not to look for employment but start his own business.
Before his escape to Zambia, NK used to play a cat and mouse game with the Rhodesian security forces and on a number of occasions would fool them.
You know Nguboyenja houses are semi-detached and on a number of occasions the police would knock next door, NK would then peep through the window and on seeing suspicious looking people he would escape from his house through the backdoor and melt into darkness.
That was a young NK then.
MS: Okay let us go back to you, you were still talking about your arrival at Nampundwe.
Take us through that.
Cde Ndlovu: From Nampundwe we were taken to Mwembeshi where the camp commander was the now late, Eddie Sigoge, a very tough military man.
He used live ammunition during training. The Chief of Staff was Stanley Gagisa.
Also there among the instructors was Mike Reynolds (late Brigadier-General Charles Grey), umkharadi, Cde Mbeya (Dr Milton Chemhuru, the former provincial medical director for Midlands, Rodwell Nyika   and my brother, Tennyson whose pseudo name was Cde Hezeck Magedlela. Many know him as Thambolenyoka.
These were tough military men.
MS: So how did you relate with Thambolenyoka during training?
Cde Ndlovu: You know during the war there was no time to seek favours even from your brother. In fact wawukufela khonokho ukuzisondeza kusihlobo sakho.
It was better to pretend as if you did not know each other.
I was a recruit and Tennyson was already a trained guerilla, an instructor for that matter who was there to initiate people into military life and he did not show any favours to me.
At first I pretended as if I did not even know him, but unfortunately or fortunately the Khutshwekhaya people just look alike.
Others including instructors noticed that we were related.
However, during training sessions to Tennyson I was just like any other recruit and he was even tougher on me.
He took us through drills such as the bayonet charge, physical exercises and combat tactics.
I should say he was very good and very physically fit just like all the instructors such as Gagisa and Sigoge who were very agile.
MS: So you are sure that you never got any favours from your brother?
Cde Ndlovu: The only favour that I got from him was when he saw me wearing tattered tennis shoes.
I was as good as walking bare-footed, so that could have touched him a bit.
He then gave me Russian boots. So during the nine months I was at Mwembeshi that was the only favour I got from him.
For me to be properly trained I had to go through tough situations like everyone else, you get favours during training and then you become a half-baked guerilla. During operations you are useless.
Training was meant to equip us so that we survive in any situation.
MS: Who were some of the people you trained with?
Cde Ndlovu: Our group had a strength of 1 000 plus and some of the people I trained with included now generals, Nicholas Dube who is commonly known by the guerillas as Bhuzhwa. He once served as the country's ambassador to Mozambique.
There was also now Brigadier-General Exobious Vusa Tshuma.
The training was for six months but from our group, 30 of us including now generals Dube and Tshuma were made to undergo a further three months in which we were doing commando training.
It was very tough.
The 30 of us were chosen after impressing the instructors during the six months with our physical fitness and other attributes.
After that I was moved to the Freedom Camp (FC).
At first we were told that the 30 of us were being prepared to be sent to an Arab country for further training as commandos.
MS: Then what happened?
Cde Ndlovu: We stayed at FC and it was during my time there that we saw recruits who were being sent for training to countries like Angola.
At times we would wake up in the morning and take those recruits for road runs.
While at FC some of us who had not yet seen battle then were inspired when we came across popular Zipra guerilla, John Nyamupingidza, now a retired colonel living in Hwange.
A lot had been said about Nyamupingidza's exploits on the battlefield.
He was an accomplished field commander.
When we saw him we could not stop marveling at him.
Here was a guerilla who had commanded very successful and dangerous operations in the Hwange, Tsholotsho and Bulilima districts.
At personal level I felt inspired by the sight of Nyamupingidza, a tall man built for the military situations and felt the urge to go to the battle front as well.
To be continued next week with Cde Ndlovu talking about his deployment to the front and operations in Gokwe.