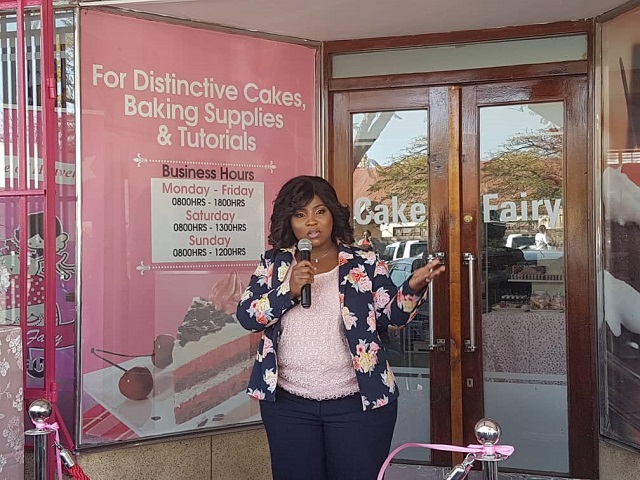 The Sunday News
Robin Muchetu, Senior Reporter
QUITTING a job that you have invested nine years of your life in is not a joke, especially at a time when most people are seeking employment.
But when one is determined, such a decision can open new doors. Such is the story of Ms Kathy Mwanza also known as the Cake Fairy, who had to quit her job to pursue a business that started off as a hobby in her kitchen. Ms Mwanza started baking as a hobby at her house in Bulawayo but little did she know that the hobby will grow into a full time business that would see her quitting her job at a leading insurance company in the city.
Last week, she officially went commercial and has opened a shop where she is selling baking accessories and various other baked delights. Ms Mwanza said the journey has been a miracle.
"I told my husband that I was tired of doing the same things everyday and I wanted something new. So he reminded me that I had a big mixer in the house that I would use to make cakes once in a while. He encouraged me to do a few lessons and then start baking often. I did my first lessons in Nketa at Hermish Cakes," she said.
Ms Mwanza said she started having orders from many people including her then workmates.
"I got mentoring from Majelita Fidler known as the cake guru in Bulawayo, I would show her my work and she would advise me on what to do and products to use and Cake Fairy was born from there. I went and did more courses with South Africa School of Wedding Cakes," she said.
Asked on her expansion drive she said she was growing the market.
"I told my husband that I was failing to get baking supplies and mentioned that I wanted to one day have a shop that supplies other bakers and he told me to find a place. Eventually I found it and renovated the place to be what it is today. I thank him for helping me build my dream and also my clients from all over the city who supported me when I was still baking at home. I hope one day I will bring together the bakers in the city so that we learn together by inviting trainers from all over and hold workshops. This is the only way we can grow and share ideas," she said.
She said quitting her job just over a month ago to pursue her dream was not an easy task.
"I quit my job and it was a difficult decision, it took me several months to make up my mind. I could not do both things simultaneously and again we had invested so much in the business for us to let someone run it for us. I then took a leap of faith and quit," she said.
Ms Mwanza said the shop will serve as a one stop shop for bakers as it will provide all the necessary ingredients needed in the business.
Zimbabwe International Trade Fair Company outgoing general manager Mrs Nomathemba Ndlovu who officially opened the shop encouraged other women to emulate Ms Mwanza.
"Kathy has taken the lessons she had learnt in industry and has applied them so practically in her business and made good use of it, she has turned an ordinary looking business idea in a market that is perceived as being flooded but turned it into a great venture that you are celebrating today," she said.
Mrs Ndlovu said the success of any business comes from passion form the owners.
"This lady is passionate about her work, you can see from the products and even packaging that she does her work from the heart and leaves nothing to chance. It's her passion that sets her apart from her peers in the industry which we all must do," she said.
Businesswoman and former model Mrs Lorraine Maphala-Phiri added her voice in praising how women were also making their mark in business.
"Kathy has done an impressive move which is an inspiration to young women in business. She has set a standard on how far one can go with their passion. She has a dream and a vision which has come to life, we will support her and many others to come," said Mrs Maphala-Phiri.