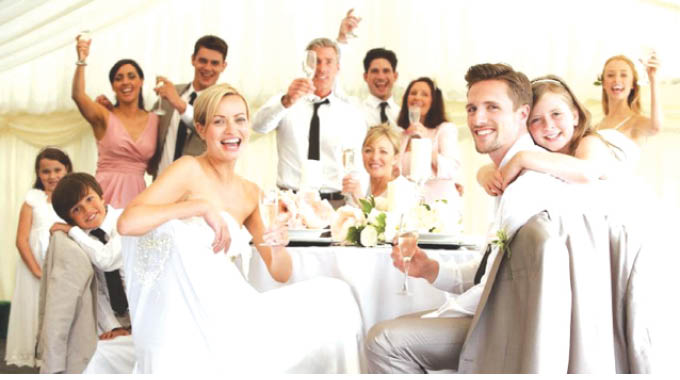 The Sunday News
Rutendo Chidawanyika
CHOOSING what to wear, and what not to wear, can be a difficult task regardless of your role at the wedding or relationship with the happy couple. You want to look good enough but not too good to steal show. These are the top tips on how best to avoid a wedding day fashion disaster . . .
With peak wedding season upon us, looks like December we are fully booked lol. Invitations have been rolling in and wedding guests are eagerly planning their outfits for the summer nuptials ahead.
Mother of the bride
Choosing what to wear as the mother-of-the-bride is a difficult task, it's best to start with a dress that's in keeping with the colour scheme of the wedding, doesn't clash with the groom's mother's outfit and most importantly is comfortable. After all it's a long day and you need to ensure you feel comfortable and relaxed. I like how most retail stores have started making good looking costumes specifically for the mother of the bride/mother of the groom. Always complete your attire with a matching hat and handbag..
Don't dress too casually
Regardless of the dress code wearing jeans is a complete and utter no-no at weddings. Remember that this is the bride and groom's special day and if it were your wedding, you'd expect guests to make an effort. Use weddings as an opportunity to dress up and show off a new outfit. If dresses really aren't your thing cigarette pants teamed with a well cut blazer make an ideal, smart and on-trend look. It is never acceptable to wear denim, rubber flip-flops, sweatpants, or shorts to a wedding.
If it's something you'd question when you're in the dressing room, it's best to put it back in the closet. Even if the wedding has a "dressy casual" dress code, there are still some restrictions. Unless it's requested, we'd say it's still appropriate to leave the jeans at home.
For a "dressy casual" wedding, women can wear a romper or fitted jumpsuit with sandals, while men should opt for a linen blazer, a crisp white or checked dress shirt, slacks, and loafers.
Invest in accessories
Attending numerous weddings in succession can be costly, especially if each event requires a new outfit. A great way to avoid breaking the bank is to choose a couple of versatile dresses and update them for each wedding by wearing a different bag, hat, shoes and jewellery. Statement accessories are a great way of updating a look and incorporating the latest trends.
Don't wear white
The cardinal sin of weddings, wearing white is by far the biggest mistake that can be made by a wedding guest. No guest should steal the attention away from the bride; it is her special day after all. In a white dress, the possibility of being confused for the bride is all too great so no matter how good white looks on you, give it a miss — just for one day. Unless off course the colour theme is white, usually that way the bride goes for an offwhite dress. Be careful still!
Don't wear anything too skimpy
See-through fabrics, plunging necklines and cutaway dresses should be worn with caution. Weddings are family events and usually day to evening celebrations so steer clear of anything too daring or risqué.
Wear colour in summer
Summer is the perfect opportunity to wear bright colours or pretty pastels, especially if worn with sunkissed skin. However, be sure to check in advance what colour the bridesmaids are wearing — being mistaken for part of the bridal party is a big disatser that can easily be avoided with some forward planning.
Bring a pair of flats
Wearing skyscraper heels all day can take its toll on your feet so pack a pair of ballet pumps or summer sandals in your bag to change into later on in the evening. No one will notice and this pre-planning will ensure you can dance away into the small hours of the night.
Avoid wearing black
You're going to a wedding not a funeral, so unless you have the perfect little black dress to wear, then try to avoid black. This rule is especially relevant for summer weddings when guests should embrace the celebratory vibe of the day and opt for bold colours and prints.
Don't upstage the bride
Weddings are a great excuse for treating yourself to a fancy new dress, but avoid going too overboard. Prom dresses, maxi gowns with a train and multi-coloured sequins that scream look at me are best avoided.  This may be hard for those who love attention but please try.
Know the difference between black tie and white tie
The differences between black-tie optional, black-tie, and white-tie weddings are small, but important. Generally, when a couple calls for a black-tie optional, they want you to dress more formally, but they don't want to put you out if you don't own or can't rent a tuxedo.
For a black-tie option wedding, women should wear a long dress or a formal cocktail-length dress in a dark, metallic, or neutral tone. Then men are recommended to wear a dark suit or a tuxedo.
Traditionally, black-tie events take place in the evening. Think formal, upscale, long, and luxe.
Women should wear a full or tea-length gown, or a detailed cocktail dress to black-tie events and men should wear a tuxedo with a black bow tie.
A white-tie event, however, is the most formal type of wedding. A royal wedding is one example of a white-tie affair. When an invitation calls for white-tie it means a tuxedo jacket with tails, a white pique vest, a white bow tie and gloves for the guys. For the ladies, call your stylist! Time to unleash an Oscar-worthy ball gown. — Additional information from Online sources.