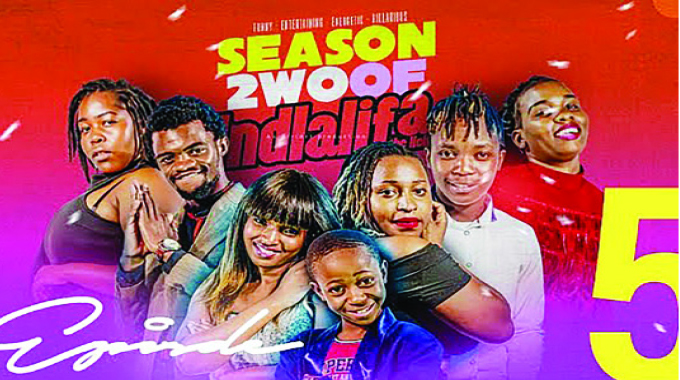 The Sunday News
Thembinkosi Khumalo, Sunday Life Reporter
IN the midst of a tough operating environment in the entertainment sector, Afri Art sets themselves apart by their persistence and determination to produce more thrilling content for its viewers as they are working on bringing to the screens Season 3 of Indlalifa that is themed Wild Turn.
The sitcom that compares well to one of the most viewed dramas in Zimbabwe – Wadiwa Wepamoyo is set to bring epic content that will keep the audience glued to their screens.
It is also without doubt clustered with a naturally young talented cast that sometimes master the script on the spot as they could not meet for rehearsals and shoots on different days because of Covid-19.
However, for most filmmakers, the struggle has always revolved around funding for their projects.
The talent might be there and the zeal but funding turns out to be one of the hiccups in as far as production is concerned.
A major demotivation is that the broadcasters of the content produced do not appreciate the talent at play. Filmmakers or producers are not usually paid enough money that can sustain the whole crew and also the resources that were used in production.
Co-founder of Afri Art, producer, script writer of Indlalifa (The HEIR) Jeffery Sibanda said, "I would like to give Covid-19 60 percent in terms of how it affected our production but we also have other issues that were burdensome for us.
We were focusing on Indlalifa and managing Afri Art simultaneously.
If only we had someone who says I am funding the sitcom, it would have been easier to work because trying to share funds for Indlalifa and Afri Art is really strain-some because we have to fund food and transport for every actor as well as pay rent for the apartments that we are using when doing the production. I would love to appreciate our CEO Mr Allen Chigumira who has managed to make ends meet for us."
"Viewers should expect epic stuff in Season 3 which is dubbed Wild Turn. As a writer who has been writing the scripts for the past two seasons, this time around I really want to experiment and explore new things that is why we decided to dub it that way.
I am also working with a director who is very innovative and creative and it is really amazing. He's also bringing in some very interesting concepts into the plate," said Sibanda.
He said the idea in the upcoming production was to twist the usual concept of Indlalifa, to introducing a bit of intriguing action-packed scenes.
Sibanda added that it was the response from the audience that would determine their continuity with the new script or they go back to the usual that people were used to.
"The key agenda is to keep our audience entertained and if they are not entertained, we would have lost our goal as a team. Just for interest's sake, the story line is about a father who left inheritance for his two children who thought they were the only kids.
After sometime they discover that their father had many other kids apart from them. When they had gathered to share the inheritance, it was made aware to them that their father wanted them to unite and work with a lawyer who was to tell them how they were going to share the inheritance," he said.
In Season 3 Wild Turn, there's a talented young man from Bulawayo who will be introduced permanently with a number of other surprise celebrities pitching in.
"It should not be forgotten that we are an edutainment group so there are key things that we would want people to learn when they are watching our skits.
This time around we are going to involve scenes that will portray the awareness of Covid-19 and we will also observe them while we are filming because we cannot teach what we cannot practice.
We also have a lot of people asking when is the show coming back? So, the airing of the Season 3 will be in the first quarter of the year subject to ZBC."