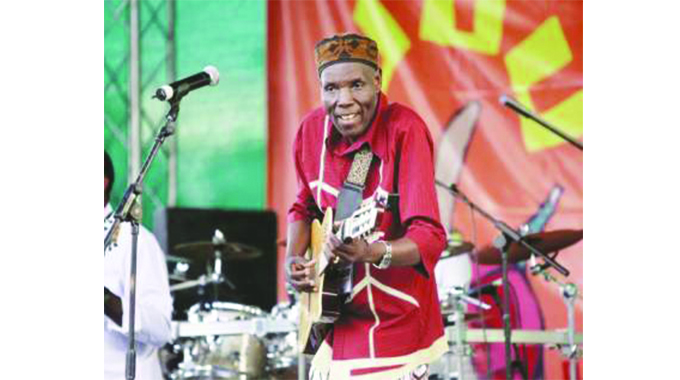 The Sunday News
Bruce Ndlovu, Sunday Life Reporter  
PERHAPS of all musicians one would associate with the late Oliver Mtukudzi, Kabza De Small is the name that is least likely to pop into one's mind.
Kabelo "Kabza" Motha is after all, a dance music producer extraordinaire, a man with an unparalleled ability to craft a beat that gets bums off seats and increases traffic to the dance floor.
He is the king of Amapiano, the one man who perhaps has done more than any other to take the genre from bedroom studios of Pretoria, South Africa the genre's birthplace, to big stages and playlists around the globe.
One half of the Scorpion Kings, he is the man with the Midas touch, a ruler who has repelled wave after wave of Amapiano hitmakers, holding onto his crown as new pretenders to the throne are born everyday on the southern tip of the African continent.
In contrast, Mtukudzi, as exhilarating as his music was, could never be said to have belonged to the same tribe of dance crazed musicians like Kabza.
Tuku is the thinking man's musician, a master poet whose lyrics voice gave buffets of food for thought, all washed down the ears of his audiences by that inimitable gruff, hoarse voice.
He's the man whose mere cough could soothe fresh wounds, while sealing, with a tender touch, old ones.
If one was therefore to look at Kabza and Tuku, one a massively popular contemporary artiste in the prime of his powers and another, a titan whose sun has risen and sat, they would say there's nothing that links them.
The release of Kabza De Small's song Mutserendende last week on his new album, The King of Amapiano 2 (KOA2), served as further illustration that as he rests in the remote village of Madziva, Tuku music will always get new lifelines from new artistes.
Not that it needs one, of course.
Featuring Zimbabwean producer and musician Mr Brown, Jon Delinger and Da Muziqal Chef, the song is a reminder of Tuku's enduring legacy on the African music scene.
On its release, Kabza's album was hailed as an unparalleled high for a man whose career has already hit a number of significant peaks.
Even though he might be one of the most celebrated Amapiano musicians in Mzansi, a nation blessed with some of the world's greatest dance music virtuosos, KOA 2 finds Kabza in rare form.
While his ability to make a hit is now beyond question, on KOA 2 he is able channel a level of spirituality that is a rarity in a genre that can sometimes sound like it was tailor-made for providing the soundtrack to bite-sized dance videos on Tik Tok.
The album is equal parts a nod to jazz music and an acknowledgement of the spiritual forces that guide Africans' daily lives in a world which, while made smaller and efficient by the advancement of technology, can feel like it has lost its soul.
At the centre of this spirituality is Mutserendende, a song that feels like a worthy homage to the late Tuku.
Perhaps Kabza's genius on the track is that he does not try to remake the original.
Neither does he try to recreate Tuku as a Frankenstein monster of sorts, a patched-up zombie put together for one last dance with the new cool kids on the block.
Instead, he merely invokes the faintest suggestion of Tuku's ghost, going in a new direction of his own while staying true to his Amapiano roots. After all, despite Tuku's deep musings, Mutserendende, can rightfully be classified as a dance song.
One's feet are bound to feel a sense of betrayal if they are not instructed to move when the classic guitar riff comes on at the beginning of that classic tune.
It is in the acoustic guitar that runs through the song that one finds Tuku's undeniable DNA and further evidence that Kabza De Small is a disciple of the late superstar.
In another lifetime, the Amapiano virtuoso might have shared a stage with Tuku, but he just happened to crash land onto the Amapiano generation.
If Tuku was the man with the talking guitar, on Mutserendende Kabza deploys the acoustic guitar to have a conclusive conversation with him from beyond the grave, gently assuring him that he might be gone but his legacy endures, undiminished.
On the original Mtukudzi Mutserendende draws comparisons between the lives of two generations.
He reminisces with nostalgia how life was easy and pleasurable for children of one generation in sharp contrast to his generation's life, which is filled with toil and hardship.
On his Mutserendende remake, Kabza shows that the hard journey of modern life, whose only reward can come from determination and perseverance, continues but can also be made a little bitter sweeter by the genius of people like him and the master musician whose footsteps he tries to follow.