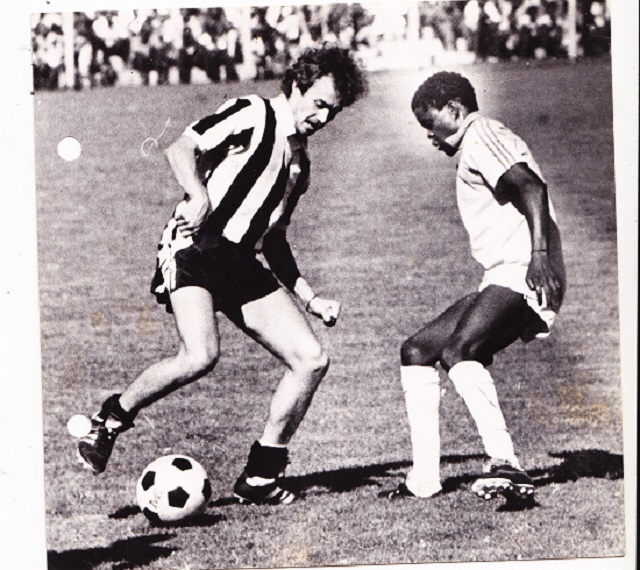 The Sunday News
Danisa Masuku
Mark Watson was a free scoring spear head striker, as such fans aptly called him Juluka.
In the late 1960s to the early 80s it was a common sight in this country to see white football players playing against black stars or rubbing shoulders with them at both club and national team level.
There was great rivalry between players who used to turn up for local clubs like Salisbury Callies, Arcadia United, Chibuku Shumba (which later became Black Aces), Bulawayo Sables, Salisbury Sables, Tornadoes, Mangula, Metal Box, Rio Tinto, Dynamos, Matabeleland Highlanders (now Highlanders), Mashonaland United (now Zimbabwe Saints) and Wankie (now Hwange).
There were a number of talented white players who emerged on the domestic scene like Bruce Grobbelaar, Jimmy Gilpin, Walter Lawrie, Topsy Robertson, Regie Sheasby, Rob Jordan, Brian Pearce, Graham Boyle, Tommy Ballantyne, Billy Sharman, Boet van Ays, Derick Petrie and John "Seke Muchena" Humphreys.
The country also produced a number of talented players from the mixed race who included 1978 Soccer Star of the Year George "TNT" Rollo, Majid Dhana, Reg Payne, Doorman Moodley, Herman Hendricks, Maxwell Joseph, Jimmy Finch, Hedley Layton, Bethal "Kaboots" Salis, Charles "Maskiri" White, Reg Paizee, Goosey Galloway, Alwyn Hagen, Cornelius Elijah and Stewart "Sikalo" Gilbert. Watson was among that rare breed having cut his football teeth at Sunderland Juniors in the UK before they relocated to Zimbabwe in 1971.
Upon his arrival in Zimbabwe he turned out for Old Miltonians FC up to 1980 when it was disbanded. He was then snapped up by Highlanders.
When Watson joined Bosso he was the only white player in the squad. He cherishes and recalls those moments as if it was just yesterday.
"I was received with warm hands and I enjoyed every moment in Highlanders colours. What made my stay with Highlanders more enjoyable is that I formed a good partnership with Majuta Mpofu and used to score goals a lot. As a result fans used to like me a lot and hence the nickname Juluka gained prominence," he told Sunday Life.
Veteran football coach Barry Daka watched him during his moments of glory and spoke glowingly of him.
Daka said: "He was a prolific striker who could score a brace or a hat-trick in almost every match that he played. At the end of the season he was always among the top three-goal scorers."
His undoubted moment of glory was when he scored a hat-trick against Ziscosteel FC.
"At the time our team was going through a goal drought period and was at the bottom of the log. I scored three goals in that encounter and that boosted my confidence and I never looked back," he recalls.
Following that top drawer performance former Chronicle sports reporter Luke Mhlaba aptly headlined his story on 12 November 1980: Watson lifts Highlanders off the bottom and summed up his introduction by saying: "He scored a hat-trick against Ziscosteel in a closely fought match at Barbourfields."
Nonetheless, one of his worst moments at Highlanders, even up to now when he talks about it he flinches a bit and recalls how they lost Rothmans Shield to Caps United.
"In the first encounter we drew 2-2 but in the reverse fixture were beaten 2-1, as a result we were booted out of the Cup," he shares.
Ithimu Yezwe Lonke's culture was welcoming and made him part of the system and like a son he felt at home.
"When I joined Highlanders Ndumiso Gumede was the club chairman and he made me feel at home as he cultivated a culture of unity and common purpose in the entire system, that was a morale booster ,"said Watson.
He gave immaculate services to Bosso and that paid dividends as he was crowned Soccer Star finalist in 1981 and 1982.
His stock profile continued to rise and he received a national team call-up. Watson was one of the first players to don the senior national soccer team's jersey soon after Independence and played under legendary coach John Rugg and later under Shepherd Murape.
That team was laced with gifted players such as Graham Boyle, Bruce Grobbelaar, Oliver Kateya, Max Tshuma, captain Sunday (Marimo) Chidzambwa, Joseph Zulu, Charles "Raw Meat" Sibanda, Tymon Mabaleka, Shacky "Mr Goals" Tauro, Gibson "Homeboy" Homela, David "Yogi" Mandigora, Majid Dhana, Bethal Salis, Laban Kandi, Raphael Phiri, Wonder Phiri and Steven Chuma. Coach Rugg called up Watson to the Warriors side that played against the "Indomitable Lions" of Cameroon in the first leg of a World Cup qualifier in Yaounde on October 12, 1980.
At Highlanders, Juluka was part of the star-studded Bosso side and he played alongside the likes Tymon Mabaleka, Majuta Mpofu, Peter Nkomo, Douglas Mloyi just to name a few.
That red-hot Bosso outfit managed to clinch the Chibuku Cup in 1980.
The star-studded side had the likes of Majuta Mpofu (striker), Phineas Mabaleka (striker), David Mhlanga (right-back), Tymon Mabaleka (midfielder), Josiah Nxumalo (striker), Douglas Mloyi (centre-back), Lawrence Phiri (centre-back) and Mark Watson (striker), Augustine Lunga (left-back), Fanuel Ncube (left-back), Peter Nkomo (goalkeeper) and Zenzo Dabengwa (defender), Ernest Sibanda (link-man), Titus Majola (link-man), Dought Sithole (right -winger) and Lemman Mnenekwa (striker).
Juluka was the outstanding striker in that cup game and he scored a hat-trick, something which seemed to be always in his football signature.
He cherishes the good years of his footballing career as he played alongside household players that lit the domestic football scene with their talent.
"I played with and against soccer greats such as Sugar Muguyo, Shadreck Ngwenya, Tendayi Chieza, Aleck Masanjala, John Humphreys, Stewart Gilbert, Bruce Grobbelaar, Laban Kandi, Japhet M'parutsa, Joseph Zulu, Robert Godoka, Ephert Lungu, Barnabas Likombola, Moses Chunga, Stanley Ndunduma, Bethal Salis, Hamid Dhana, Majid Dhana, Charlie Jones, Archieford Chimutanda, David Muchineripi and George Rollo.
"There were so many stars from that era. My favourite players were Lawrence Phiri, Gibson Homela, Majuta Mpofu and Peter Nkomo," he said.
In 1985 at the age of 28 Watson felt age was catching up with him and he decided to hang his boots. He secured an Accounting job with a local firm.
Watson says football players should invest so that they will have a fall back when they retire from soccer.
"Players must make hay while the sun shines, so that when they leave the football pitch they have something to do," he said.
Fact File
He was born in Sunderland, United Kingdom on 20 December 1957.
He is married to Diane. The couple was blessed with two children Branden who died in a car accident and Chelsey. Watson is an accountant. He supports Highlanders and Sunderland FC. He was born in a family of two boys.