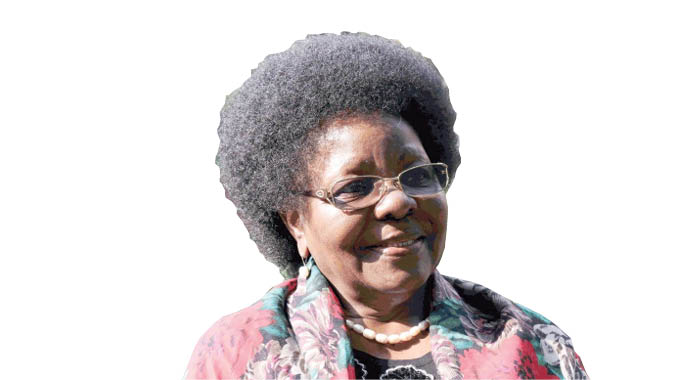 The Sunday News
Robin Muchetu, Senior Reporter 
VETERAN 71-year-old legislator, Dr Sithembiso Nyoni has broken new ground by setting the pace in the use of social media as she has recalibrated herself to fit into 21st century politics.
One would have thought Dr Nyoni, a crusading political stalwart who has been at it for decades, would stick to the traditional methods of physical meetings and rallies to interact with her constituencies.
However, probably realising the changing dynamics and specifically how the Covid-19 pandemic has turned the world upside down, the Nkayi South lawmaker from Matabeleland North Province has turned to social networking site Facebook to engage with her constituencies as part of her efforts to circumvent restrictions imposed by authorities.
It is a love that should kick young and aspiring female politicians off their laurels.
Social media is a tool that must be used for the advancement of women's political participation, should they use it wisely, safely and effectively.
Since she joined Facebook in April 2017 and gained a strong 5000 followers and has not turned back, the results have been nothing but positive.
Asked on why she took her political career to social media, Dr Nyoni said she wants as part of her objectives, to capture young people who are the leaders of tomorrow and are predominantly found on social media platforms.
"I went to social media because that is where most young people are found and now with this lockdown it is very practical and an easy way of reaching out to them. On my Facebook page, I post mainly what I will be doing on the political side so that people know what activities I will be engaged in," she said.
She also uses her page to dialogue via webinars and share ideas on how to develop careers and small businesses as a minister also responsible for Women Affairs, Community, Small and Medium Enterprise Development.
Dr Nyoni acknowledged that leadership was unidirectional hence the need for interaction both ways, possible through new communication technologies.
"Leadership is not about giving information to the people only, leadership is about learning from those that you lead too. I want to thank those people that follow me for the interaction that we have as they have given me very constructive feedback and criticism in my line of work. Social media is a very useful platform that women must embrace to develop their political careers," she said.
Dr Nyoni said she has managed to take her political messages beyond the constituency that is under her jurisdiction as social media allows her to connect with the rest of the world on one platform saying social media has no boundaries.
She said female politicians have to embrace these new communication technologies as they are the future, and urged them to use social media positively than to destroy each other through it.
Dr Nyoni has also taken advantage of her presence on social media to celebrate other women achievers in society as a means to encourage them and others on the strength women have when they applaud each other for work well done.
Political analyst Mr Richard Mahomva said women in politics should realise the importance of social media and new technologies as seen through the ascending of a female politician to a minister in the information portfolio to signify the importance of information discrimination via various platforms.
He also highlighted that traditionally women's voices were missing from the media and social media to a great extent.
"The female political voice within the African context has suffered self-inflicted, and societal imposed silencing. This originates from the fact that our cultural orientations have always projected the woman as the subject other. However, this is manifest in the manner we see the social media political voice being mainly masculine than it is feminine.
"Prominent political figures especially those of the nationalist movements are not very much vocal on these social media platforms. But central to the discourse of women's participation in political messaging is the fact that, the President, His Excellency President Mnangagwa saw it fit to appoint woman of high liberation credentials, in the Information, Publicity and Broadcasting Services front of the nation in the form of Senator Monica Mutsvangwa," he added.
Mr Mahomva said that shows that whilst there is systematic and cultural silencing of the female political voice, the President has made it a point that a woman becomes a chief information and publicity curator of national interest therefore, indicating that the new dispensation is cognisant of the role of women in shaping the national discourse.
Dr Delta Milayo Ndou, an expert on political and media campaigns, who is postdoctoral fellow with the University of Cape Town and Director of Khetho Political Communications (KPC), an African and Africa-focused political public relations firm, said social media was a necessary tool but users must tread cautiously.
"Social media can be a tool for enhancing women political participation, however, there are a number of factors that can constrain its effectiveness. Factors such as online harassment fuelled by political intolerance create strong disincentives for women to express political views online, especially if those political views go against the dominant political narratives propagated by major political parties and prominent political actors as well as established partisan commentators who act as ferocious gatekeepers of discourse, ridiculing any attempts to proffer alternative or centrist interpretations of political and national issues.
"Women who attempt to or who persist in voicing political views tend to become targets of vicious disinformation campaigns, sexual slurs, portrayed as having loose morals and having their reputations besmirched, with impunity. Political parties have largely failed to censure their supporters or take a strong stance against online abuse of women (even those within their own parties), thereby blunting the potential of social media to enhance political expression online and political participation offline. Apart from these challenges, there are barriers to internet access including steep costs of data and WIFI as well as internet disruptions," she added.
Furthermore, she said it is key to note that most women that emerge as opinion leaders have certain personal attributes (such as having a thick skin to withstand backlash and harassment) or having a high profile socially (which affords one social capital that they can leverage online) that play a significant role in determining whether their opinions are heard and respected as those of male commentators.
"Secondly social media has lowered barrier of entry into discursive spaces that were once unattainable owing to mainstream media's bias towards male elite sources who were afforded the opportunity to define and interpret political reality for all," she added.
Gender Links Zimbabwe country manager, Ms Priscilla Maposa was quoted saying social media has transformed the landscape of how information is shared globally.
"Social media is a very powerful tool that can aid women's participation when used correctly. At the local level, we have councillors using WhatsApp to communicate with people in their wards.  This has helped to communicate local development initiatives and increase citizen participation," she said in an interview with our sister paper, The Herald.
In the same vein, Ms Maposa said social media was also potentially dangerous if it was used inappropriately.
She said female politicians were victims of cyber bullying on social networks which has led to a number of them shying away from taking active participation on political issues at hand.
The Parliament of Zimbabwe in its Institutional Strategic Plan for 2014-2018, under goal 11 talks about an e-Parliament which speaks to mordenise the work of Parliament leveraging on ICT. It is in this goal that they led an initiative to develop the ICT capacity of both Members and staff of Parliament, hence the decision to purchase tablets for Members of Parliament.
The provision of ICT gadgets also improved access of members by their stakeholders.
Following, this development, several members began to interact on social media platforms as they were quipped.
Member of Parliament for Bulawayo Metropolitan Province Hon Jasmine Toffa is also an avid user of social media where she holds strong, balanced and interactive debates about issues of importance in the city and beyond has been using microblogging site, Twitter since 2015.
Councillor Rodney Jele from Nkulumane Constituency in Bulawayo said women's political participation was also hindered by their absence from social media.
"Women have to embrace social media; they need to champagne vigorously in order to win elections so social media is one tool that is friendly that they must use. This will improve the manner in which women can advance political aspirations as they will always be abreast with information of events occurring around them, as they are a lot that has been lagging behind for a long time in terms of use if ICTs,".
A Women Empowerment for Leadership program done from 2016-2020 aimed at promoting women's political participation and leadership development in Southern Africa and the middle east show that overly attitudes to social media use among women being 'overwhelmingly positive'
"There is a general consensus among women leaders in Zimbabwe, that social media is fast becoming an agent of change. Social media platforms are thus providing a rallying call for Zimbabwean women, allowing them to interact with each other and reaching a wider audience than never seen before. They have been left empowered by opportunities to interact with a wider base where they get various view points on issues that affect them," they noted.
The women participants credited social media for exposing them to a dives world and to create positive images of themselves and help in build and strengthen log lasting friendships.
The study also highlights 'notable penetration of social media services among women has had several detrimental effects on their welfare caused by or leading to the propagation of, for example false information and hate speech along with shaming of individuals or groups especially on gender lines for some women, participating in social media deliberations comes at a heavy price. Some women prefer to stay digitally disconnect because online environment can be hostile to women and girls as it exposes them to bullying.
@NyembeziMu