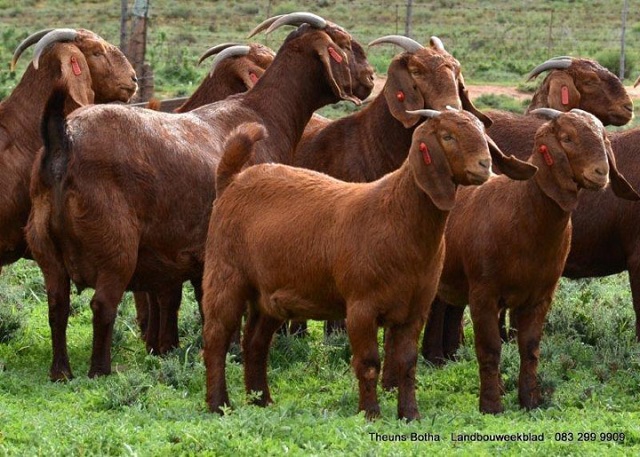 The Sunday News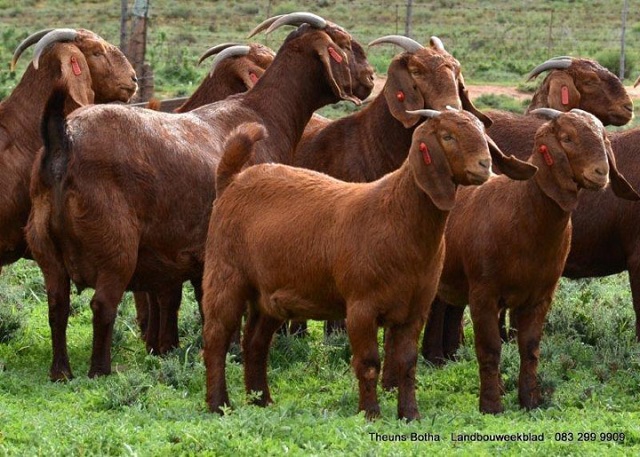 Mhlupheki Dube
ONE of the renowned goat breeders in Matabeleland will be holding an inaugural stud goat auction during the last week of December.
On offer will largely be the Kalahari Red Goats from local breeders. In that regard I thought it is important for us to discuss this breed which is gaining popularity among goat farmers in southern Africa.
The Kalahari red is a red medium to large framed lob eared meat goat. It has a fine head, lob ears, round horns that are bent backwards and a loose, supple skin with folds.
The doe wedges slightly to the front, which is a sign of fertility.
The buck is heavier in the head, neck and forequarters and it is masculine.
It is brown in colour with shadings that range between light brown to dark brown.
It has a smooth short hair coat that is very well pigmented. The Kalahari Red Goat is a meat goat breed originating from South Africa. Many high quality meat goat breeds have been developed from South Africa. The Savanna and Boer goats are world famous breeds that have been developed from South Africa and the Kalahari Red Goat is a new addition to this list.
It is a new breed in terms of recognition and the breed is becoming increasingly popular. The Kalahari Reds were initially thought to be strongly related to the Boer goats and earlier breeders considered them a variation of the Boer goat. However, scientific tests have shown that the Kalahari Reds are a distinct goat breed with a distinct DNA profile from the Boer or the Savanna goats.
The Kalahari Red Goats are very active and extremely hardy animals. They are ideally suited to the harsh and are very adaptable and bred well in the arid and semi arid areas.
They are excellent foragers which also feed on a vast variety of plants, grass and grains.
The Kalahari Red Goats are usually resistant to diseases and parasites and require less care and management than other goat breeds of similar frame sizes. The Kalahari Red does have excellent mothering instincts. They look after their kids very carefully, and a doe usually gives birth to kids three times every two years.
The Kalahari Red Goats also have strong herding instincts for protection as well. Their skin is fully pigmented and this allows them to continue foraging even during the heat of the day.
The does have full and properly attached udders and teats which allow them to properly and adequately nurse their kids. The Kalahari Red Goats can be used as a good crossbred for increasing hardiness and carcass size. The bucks are usually larger than the does. Average body weight of the Kalahari Red buck is about 115 kilogrammes and mature does weigh around 75 kilogrammes. Kalahari Red Goat is a very good meat producing breed of goat.
The newborn Kalahari Red Goat kids are generally strong and have a strong urge to suck. They grow relatively fast and are also very suitable for commercial goat meat farming business.
Does have excellent mothering instincts, they raise their kids with very little assistance needed from farm employees.
Their excellent mobility allows them to walk long distances in search of food and water.
They feed on a vast variety of plants and are resistant to a lot of diseases and parasites.
Because they are susceptible to diseases they need to be inoculated and dosed far less than other breeds.
It is honestly a growing breed with massive potential for goat farmers. It will address the challenge of smaller framed goats especially in regions such as Matabeleland North province where the goats are so small and can hardly dress above 10 kilogrammes of meat. In that regard I wish the organisers of this inaugural Kalahari Red Goats stud auction sale tremendous success and hope that the response can be able to inspire them for subsequent sales.
Uyabonga umntakaMakhumalo.
Feedback [email protected] <mailto:[email protected]> cell 0772851275